2021-22 U.S. Freestyle Ski Team Announced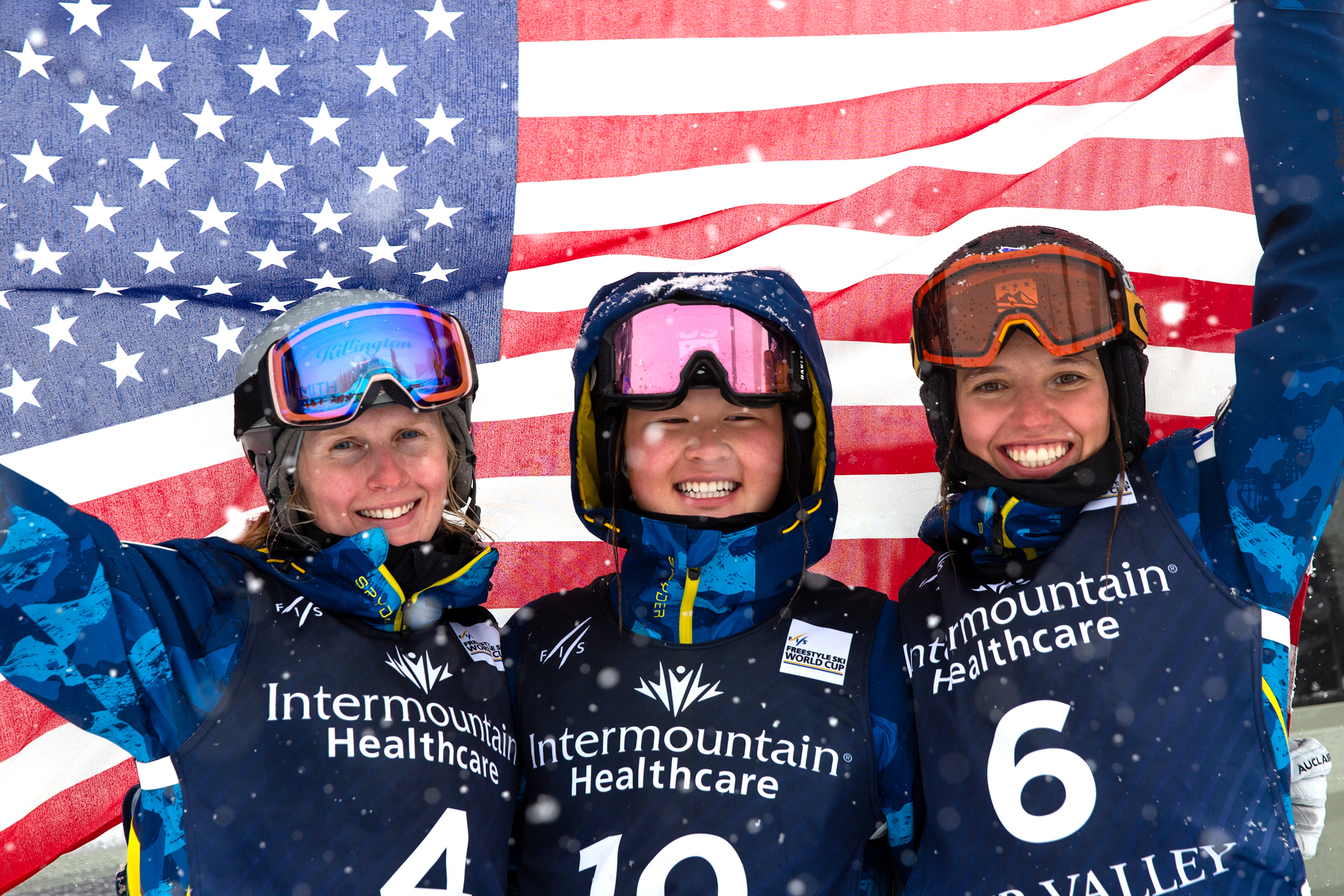 U.S. Ski & Snowboard announced today a 31-athlete roster making up the U.S. Freestyle Ski Team for the 2021-22 season. The highly anticipated 2021-22 season features the world's largest winter sporting event with the 2022 Olympic Winter Games on deck, which includes the Olympic debut of Team Aerials. Athletes are chomping at the bit to kick their season off at the FIS Freestyle World Cup Openers in Ruka, Finland, Dec. 3 and 4. 
The 2021-22 team is highlighted by an experienced group of World Cup, World Championship, and Olympic athletes, including three-time Olympian and three-time World Championships medalist Ashley Caldwell; World Cup winners Winter Vinecki and Megan Nick; and the women's mogul #PowHERhouse, who finished 2020-21 with four ranked in the top six overall: Hannah Soar (3), Kai Owens (4), Jaelin Kauf (5) and Tess Johnson (6). 
"The Freestyle athletes showed incredible resilience and grit during a challenging 2020-21 season and came away with the title of best freestyle nation in the world, winning both the Aerials and Moguls Nations Cups," said Freestyle Program Director Jeremy Forster. "The achievement speaks to the depth and breadth of these athletes' talent and skill. We are carrying that momentum into 2021-22 and look forward to another successful season."
The talent of the high-flying women of the aerial team is stacked, four finished ranked in the top-10 in the overall FIS World Cup standings in the 2020-21 season: World Cup winner Winter Vinecki (2), World Cup winner Megan Nick (6), three-time World Champion medalist and three-time Olympian Ashley Caldwell (7) and World Cup medalist Kaila Kuhn (9). Megan Smallhouse and Dani Loeb return for their third and second seasons, respectively. Karenna Elliott and Tasia Tanner join the team for their first as U.S. Ski Team athletes. 
Justin Schoenefeld, the top-ranked American man in eighth in last season's World Cup standings, returns for his fourth season with the team. He is joined by Chris Lillis and Eric Loughran, who both contributed to the first American World Championship Team Aerials medal; and Quinn Dehlinger, who returns for his third season. 
The team behind this team includes Aerial Head Coach Vladimir (Vlad) Lebedev, World Cup Coaches Eric Bergoust and JC Andre, Athletic Development Coach Farzad Jalilvand and Physical Therapist Peter Toohey. 
"This season represents the culmination of all of the work over the past three years and a new opportunity with the Olympic debut of the Team event," said Lebedev. "We had a very productive water ramping season, I am proud of the work this team has put in on the water and in the gym this summer. I look forward to the work ahead and am excited to build off of the success we enjoyed last season. This season is a big one, but we're going to focus on one day at a time as we build into February."
Athletes named to the moguls team include the deepest field of female mogul skiing talent in the world. Known as the #PowHERHouse, these women are fast and fierce. Hannah Soar (3) leads the pack and is joined by 2021 Rookie of the Year Kai Owens (4), 2018 Olympian Jaelin Kauf (5) and 2018 Olympian Tess Johnson (6). Olivia Giaccio returns for her sixth season and Morgan Schild for her eighth. Madison and Kasey Hogg will ski in their second seasons. 
On the men's side, two-time Olympian Brad Wilson returns for his 11th season. He is joined by 2021 Rookie of the Year Nick Page, Casey and Jesse Andringa, Joel Hedrick, Landon Wendler and Alex Lewis.
New for 2021-22 is the creation of a pilot Mogul D Team, which signifies an evolutionary change in how U.S. Ski & Snowboard, together with its regional and club network, will approach future national team selection and development programming for the discipline. Athletes named to the inaugural roster are Elizabeth Lemley, Alli Macuga, Dylan Marcellini and Cole McDonald.
Mogul Head Coach Matt Gnoza leads the bump crew and is joined by World Cup Coaches Riley Campbell and Bryon Wilson, Athletic Development Coach Josh Bullock and Physical Therapist Celeste Gabai. 
"We are excited to be in the final stages of the 2022 Olympic preparation," said Gnoza. "This preparation didn't just start during this past offseason, Olympic preparation takes a full four years, so we have been at this for a while. Every one of these athletes is very talented or they wouldn't be here, it's the combination of talent and hard work that can make you great. We look forward to this final prep period ahead of the World Cup Opener next month."
The U.S. Freestyle Ski Team is scheduled to compete in 29 World Cup events. The nation and the world will be watching as athletes vie for a chance to represent their country at the 2022 Olympic Winter Games Feb. 4-20. 
2021-22 Freestyle World Cup Schedule
2021-22 Freestyle Olympic Schedule
2021-22 U.S. Freestyle Ski Team
(Hometown; Club; Birthdate)
U.S. Aerial Ski Team
Men
Quinn Dehlinger (Cincinnati, Ohio; Elite Aerial Development Program; 6/8/02)
Chris Lillis (Pittsford, N.Y.; Bristol Mountain Freestyle Team; 10/4/98)
Eric Loughran (Pelham, N.H.; Loon Mountain Freestyle; 12/4/95)
Justin Schoenefeld (Lawrenceburg, Ind.; Elite Aerial Development Program; 8/13/98)
Women
Ashley Caldwell (Ashburn, Va.; Elite Aerial Development Program; 9/14/93)
Karenna Elliott (Cincinnati, Ohio; Park City Ski and Snowboard, 5/24/00)
Kaila Kuhn (Boyne City, Mich.; Park City Ski and Snowboard; 4/8/03)
Dani Loeb (Pintlala, Ala.; Park City Ski and Snowboard; 8/10/01)
Megan Nick (Shelburne, Vt,; Elite Aerial Development Program; 7/9/96)
Megan Smallhouse (Reno, Nev.; Park City Ski and Snowboard; 1/16/01)
Tasia Tanner (Park City, Utah; Park City Ski and Snowboard; 7/26/02)
Winter Vinecki (Gaylord, Mich.; Park City Ski and Snowboard; 12/18/98)
Coaches and Staff
Aerial Head Coach: Vladimir Lebedev
Aerial World Cup Coach: JC Andre
Aerial World Cup Coach: Eric Bergoust
Aerial Athletic Development Coach: Farzad Jalilvand
Aerial Physical Therapist: Peter Toohey
U.S. Mogul Ski Team
Men
Casey Andringa (Boulder, Colo.; Ski & Snowboard Club Vail; 10/6/95)
Jesse Andringa (Boulder, Colo.; Ski & Snowboard Club Vail; 12/15/97)
Joel Hedrick (Fort Collins, Colo.; Winter Park Competition Center; 5/30/97)
Alex Lewis (Carlisle, Mass.; Killington Mountain School; 11/16/99)
Nick Page (Park City, Utah; Wasatch Freestyle Foundation; 8/1/02)
Landon Wendler (Steamboat Springs, Colo.; Steamboat Winter Sports Club; 10/12/2000)
Brad Wilson (Butte, Mont.; Wasatch Freestyle; 6/5/92)
Women
Olivia Giaccio (Redding, Conn.; Steamboat Springs Winter Sports Club; 8/15/00)
Tess Johnson (Vail, Colo.; Ski & Snowboard Club Vail; 6/19/00)
Kasey Hogg (Park City, Utah; Wasatch Freestyle Foundation; 1/8/2003)
Madison Hogg (Park City, Utah; Wasatch Freestyle Foundation; 2/15/2001)
Jaelin Kauf (Alta, Wyo.; Steamboat Springs Winter Sports Club; 9/26/96)
Kai Owens (Vail, Colo.; Ski and Snowboard Club Vail; 8/16/04)
Morgan Schild (Pittsford, N.Y.; Ski & Snowboard Club Vail; 8/25/97)
Hannah Soar (Somers, Conn.; Killington Mountain School; 6/4/99)
D Team
Elizabeth Lemley (Vail, Colo.; Ski & Snowboard Club Vail; 1/22/2006)
Alli Macuga (Park City, Utah; Park City Ski & Snowboard; 9/24/2003)
Dylan Marcellini (Walnut Creek, Calif.; Wasatch Freestyle; 9/29/2002)
Cole McDonald (Park City, Utah; Wasatch Freestyle; 3/6/2003)
Coaches and Staff
Mogul Head Coach: Matt Gnoza
Mogul World Cup Coach: Riley Campbell
Mogul World Cup Coach: Bryon Wilson
Mogul Athletic Development Coach: Josh Bullock
Mogul Physical Therapist: Celeste Gabai
Freestyle Staff
Freestyle Program Director: Jeremy Forster
Freestyle Team Manager: Alexis Williams
Freestyle Sport Development Senior Manager: Ashley Deibold
Freestyle Sport Development Coordinator: Erin McNeely
Freestyle Communications Manager: Lara Carlton
FOLLOW THE U.S. FREESTYLE SKI TEAM
Instagram @usskiteam
Facebook @usskiandsnowboard
TikTok @usskiandsnowboard 
Twitter @usskiteam