U.S. Ski & Snowboard Athletes Earn 136 Medals During 18-19 Season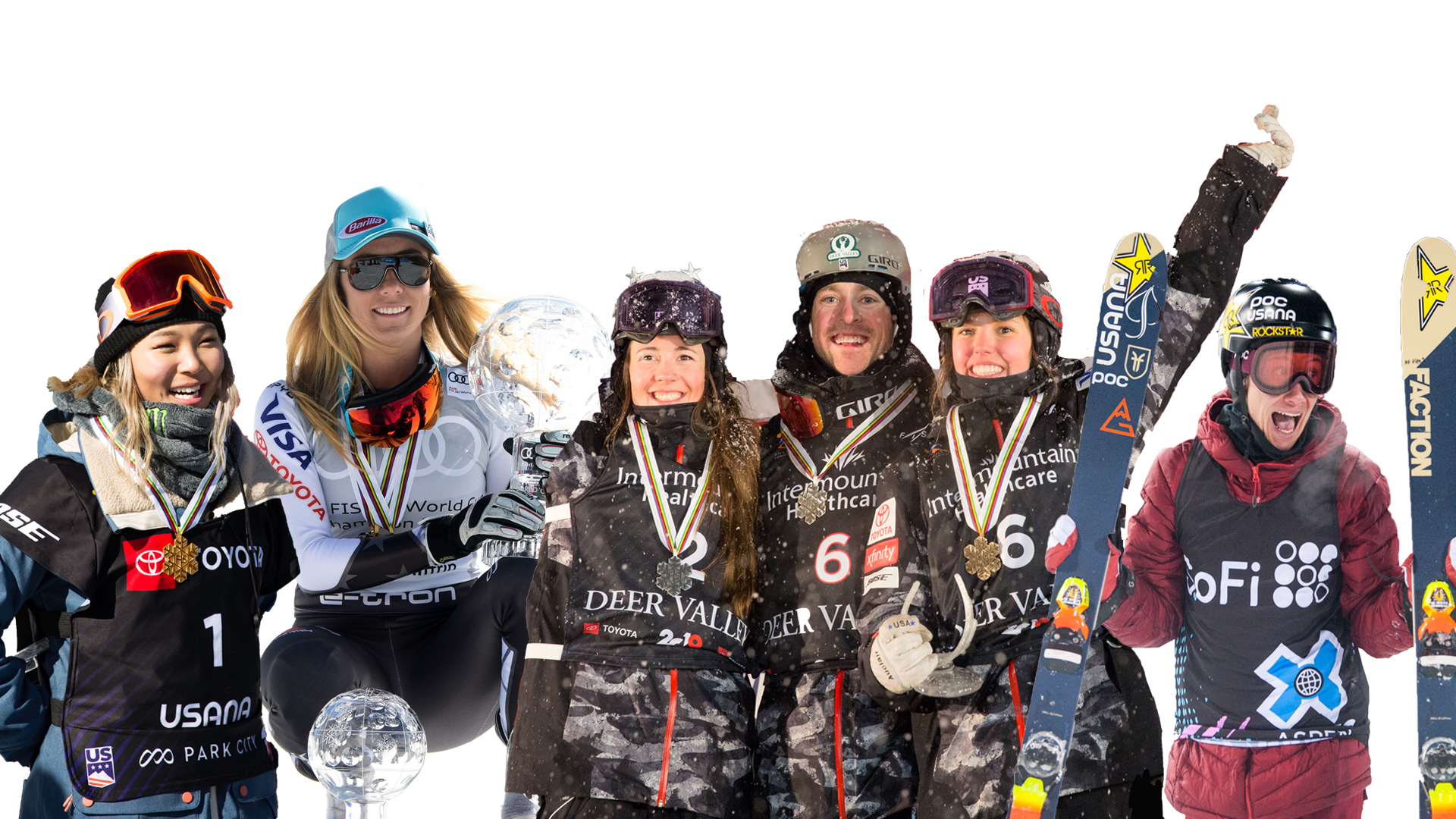 The 2018-19 international competition season has come to a close for U.S. Ski & Snowboard athletes, and what a season it has been. Since elite level competitions began back in August U.S. Ski & Snowboard athletes have won a staggering 136 medals in competitions around the world.
There have been a number of standout moments from the season, including Mikaela Shiffrin (Avon, Colo.) setting the standard for the entire U.S. Ski & Snowboard team, and her competitors in all forms of alpine ski racing. Mikaela's record-breaking season has seen the 24-year-old become the first ski racer, male or female, to win four FIS Alpine Ski Crystal Globes in overall, super-G, giant slalom, and slalom. That in itself is astonishing - it is the equivalent of a track and field athlete winning the 100 and 200 meters, then seamlessly switching disciplines and winning 800 and 1,500-meter titles. The difference in the skills needed to win ski racing's tech events, slalom, and giant slalom, from the speed events, super-G and downhill, is as acute as the differences between winning sprint events and middle distance races in track and field.
On her way to dominating the sport of ski racing, Shiffrin also broke the 30-year-old record for the most World Cup wins in a season (Shiffrin's 17 wins beat the previous benchmark of 14 set by Vreni Schneider in 1988-89). She won two World Championship titles - super-G and slalom - in Åre, Sweden, and her chances of reaching the podium in any race she contested were a remarkable 83%. Most impressive of all, Shiffrin posted an astonishing 66% win ratio which is practically unheard of in any form of elite level sport today and reinforces the widely held notion that she is the most dominant athlete competing worldwide in any sport.
"Building off the achievements of our team during last season's Olympic Games, our athletes have carried forward a drive to perform at the highest levels of our sport. Our athletes worked relentlessly to get the most from their talents, and have achieved at levels that put them amongst the best of the best.  Mikaela Shiffrin has been a prime example.  Her achievements have been truly extraordinary, in the fullest sense of that word, and are the result of talent meeting drive and tenacity. Her exploits are already the stuff of legend, and efforts like hers have fueled a strong performance culture across our team."
     - U.S. Ski & Snowboard Chief of Sport Luke Bodensteiner
Chloe Kim (Torrance, Calif.) also reinforced her status as both a dominant competitor and a fan favorite around the world. Kim's run of wins, which extended back to the 2018 Olympic Winter Games and the 2018 X Games, was only hindered by injury, but not before she landed her first-ever World Championship snowboard title at Park City Mountain, Utah in February 2019. Kim had already secured yet another X Games, and Dew Tour gold medals and two World Cup wins in the 2018-19 season before adding the title of World Champion to her ever-growing resume with a first run score in the finals of 93.5. Despite a stellar 2018-19 season and an 83% win rate, this is by no means the peak of Kim's performance. The 18-year-old all-star still has yet to land her frontside double cork 1080 in competition, which will take her to a level of riding which is unheard of in the sport of women's snowboarding.
"Overall our athletes won 136 elite level medals, and that is an outstanding end to our season," Bodensteiner added. "From Chloe Kim to Toby Miller, Jessie Diggins and David Wise, Lindsey Jacobellis and young Eileen Gu starting to fulfill her promise, we have had an incredible season. However, we cannot sign it off without saying thank you to Lindsey Vonn. Lindsey had planned to come back this season and attempt to win the outright World Cup victories record from Ingemar Stenmark, but it was not to be. Injuries played their part in preventing that, but not before Lindsey signed off her astonishing career with a final podium in the World Championships in Sweden, and I don't think anyone but Lindsey could have written the script that way. On behalf of everyone at U.S. Ski & Snowboard I want to say thank you, Lindsey, for your inspiration, your hard work, your successes and your battles back to the top, you have set the standard which is now the benchmark for all our athletes. Be best in the world. It is that simple."
From Shiffrin to Kim, Vonn and beyond, it was a tremendously successful season for U.S. Ski & Snowboard athletes, including many notable performances and results, including the following...
 
ALPINE
Veteran and winningest female alpine skier of all time Vonn (Vail, Colo.) capped off a legendary career with a storybook ending, grabbing a gutsy bronze medal at the World Championships in Åre. Then, at FIS Ski World Junior Championships in Val di Fassa, Italy, River Radamus (Edwards, Colo.) won gold in both super-G and giant slalom, while Ben Ritchie (Waitsfield, Vt.) grabbed silver in slalom. In the team event, Radamus, Ritchie, Katie Hensien (Redmond, Wash.) and AJ Hurt (Squaw Valley, Calif.) brought home silver. This was America's strongest showing at Junior Worlds in years, and the team finished third in the Marc Hodler Trophy standings - awarded for overall team performance throughout the series.
"Mikaela isn't the only success story we have in our alpine team this year," Bodensteiner said. "Bryce Bennett deserves special mention, finishing his season in seventh place in the world in downhill is a very good step forward, and now we want him to use that as a springboard to go even bigger and better next season and with one eye on Beijing 2022. Similarly, River Radamus has established himself as one of the great up-and-comers, winning two Junior World Championship titles and scoring his first World Cup points. The pipeline is strong but we are not getting carried away - we still have a clear focus on bringing athletes through to the Olympic Winter Games in 2026 and beyond, but we will rightly celebrate the successes enjoyed by the alpine team this year."
SNOWBOARD
The success enjoyed by the snowboard team was not limited to Kim. Mick Dierdorff (Steamboat Springs, Colo.), the Colorado-based snowboardcross athlete, had not climbed onto a World Cup level podium before he took to the snow at Solitude Mountain Resort in the snowboardcross World Championships finals in February. That record was quickly rewritten as Dierdorff won the World Championship title on day one of the 2019 FIS Snowboard, Freestyle and Freeski World Championships, presented by Toyota. Just two days later and Dierdorff was back in action, this time with teammate and snowboardcross legend Lindsey Jacobellis (Stratton Mountain, Vt.) who, together, were competing in the inaugural mixed team snowboardcross World Championship finals ahead of the sport's Olympic debut in Beijing 2022. Despite a technical glitch holding up Jacobellis' final run, the duo won the final, making Dierdorff an instant two-time World Champion and Jacobellis a six-time World Champ, rubber-stamping her status as the doyen of the snowboardcross community.
Dierdorff and Jacobellis' U.S. Snowboard Team compatriot Chris Corning (Silverthorne, Colo.) was another U.S. Ski & Snowboard athlete celebrating a stellar season as the 2018-19 competitive calendar came to a close as he secured his fifth and sixth FIS Crystal Globes in March by winning the snowboard slopestyle and overall titles. Red Gerard (Silverthorne, Colo.), 2018 Olympic gold medalist was incredibly excited to win his first-ever Burton US Open title in February, an invitation-only competition that features the best riders from around the world competing in Gerard's home state of Colorado. Another notable achievement coming out of the Burton US Open was Maddie Mastro (Wrightwood, Calif.) making history landing the first-ever double cork in women's snowboard halfpipe competition.
The 2018-19 season offered two different FIS Junior World Championship events: the 2018 Snowboard and Freeski Junior World Championships in Cardona, New Zealand, as well as the 2019 Snowboard and Freeski Junior World Championships, which took place across five European venues. Combined, U.S. Snowboard athletes earned five medals with Jake Vedder (Pickney, Mich.) and Toby Miller (Mammoth Lakes, Calif.) claiming the titles of Junior World Champion in their respective disciplines of snowboardcross and halfpipe. Also, The U.S. Junior World Championship Team took home the 2018 Marc Hodler Trophy awarded to the best overall nation.
 
FREESKI
In freeski there were notable performances from a range of halfpipe athletes starting with Dew Tour in Breckenridge, Colorado where Olympic silver medalist Alex Ferreira (Aspen, Colo.), Aaron Blunck (Crested Butte, Colo.) and double-Olympic gold medalist David Wise (Reno, Nev.) swept the podium, proving that the U.S. Freeski Halfpipe Team is nothing short of a powerhouse. Next, Ferreira continued his success and completed a lifelong dream by winning X Games gold in front of his hometown crowd. Following X Games, Aaron Blunck stepped up to defend is World Championships halfpipe title at Park City Mountain on home soil.
The freeski slopestyle team also had an outstanding season including Alex Hall (Salt Lake City, Utah) earning his first ever X Games medal by topping the podium with one of the most creative and technical rail sections seen at elite level slopestyle competition. Another notable moment coming out of the 2019 X Games includes Maggie Voisin (Whitefish, Mont.) earning her fourth X Games medal with a bronze, but also stomping her left side double cork 1260 in competition. Between Voisin and Julia Krass (Hanover, N.H.) each locking in their double cork rotations this season, the U.S. women remain at the forefront of women's freeski progression.
U.S. Rookie Team member Mac Forehand (Winhall, Vt.) completed a breakthrough season including numerous milestones starting with earning the title of 2018 Big Air Junior World Champion in Cardrona New Zealand back in August. Forehand continued his impressive performance into November where he earned his first-ever World Cup podium with a second-place finish in Stubai, Austria. Furthermore, only a few weeks ago, he earned his first-ever World Cup victory at Mammoth Mountain, California. His long list of impressive results allowed Forehand to lock in the coveted title of 2019 FIS World Cup Slopestyle Champion.
U.S. freeski athletes also found their fair share of success across the 2018 and 2019 FIS Freestyle Junior World Championships. As previously mentioned, Forehand earned the title of Junior World Champion in big air in New Zealand, followed by a team effort in 2019 where the U.S Freestyle Junior World Championship Team earned the Marc Hodler Trophy. Freestyle and Freeski athletes collected eight medals across the 2018 and 19 Junior World Championship events.
CROSS COUNTRY
Moving on to cross country, a sport which was still enjoying the feelgood factor of the U.S. Team securing their first-ever Olympic Gold in PyeongChang, there was another strong season across the whole U.S. Cross Country Ski Team. In particular, Jessie Diggins (Afton, Minn.), Sophie Caldwell (Peru, Vt.), Erik Bjornsen (Winthrop, Wash.) and Sadie Bjornsen (Winthrop, Wash.) had some notable successes throughout their season, collectively stepping up to the podium 10 times, and the whole team were celebrating the return of cross country World Cup action to the USA with the announcement that Minneapolis would hold a round of the 2020 FIS Cross Country World Cup Calendar in March 2020.
At the Cross Country Junior Worlds, the men's relay team of Luke Jager (APU/Anchorage, Alaska), Ben Ogden (UVM/Landgrove, Vt.), Johnny Hagenbuch (Sun Valley SEF/Sun Valley, Idaho) and Gus Schumacher (Alaska Winter Stars/Anchorage, Alaska) claimed gold, an historical moment for the U.S. Team.
FREESTYLE
The U.S. Freestyle team, comprised of both moguls and aerials athletes, had another terrific winter, especially for Jaelin Kauf (Alta, Wyo.) who finished second overall in women's World Cup moguls standings. Teammate Ashley Caldwell (Ashburn, Va.), still recovering from major shoulder surgery in summer, 2018, finished her season in style with two trips to the podium in her final events of the season. Arguably, the real highlight of the team's year was the four nights at Deer Valley Resort in Park City, Utah, during the 2019 FIS Snowboard, Freestyle and Freeski World Championships in February 2019. Tens of thousands of fans braved the cold weather to watch the U.S. athletes take on the rest of the world, and it all culminated with three medals for the home team in front of one of, if not the, most passionate crowd worldwide in the freestyle calendar.
NORDIC COMBINED
Also noteworthy was the outstanding season-long performance by USA Nordic athlete Tara Geraghty-Moats (West Fairlee, Vt.) whose domination of the women's Nordic Combined Continental Cup saw the American win 10 of the season's 11 events. That incredible run resulted in Geraghty-Moats becoming the first-ever American women's Continental Cup overall champion in only the second year of international competition for the young women's sport.