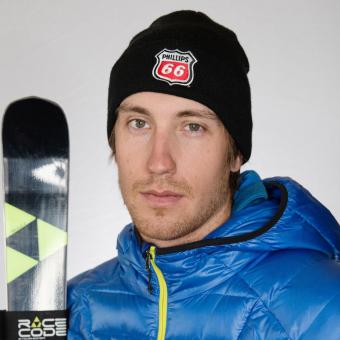 Another in the long line of Squaw Valley powder hounds (Julia Mancuso, Marco Sullivan, Travis Ganong), Bryce Bennett blasted onto the U.S. Ski Team in the same way he hucks cliffs at Squaw – by going big. An invite to a 2011 spring tryout camp proved to be the only opportunity he needed, as he successfully punched a ticket onto the team by showing coaches his form on the hard stuff is just as solid as it is in the fluff.
Bennett opened the 2013-14 season with a bang, winning the U.S. downhill title on the U.S. Ski Team Speed Center at Copper Mountain in early December. He made a major play for an Olympic nod with starts in Lake Louise, Bormio, Wengen and Kitzbuehel, but with a stacked men's speed team, Sochi was a tough ticket to punch. Bennett then refocused on the NorAm tour and delivered the downhill title, solidifying his World Cup start for the 2015 World Championship season.
2016, though...that was Bennett's year. It began with his first World Cup downhill points at Birds of Prey when he landed in 29th. But it was in Val Gardena that Bennett really WOW'd the crowd. Starting in 57th, Bennett came down on the classic Saslong downhill track, Bennett crossed the finish line 1.04 seconds back in sixth place. The once hush crowd erupted in cheers as Bennett lifted his goggles in sheer disbelief before letting a well-deserved fist pump fly.
"I'm still surprised. I crossed the finish and saw sixth and I was like, what? No chance! The timer is broken!" an exhilarated Bennett said in the finish. "I just got in the zone somehow. I've been working on it, and it clicked a little bit. I just laser beamed the whole course, just focused every section and it was fast."
In 2017, Bennett found consistency in the points, finishing in the top 30 in more than half of the World Cup races he started - highlighted by another top 10 (eighth) on his favorite Val Gardena, Italy track, and his first super-G points, with 20th at Santa Caterina, Italy. He carried that momentum into the 2018 season, where he has finished in the points in every race he finished. The big guy is turning heads and consistently faster than veteran downhillers who have podiumed. It's only a matter of time for this "big bird" - as coach Johno McBride calls him. 
FIRST TRACKS
Bennett had skiing in the bloodline before he was born. His mother worked at Alpine Meadows Resort and Dad was a former telemark racer. Both had him on skis at age two and it wasn't long before he was a regular at the Squaw Valley Might Mite program. "They had some amazing Mighty Mite coaches at Squaw," says Bennett. "They just got you so pumped for skiing, no matter what the weather was doing." By eight, he'd decided he was going to race in the Olympics.
OFF THE SNOW
While he may be too young to have seen the 80's classic film RAD, Bennett used to be a BMX racer and easily graduated that love to mountain biking. When not on the dirt trails around Squaw (by bike or foot), you'll find him on the golf course. "I've had some good weeks, last one I was two over for 18," he said. He's also a big friend of the fish, as long as they're at the end of his fly rod. "My favorite spot is the Truckee River, but you'll never get me to tell you where my holes are."
 
Results
OLYMPICS
16th, DH, Pyeongchang, KOR, 2018 
17th, AC, Pyeongchang, KOR, 2018 
WORLD CUP
Ranked 7th in the world in downhill, 2019
14th, DH, Kitzbuehel, AUT, 2019
5th, DH, Wengen, SUI, 2019
4th, DH, Bormio, ITA, 2018
4th, DH, Val Gardena, ITA, 2018
9th, DH, Beaver Creek, Colo., 2018
12th, DH, Lake Louise, 2018
9th, AC, Wengen, SUI, 2018
8th, DH, Val Gardena, ITA, 2017
9th, AC, Kitzbuehel, AUT, 2016
6th, DH, Val Gardena, ITA, 2016

WORLD CHAMPIONSHIPS
Teams: 2017, 2019
9th, DH, Are, SWE, 2019
11th, AC, Are, SWE, 2019
23rd, SG, Are, SWE, 2019
11th, AC, St. Moritz, SUI, 2017
26th, DH, St. Moritz, SUI, 2017
First World Championships in St. Moritz, SUI (2017)
U.S. ALPINE CHAMPIONSHIPS
SG, 10th, Sugarloaf, Maine, 2015
DH, 8th, Sugarloaf, MINE, 2015
DH, 1st, Copper Mountain, Colo., 2013
OTHER
Top 10 in both DH and Combined at Junior World Championships, 2013
6th, Combined, Roccaraso, ITA, Junior World Championships, 2012
Junior podiums in DH, SG, GS, SL, and combined at U.S. Championships, 2012
1st, GS, Junior National Championships, Aspen, COLO., 2009