Diggins 16th, Swirbul 18th In Wet, Snowy Tour de Ski Stage 2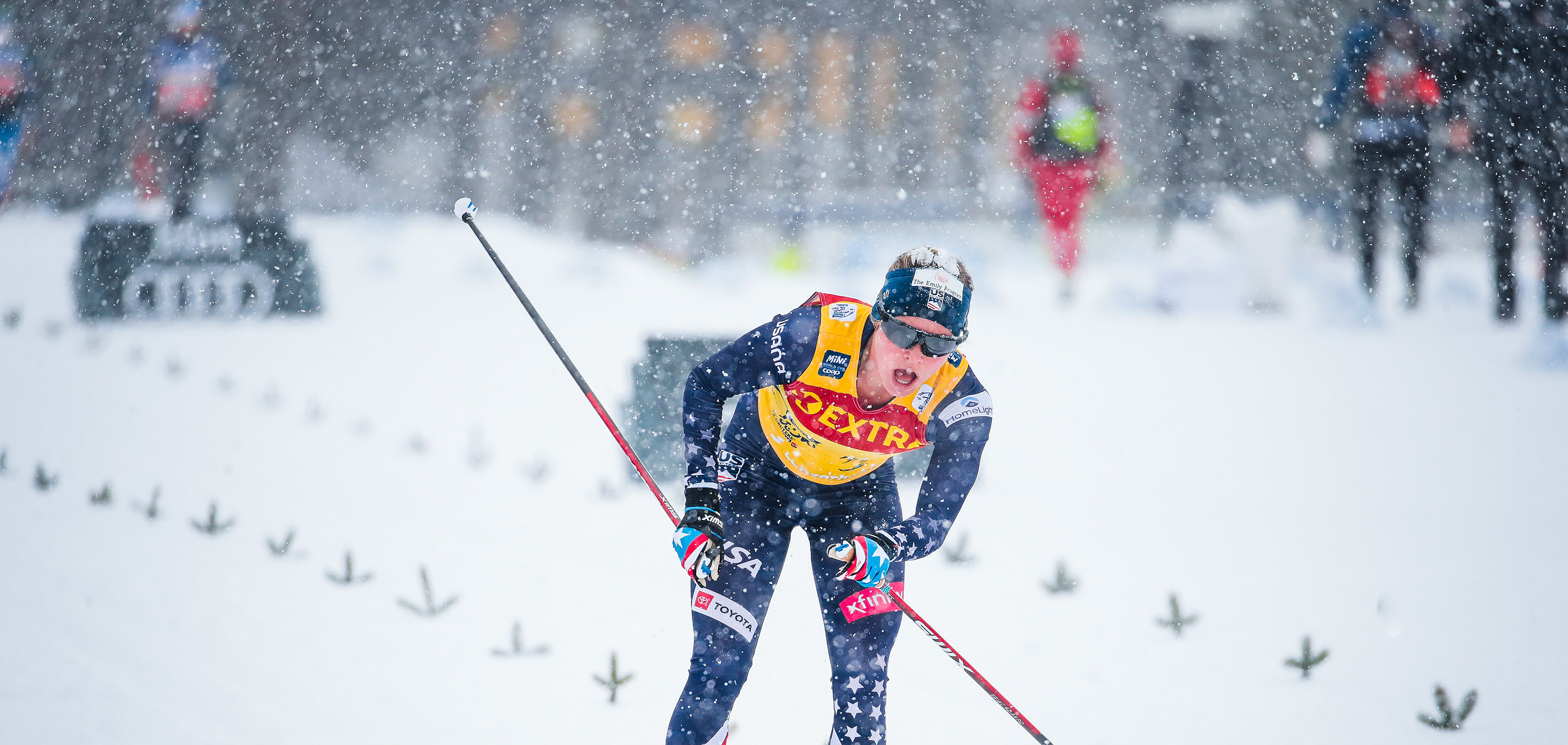 On a day with heavy, wet snow falling, the classic Lenzerheide, Switzerland track presented challenging conditions throughout the day as Jessie Diggins led the way with a 16th-place result in Stage 2 of the FIS Tour de Ski. Hailey Swirbul was close behind in 18th, and for the men, Gus Schumacher was 38th.
"Overall, a good day," noted Head Coach Matt Whitcomb. "I'm pleased with our team, and really pleased with the service staff. We tried every wax under the sun and at the end of the day, it is always a bummer when you flip to zeros." 
"For Jessie to be 16th, and Hailey to be 18th, and some of our other women right around the top 30, that's good," he added. "What we're trying to avoid on a challenging day like this is a big time bleed, and we didn't sustain that, so we can take this and be fine with it. We have two very strong days coming up (mass-start freestyle Friday, and classic sprint Saturday)."
"We had some crazy conditions," said Diggins, who dropped to second in the overall Tour de Ski standings. "It went from clear, to rain, to snow, from klister and wax to zero."
Finland's Kerttu Niskanen won the women's 10k race and moved into the overall Tour de Ski lead, 0:29 seconds ahead of Diggins. Sweden's Ebba Andersson was second, followed by Russia's Natalia Nepryava in third. Novie McCabe was 34th; Katharine Ogden 35th; Julia Kern 41st; Sophia Laukli 44th, and Alayna Sonnesyn was 66th.
Two years ago at the same venue under similar conditions, the wheels came off the bus for the U.S. Team and ruined the overall chances for the team in the Tour de Ski standings. But this time around, a positive vibe kept spirits high, and a hard-working tech team powered through the challenges.
"I was really, really proud of the team," Diggins said. "Everyone stayed calm and collected on a day when it would have been really easy to panic and waste a ton of energy. Working on the process and zoning in on the process goals have always been a big thing for me, and days like this are when it is very clear why it is so important."
With heavy wet snow picking up in intensity, the men took to the same course for a 15k under fading afternoon light. Both Schumacher and Luke Jager, who finished 84th, took to the race with improving health as they both recover from colds the past week. 
"It's good to see them feeling good again," Whitcomb said. "Gus back to being close to the top 30 is a very good sign."
Finland's Iivo Niskanen won the race with Russia's Alexander Bolshunov second, and Norway's Paal Golberg in third. Ben Ogden was 44th, just 14 seconds out of the top 30. "That was a very hard-fought fight for Ben out there today," Whitcomb said. 
Kevin Bolger was 65th, Logan Hanneman was 70th, and Zak Ketterson was 85th in his second career World Cup start.
The Tour de Ski has a travel day Thursday to Oberstdorf, Germany - the site of the 2021 World Championships last March. Friday's Stage 3 is a freestyle mass start 10k for the women, 15k for the men. Saturday's Stage 4 is a classic sprint.
RESULTS
Women's 10k classic
Men's 15k classic
STANDINGS
Women's Tour de Ski Overall
Men's Tour de Ski Overall
Women's World Cup overall
Men's World Cup overall
Women's World Cup distance
Men's World Cup distance
HOW TO WATCH
All times EST
Friday, Dec. 31, 2021
6:55 a.m. FIS Cross Country World Cup Tour de Ski Stage 3 Women's 10k Freestyle Mass Start - LIVE, Oberstdorf, GER, Streaming Ski and Snowboard Live, Streaming Peacock
9:25 a.m. FIS Cross Country World Cup Tour de Ski Stage 3 Men's 15k Freestyle Mass Start - LIVE, Oberstdorf, GER, Streaming Ski and Snowboard Live, Streaming Peacock
Saturday, Jan. 1, 2022
6:00 a.m. FIS Cross Country World Cup Tour de Ski Stage 4 Men and Women's Classic Sprint - LIVE Oberstdorf, GER, Streaming Ski and Snowboard Live, Streaming Peacock