Toyota U.S. Grand Prix Returns to Snowmass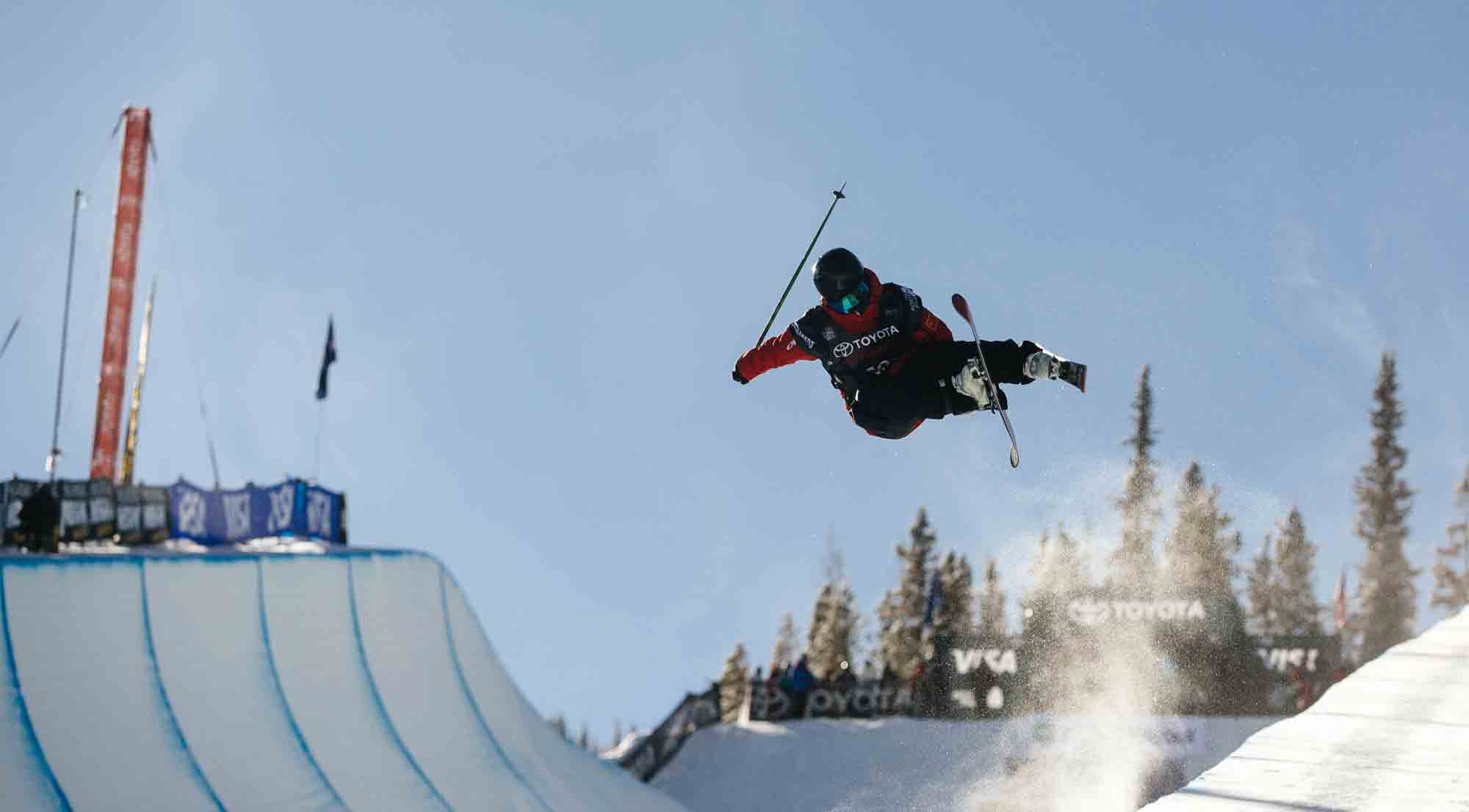 Halfpipe and slopestyle skiers and riders kick off their first competition of 2018 this week with the Toyota U.S. Grand Prix at Snowmass Jan. 10-14. The event is the penultimate Olympic qualifying event of the season, providing athletes with the opportunity to achieve top finishes before teams are named at the end of January.
Snowmass marks the second of three stops on the Grand Prix tour in the 2017 / 2018 season. The resort previously hosted one of the first snowboard halfpipe Olympic qualification events and a snowboard big air exhibition event in 1998. Although Mother Nature hasn't been the most cooperative so far this season, the mountain operations team at Snowmass have built world-class park and pipe venues for the international field of competitors to showcase their talents.
"The teams here at Snowmass have been working around the clock to build-out a solid course in the anticipation of hosting skiers and riders from around the world as they continue to make their way to the Olympics," says Deric Gunshor, director of event development, Aspen Skiing Company. "In such an important Olympic year, we look forward to putting on a seamless event as well as watching five days of exciting and top-notch athletic competition."
U.S. Freeski Team slopestyle skiers have just one qualifying event checked off after last month's Dew Tour in Breckenridge. Sochi bronze medalist Nick Goepper (Lawrenceburg, Ind.) was the lone American athlete to achieve one of two podium finishes needed to objectively qualify for the Olympic team. Maggie Voisin (Whitefish, Mont.) also has a first-place finish from a qualifying event last season in Mammoth Mountain but did not land on the podium at the Dew Tour.
The Grand Prix at Snowmass will include two slopestyle events on Jan. 12 and Jan. 14. Athletes including McRae Williams (Park City, Utah), Sochi slopestyle silver medalists Gus Kenworthy (Telluride, Colo.) and Devin Logan (West Dover, Vt.) will be in the hunt. Snowmass also marks defending Olympic gold medalist Joss Christensen's (Park City, Utah) return to competition after suffering a knee injury in May.
"I'm super excited for the Snowmass events; it's been really hard sitting on the sidelines," said Christensen. "I'm healthy and ready to get back in the start gate. I hope I can get a good result this week before we head into the last qualifying events."
Halfpipe skiers are heading into their fourth of five Olympic qualifying events. Olympic Champion Maddie Bowman (S. Lake Tahoe, Calif.) has achieved minimum U.S. qualifying criteria with two podium finishes so far. David Wise (Reno, Nev.), Aaron Blunck (Crested Butte, Colo.), Taylor Seaton (Avon, Colo.), Maddie Bowman (S. Lake Tahoe, Nev.), Kenworthy, Logan and Aspen locals Torin Yater-Wallace (Basalt, Colo.) and Alex Ferreira (Aspen, Colo.) each have one of the two podiums needed. Olympic spots could very well be secured in the halfpipe skiing finals on Friday, Jan. 12.
Olympic Champion Jamie Anderson (S. Lake Tahoe, Calif.), Chloe Kim (Torrance, Calif.) and Chris Corning (Silverthorne, Colo.) have all confirmed their nominations to the 2018 U.S. Olympic Snowboard Team. There are a host of other athletes across halfpipe and slopestyle snowboarding in the running for the final spots, including Olympic Champions Kelly Clark (Mammoth, Calif.) and Shaun White (Carlsbad, Calif.), Ben Ferguson (Bend, Ore.), Jake Pates (Eagle, Colo), Julia Marino (Westport, Conn.) and young guns Maddie Mastro (Wrightwood, Calif.), Hailey Langland (San Clemente, Calif.) and Red Gerard (Silverthorne, Colo.). Finals for slopestyle will take place on Jan. 12 followed by halfpipe on Jan. 13.
"I've actually never competed at Snowmass, so I'm excited to ride at the Grand Prix," said White. "I heard the pipe is great and I think it's going to be a great competition this close to the Olympics."
NBC Sports Group will feature comprehensive coverage of the Toyota U.S. Grand Prix at Snowmass with shows airing on NBC, NBC Sports Network and streaming on nbcsports.com. For additional event information, visit usskiandsnowboard.org/grandprix.
TOYOTA U.S. GRAND PRIX - SNOWMASS
Event Schedule
*subject to change
Jan. 10: Halfpipe skiing + slopestyle snowboarding qualifications
Jan. 11: Halfpipe snowboarding + slopestyle skiing qualifications
Jan. 12: Halfpipe skiing + slopestyle snowboarding finals
Jan. 13: Halfpipe snowboarding + slopestyle skiing finals
Jan. 14: Slopestyle skiing finals (non-World Cup)
HOW TO WATCH
All times EST
*subject to change
Jan. 12
11:15 a.m – Slopestyle snowboarding finals – nbcsports.com
2:45 p.m – Halfpipe skiing finals – nbcsports.com
9:30 p.m – Slopestyle snowboarding finals – NBCSN (Same day coverage)
11:00 p.m. – Halfpipe skiing finals – NBCSN (Same day coverage)
Jan. 13
11:15 a.m – Slopestyle skiing finals #1 – nbcsports.com
2:45 p.m – Halfpipe snowboarding finals – nbcsports.com
Jan. 14
3:00 p.m – Slopestyle skiing finals #2 – nbcsports.com
3:00 p.m. – Halfpipe snowboarding finals – NBC (next day coverage)
Jan. 15
1:30 a.m. – Slopestyle skiing finals #1 – NBCSN
Jan. 16
12:00 q.m. – Slopestyle skiing finals #2 – NBCSN