Kearney Second in World Cup Finals; USA Wins Nations Cup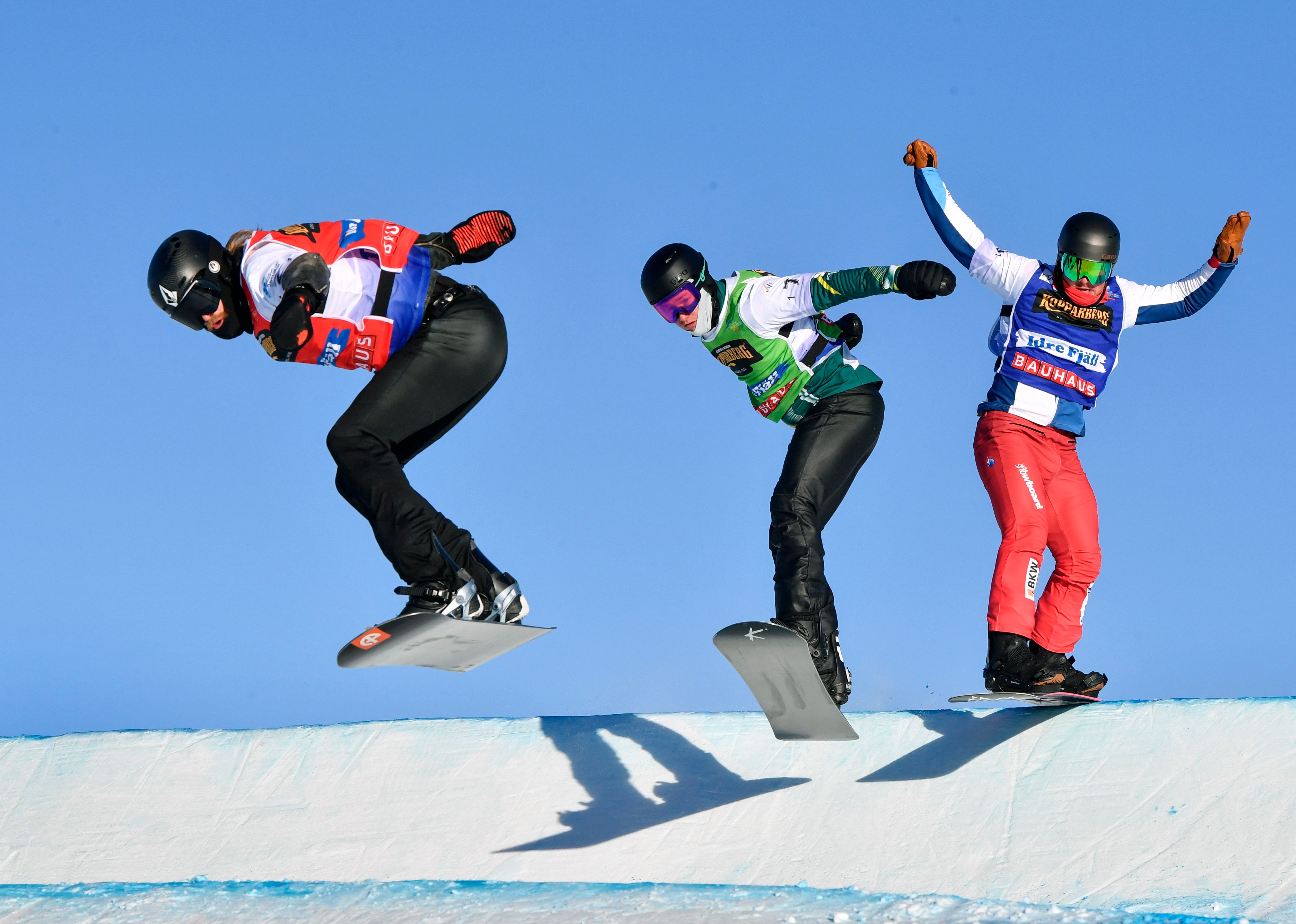 On a gorgeous sunny day in Veysonnaz, Switzerland, Hagen Kearney finished in second place in the 2021 FIS Snowboardcross World Cup Finals to secure the Nation's Cup for the U.S. Snowboard Team. Lindsey Jacobellis had her 100th World Cup start in her storied career, finishing in fifth.
Kearney rode cleanly throughout the day, but after taking second in the semis to push into the big finals, it was an all-out wild ride. There was action the whole way down with two crashes, and Kearney barely came out unscathed to take second. "I worked super hard and started off the season super strong and was able to finish it off in a great way—it can't feel any better," he said after the race. "I've had some deaths of some people pretty close to me—my sister passed away from a brain tumor in September and I felt her energy all season. And a friend in Telluride took her own life a few days ago and my community is hurting. I'd like to dedicate this podium to my sister and Hannah Smith from Telluride."
Alessandro Haemmerle of Austria took the win to secure the overall title with Merlin Surget of France in third place.  
U.S. Snowboard Team athletes Alex Deibold and Jake Vedder qualified to the small final, where they finished sixth and seventh overall. Mick Dierdorff was ninth, Nick Baumgartner 13th and Senna Leith 17th.
Jacobellis and Stacy Gaskill led the U.S. women into the semifinals, but Jacobellis fell and Stacy finished third to land them both into the small final. While Jacobellis was disappointed to not be in a big final on her landmark day, the winningest snowboardcross rider of all time didn't let that bother her and dominated the small final to take fifth place overall. Gaskill was seventh.
Jacobellis started racing as a teenager and the now 35-year-old snowboarder is the most decorated snowboardcross racer in the sport's history—boasting an Olympic silver medal, 10 X Games gold medals, five World Championship golds and 32 World Cup wins. She's been dominating the World Cup circuit for more than 15 years, and making her 100th World Cup start is just another feat for her to add to her impressive trophy case.
"It's pretty rad to see," said Kearney of Jacobellis. "100 World Cups later and she's still destroying people. I'm super proud of her and it really shows her passion for the sport. She's a crusader and it's cool to see her still at it. She would have liked to have been in the big final today, but she's such a strong snowboarder and for this to be her triple-digit World Cup is an affirmation of that."
Eva Samkova of the Czech Republic took the win on the women's side to lock down the crystal globe, with Michela Moioli of Italy and Charlotte Bankes of Great Britain rounding out the podium in second and third. Americans Meghan Tierney and Faye Gulini made it to the quarterfinals, but did not qualify out of them and finished 13th. Gulini, having had her best season in her career with three podiums, finished third in the overall standings.
The results from the World Cup Finals also secured the U.S. Snowboard Team the Nation's Cup—making USA the best snowboardcross team of the 2020-21 season. "Everybody is really excited about it," said Head Coach Peter Foley. "It was a tough year, but I'm really glad we were able to win it. The athletes were super stoked about it. And I was stoked too, of course!"
Kearney echoed his coach's sentiments. "We totally deserved it. Our team was insane this season," he said. "A ton of our teammates getting podiums—it was awesome. Everybody is coming into their own. That was really cool. As long as I've been on the team, it's the strongest we've looked going into any Olympic season. This is the new generation of boardercross."
RESULTS
Women's World Cup Finals snowboardcross
Men's World Cup Finals snowboardcross
CUP STANDINGS
Men's snowboardcross
Women's snowboardcross