Diggins Second At Davos Freestyle Sprint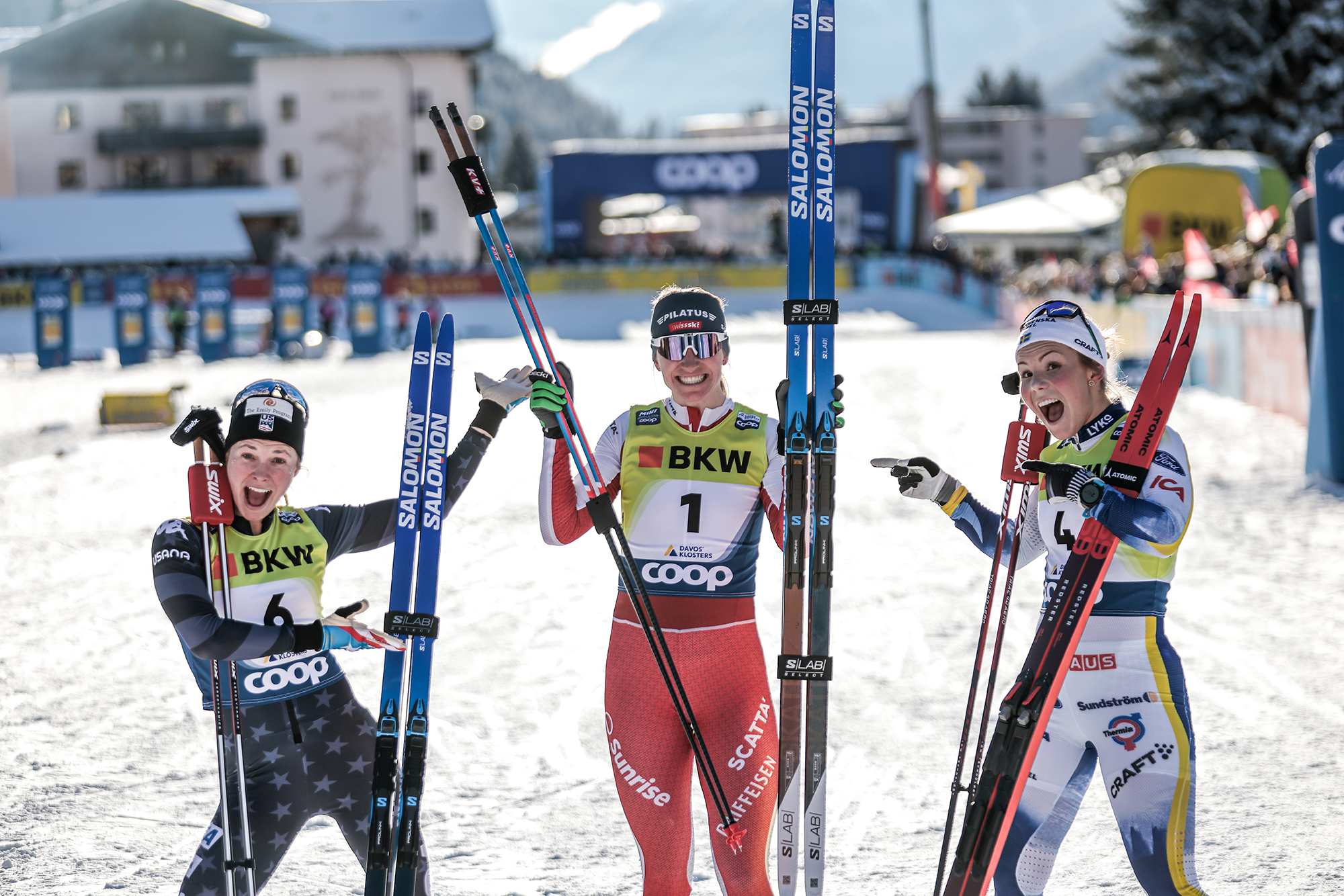 On sun-splashed Swiss day, Jessie Diggins led the U.S. Cross Country Team with a second-place finish at Davos's FIS World Cup Cross Country freestyle sprint.
"It was a beautiful, sunny day and I feel like this might have been the third weekend in a row where Team USA had the most passionate fans," Diggins said. "I'm pretty sure half of Landgrove (Vermont) was out there as well as some other special guests...and it was a really cool atmosphere!"
Rosie Brennan was the top U.S. qualifier in sixth, with Diggins in seventh. Diggins and Brennan both raced in the first heat of the quarterfinals, with Diggins setting the early pace and finishing second to advance to the semifinals. Brennan, unfortunately, was a distant third and did not advance. 
"I did not have the day I was hoping for today," Brennan said. "I am really struggling to find my power and speed in sprinting which has been frustrating for me. My fall and early season has been marred by illness and I think that has made it difficult for me to find all my gears. I am healthy now and my base fitness still feels good so I am looking forward to tomorrow. It was a great day for ski racing and Davos does a great job at hosting races. Even without my best today, this is still one of my favorite places to race."
Julia Kern, who qualified ninth, advanced to the semifinals, finishing third in quarterfinal heat two and advancing as a Lucky Loser. 
In the semifinal heat, Diggins fought for her line on the two-lap course and snuck into the finals, finishing third and advancing as one of two Lucky Losers. Kern, meanwhile, finished fifth in the first semi-final heat, finishing 10th on the day, for her third individual World Cup top 10 of the season.
In the finals, Diggins, Switzerland's Nadine Faehndrich, Sweden's Johanna Haegstroem and Norway's Tiril Udnes Weng came off the second climb and into the fast downhill altogether. Fighting for positioning on the inside, Diggins took a clear shot to the finish, lunging to the line to nip Weng and Haegstroem for the second podium spot. Faehndrich crossed the line 0.24 seconds ahead of Diggins to win her second-straight World Cup sprint. Haegstroem was third.
"My strategy was to tuck in behind either Tiril or Nadine, and I just sort of ended up skiing the inside line," Diggins said. "I just took a sharp inside lane, just tried to stay calm and ski with a lot of power into the finish."
For the U.S. Men, Ben Ogden, Kevin Bolger, and JC Schoonmaker all qualified for the heats. Ogden skied aggressively and was in contention, sitting second at the top of the climb on lap two, but got tripped up on a pole from Sweden's Johan Haeggstroem and fell. Bolger and Schoonmaker each finished fifth in their respective heats.
Italy's Frederico Pelligrino edged Norway's Johannes Klaebo for the victory, with Lucas Chanavat of France in third.Ogden was XX, Bolger XX and Schoonmaker was 
Alayna Sonnesyn qualified for her first sprint heats, finishing fifth in heat three and settling for 24th on the day for her first top-30 World Cup result. 
Up next, a 20k freestyle Sunday in Davos.
RESULTS
Women's freestyle sprint
Men's freestyle sprint