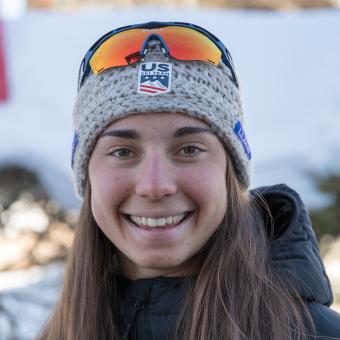 Julia Kern continues to add top results to her racing resume, including a bronze medal from the 2017 FIS Junior World Championships where she was a member of the 4x3.3k relay team.
Q: What is your favorite memory as a competitor?
A: My favorite memory is huddling in a circle with Katharine, Hannah, and Hailey at the finish line of the Junior World Championships relay in Utah, where we realized that our dream of winning a medal we had made two years ago at training camp just came true.
Q: Who is your favorite athlete?
A: Kerry Walsh
Q: When you're not skiing, what are you doing for fun?
A: Anything outdoors, whether it be climbing, hiking, surfing, mountain biking, swimming, beach volleyball or shooting hoops outside! Non-athletically, I love to do photography and film.
Q: Are you involved with any nonprofits, charities or social causes? If so, tell us why you're involved.
A: National Winter Sports Education Foundation (NWSEF): I think it is important to get as many kids out on skis to give it a try without the barriers of having to purchase all of the gear. Anything to get kids active outside and having fun is really awesome!
Results
JUNIOR WORLD CHAMPIONSHIPS
Bronze, 4x3.3k Relay, Soldier Hollow, Utah, 2017
8th, 4x2.5k Relay FS, Rasnov, ROU, 2016
8th, 4x3.3k Relay, Almaty, KAZ, 2015
9th, Sprint CL, Soldier Hollow, Utah, 2017
16th, 1.3k Sprint FS, Rasnov, ROU, 2016
18th, 5k CL, Rasnov, ROU, 2016
U.S. CHAMPIONSHIPS
2nd, U20 FS Sprint, Houghton, Mich., 2016
3rd, 5k FS (Juniors), Houghton, Mich., 2016
7th, Spring CL, Soldier Hollow, Utah, 2017
11th, 30k CL, Craftsbury, Vt., 2018
11th, Sprint CL, Houghton, Mich., 2016
18th, 10k CL, Houghton, Mich., 2016
U.S. SUPER TOUR
1st, Sprint FS, Ishpeming, Mich., 2017
3rd, 10k CL, Craftsbury, Vt., 2016
6th, 5k FS, Craftsbury, Vt., 2016
13th, 10k CL, Lake Placid, N.Y., 2016
17th, Sprint CL, Craftsbury, Vt., 2016
19th, Sprint FS, Sun Valley, Idaho, 2016
21st, 10k FS, Craftsbury, Vt., 2016
WORLD CUP
38th, Sprint FS, Dresden, GER, 2018
43rd, Sprint CL, Planica, SLV, 2018