Kim Reclaims X Games Halfpipe Gold, Mastro Silver; Hall Takes Big Air Bronze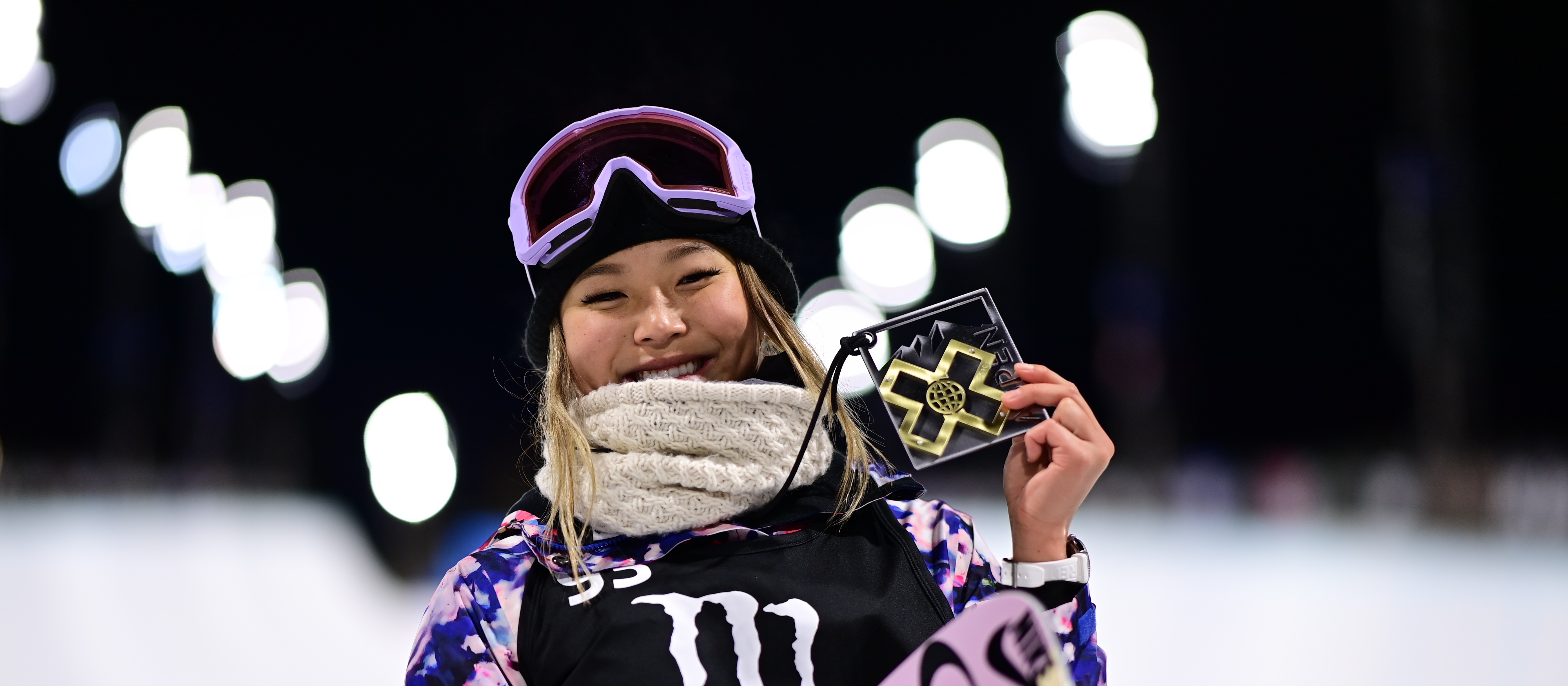 Chloe Kim remained podium perfect in the superpipe at X Games Aspen 2021 earning her sixth X Games gold, and eighth medal in as many X Games. Teammate Maddie Mastro claimed silver. 
After taking a year off the contest scene to attend Princeton University, Kim watched from afar as the gold medal was awarded to Spain's Queralt Castellet's at X Games Aspen 2020. On Saturday night, Kim made a statement through her riding that she is back, reclaiming gold and displaying serious toughness fighting through unforeseen challenges. 
"I have actually struggled a lot this week," said Kim. "I was in the emergency room a few days ago after a really crazy allergic reaction where my throat closed up, and this morning my face was swollen. Then, after my first run slam, my ribs were bothering me, so I'm actually happy with how things worked out because it wasn't looking so good when I woke up."
The fact that Kim went on to land a solid second and third run to take the win while in pain and discomfort, makes her performance all the more impressive. 



One thing is for sure, despite taking the top two spots on the podium, there are some great runs left on the table for Kim and Mastro. Kim will look to incorporate her back-to-back 1080's and the frontside double cork 1080 that she has yet to land in competition. Mastro, despite landing the double crippler at multiple World Cups, has yet to take her signature trick to the Buttermilk superpipe. It's safe to say great things are on the horizon for both U.S. Snowboard Team athletes. 
Haruna Matsumoto of Japan rounded out the podium earning bronze and 14-year-old Sonora Alba made her X Games debut as the youngest competitor at X Games Aspen finishing eighth. 
Earlier in the evening, U.S. Freeski Pro Team member Alex Hall claimed his fifth X Games medal. Hall used his creativity and consistency to his advantage to earn his first podium at X Games Aspen big air. Hall has a big day ahead of him with slopestyle and knuckle huck both on his agenda for Sunday.
"I have been trying to go mellow in practices, but it's super fun to take part in all three events and I'm hyped for tomorrow," said Hall. "I just hope I have some energy left for the morning, but no matter what, it will be fun to get back out here for another beautiful day of competition in Aspen."
Hall stomped his signature switch double cork 1800 Buick and a new double cork 1620 Nose grab, completely capping the tip of his ski. At 6-foot, 4-inches tall, completing a nose grab while executing a massive rotation is quite the spectacle. 
 
The competition was full of many firsts for multiple athletes including Andri Ragettli of Switzerland, who landed a triple cork 1980 for the first time ever to take the win. Antoine Adelisse of France earned silver with no shortage of impressive tricks including a triple cork triple grab, which he referred to as the hardest trick in his arsenal. 
X Games snowboard and freeski action continues Sunday, Jan. 31 with a chock-full program including men's snowboard slopestyle and women's snowboard big air, which were added to the schedule after postponements on Saturday due to weather. 
Tune in to watch your favorite U.S. Snowboard and Freeski Team athletes as they take their final shot at taking home hardware from X Games Aspen 2021.
REPLAYS
Men's ski big air
Women's snowboard superpipe
RESULTS
Men's ski big air
Women's snowboard superpipe
HOW TO WATCH
Subject to change
All times EST
Next-day broadcast
@XGames - Streaming via YouTube, Facebook, and Twitter pages.
Sunday, Jan. 31
9:30 a.m. - Men's snowboard slopestyle - Aspen, Colo. - @XGames
1:00 p.m. - Men's ski slopestyle, women's snowboard slopestyle* - Aspen, Colo. - ABC
1:30 p.m. - Women's snowboard big air - Aspen, Colo. - @XGames
8:30 p.m. - Men's snowboard superpipe, men's snowboard big air, ski knuckle huck - Aspen, Colo. - ESPN
FOLLOW
Instagram - @ussnowboardteam
Instagram - @usfreeskiteam
Facebook - @usskiandsnowboard
Interested in organization, athlete, and event-related news?
Sign up for our Daily or Weekly Update
Learn more about how to support the U.S. Freeski & Snowboard Teams.