Ford Grabs Second at Santa Caterina Giant Slalom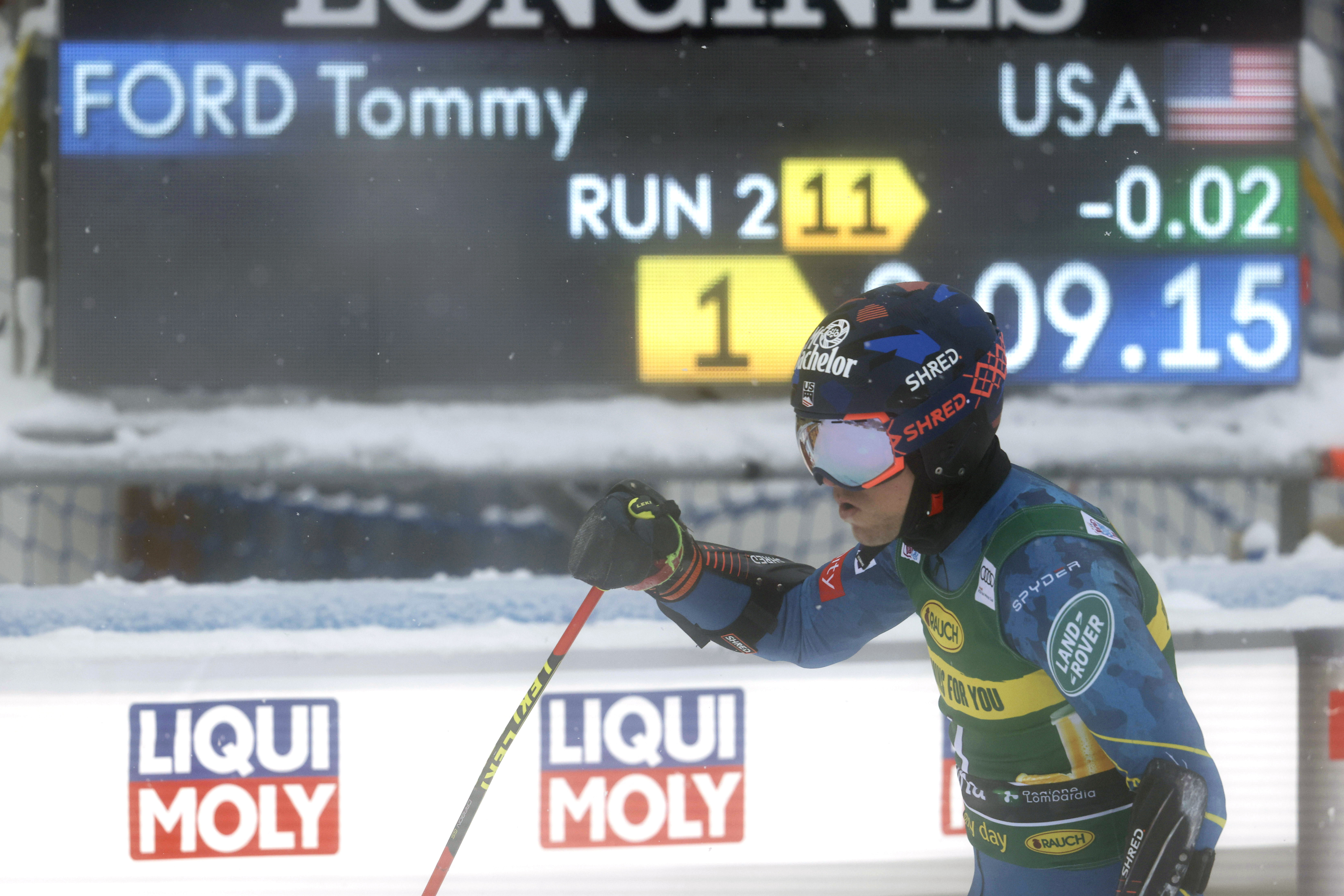 After heavy snowfall forced the postponement of Sunday's giant slalom to Monday, the FIS Ski World Cup was luckier with the weather on Monday, and Tommy Ford led the way for the Land Rover U.S. Alpine Ski Team, landing in second at Santa Caterina, Italy. 
Marco Odermatt of Switzerland skied a strong first run and was leading by 19 hundredths over Norway's Leif Kristian Nestvold Haugen, with France's Alexis Pinturault in third, and Tommy in fourth by .43 seconds. Croatia's Filip Zubcic was sitting in 21st after the first run, but once again had a blazing-fast second run to move up to third. For a while, he looked unbeatable...until Tommy came down, skiing smooth and clean through the finish, into the lead by a mere .02 hundredths. Alexis and Leif up next...but they couldn't catch Tommy, who landed in second, grabbing his third career podium. Marco skied beautifully, winning by .73 seconds, making him the first Swiss skier to win a men's giant slalom event in the World Cup since Carlo Janka in Kranjska Gora, Slovenia, on March 5, 2011.
The volunteers did an amazing job all weekend clearing the track and creating a great surface for the guys to push off of. "It was nice snow, the volunteers here did a great job...and I felt quite at home because of the falling snow," Tommy reflected in the finish area after the race. "This is just like home at Mt. Bachelor [Oregon], and I'm just happy to be skiing here period...and happy to have a nice smooth two runs."
Tommy's style is so chill, he almost looks like he's meditating in the start gate, and has been described as "Zen-like" by commentators, as he pushes out of the gate. Make no mistake...his signature calm and collected approach is deceptively fast. When told he looked like a "free-rider who really enjoyed his runs" by a reporter in the finish, Tommy laughed and replied, "Oh yeah, I mean—it's all about enjoyment. I was arcing turns...this hill is made to arc on, like the whole way down, and I'm happy to ski on it."
Due to shoulder and back injuries sustained this summer, Tommy's already limited (due to COVID-19) summer prep period was further limited, and he ended up in 22nd at the World Cup opener in Soelden, Austria. He credits recent training at Official Training Site Copper Mountain, Colo. with getting him where he was this weekend, grabbing a sixth-place and second, respectively. 
"It's been a progression, with not as much skiing as I would have liked this summer, but I had a good camp in Copper, and the coaches have been providing great training. I've been working with my mental coach, and we've been putting it together." He continued, "I would say I've been experimenting for years, and my mental coach has really helped the last four years...he helped me find my self-confidence, and trust what I already know." 
Ryan Cochran-Siegle was sitting in 27th after the first run and was having a strong second run before he went down on his hip and had a great recovery, ending up in 28th on the day and grabbing his first giant slalom points of the season. Ted Ligety, River Radamus, and Bridger Gile also started but did not qualify for the second run. 
Up next for the men will be a speed series at Val d'Isere, France, with a downhill on Dec. 12, followed by a super-G on Dec. 13. The men's tech crew will have a training break, before heading to Alta Badia, Italy on Dec. 20-21 for giant slalom and slalom races, followed by a slalom under the lights at Madonna di Campiglio on Dec. 22. 
RESULTS
Men's Giant Slalom