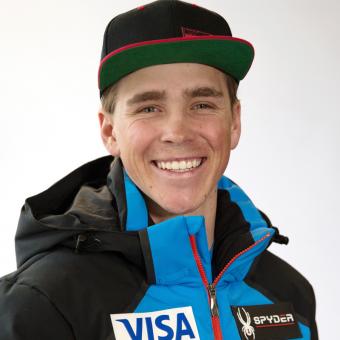 River Radamus
Two-Time Junior World Champion
River Radamus qualified for the Development Team the 2016 season with a myriad of excellent results. In 2017, Radamus qualified for the Youth Olympic Games in Lillehammer, Norway, and grabbed a hat-trick of victories across super G, giant slalom, and combined disciplines. In doing so, Radamus became the first skier or snowboarder in history to win three individual gold medals. 
During the 2018 season, Radamus continued to excel, grabbing first and second in a pair of FIS races among some of the fastest skiers in the world in super-G, in Cortina d'Ampezzo, Italy. At the FIS Junior World Ski Championships in Davos, Switzerland, Radamus shared the podium with teammate Luke Winters, as they went second and third, respectively. He went on to snag a NorAm overall title and capped off the season with a third place in the super-G at U.S. Alpine Championships in Sun Valley, Idaho. Yeah Riv!
River says of Birds of Prey at Beaver Creek, "I've been watching Birds of Prey my whole life. When I was in elementary school, we used to have field trips to go watch when it came to town. I'd get to watch guys like (Andrew) Weibrecht, Bode (Miller), Ted (Ligety), Nolan (Kasper), etc., just crush at these races, and dream of an opportunity to do the same. And now I get my chance to race against the world's best in my own backyard. I mean, how can you not love that?! It is races like this [Birds of Prey] that I've worked my whole life for."
Now a named B Team member, Radamus is one that you're going to want to keep your eyes on in the upcoming 2019 season! 
FIRST TRACKS
River says, "The Vail Valley is home to me, so of course I'm excited to race there [at Birds of Prey]. I owe a huge debt to Ski and Snowboard Club Vail for where I am today. SSCV was hugely influential in molding me into the skier I am today. Birds of Prey gave me exposure to elite alpine competition at an early age and helped me believe it was possible. And most importantly, the community around here, that has been so supportive of ski racing, and supportive of me. It's definitely gonna be special charging for the hometown crowd." 
Team Info
Ski & Snowboard Club Vail
Results
WORLD CUP
First World Cup points - GS, 24th, Alta Badia, ITA, Dec. 16, 2018
First World Cup Start - GS, Beaver Creek, Colo., Dec. 3, 2017

WORLD JUNIOR CHAMPIONSHIPS (top 10)
Teams: 2017, 2018, 2019
1st, SG, Val di Fassa, ITA, 2019
1st, GS, Val di Fassa, ITA, 2019
2nd, TE, Val di Fassa, ITA, 2019
2nd, AC, Are, SWE, 2017
2nd, SG, Davos, SUI, 2018
4th, AC, Val di Fassa, ITA, 2019
8th, AC, Davos, SUI, 2018
8th, DH, Val di Fassa, ITA, 2019
9th, SL, Davos, SUI, 2018
10th, DH, Are, SWE, 2017
NORAM
1st, Overall, 2018
2nd, SL, 2018
4th, GS, 2018
3rd, SG, 2018
3rd, AC, 2018
2nd, AC, 2017
U.S. CHAMPIONSHIPS
3rd, SG, Sun Valley, Idaho, 2018
5th, SL, Sun Valley, Idaho, 2018
8th, AC, Sun Valley, Idaho, 2018

U.S. JUNIOR ALPINE CHAMPIONSHIPS
1st, SG, Sun Valley, Idaho, 2018
1st, AC, Sun Valley, Idaho, 2016
2nd, GS, Sun Valley, Idaho, 2018
2nd, SG, Sun Valley, Idaho, 2016
4th, GS, Sugarloaf, Maine, 2017
4th, GS, Sugarloaf, Maine, 2017

YOUTH OLYMPIC GAMES
Teams: 2016
1st, GS, Lillehammer/Hafjell, NOR, 2016
1st, AC, Lillehammer/Hafjell, NOR, 2016
1st, SG, Lillehammer/Hafjell, NOR, 2016
First skier or snowboarder in history to win three individual gold medals