Ford Fifth in Alta Badia Giant Slalom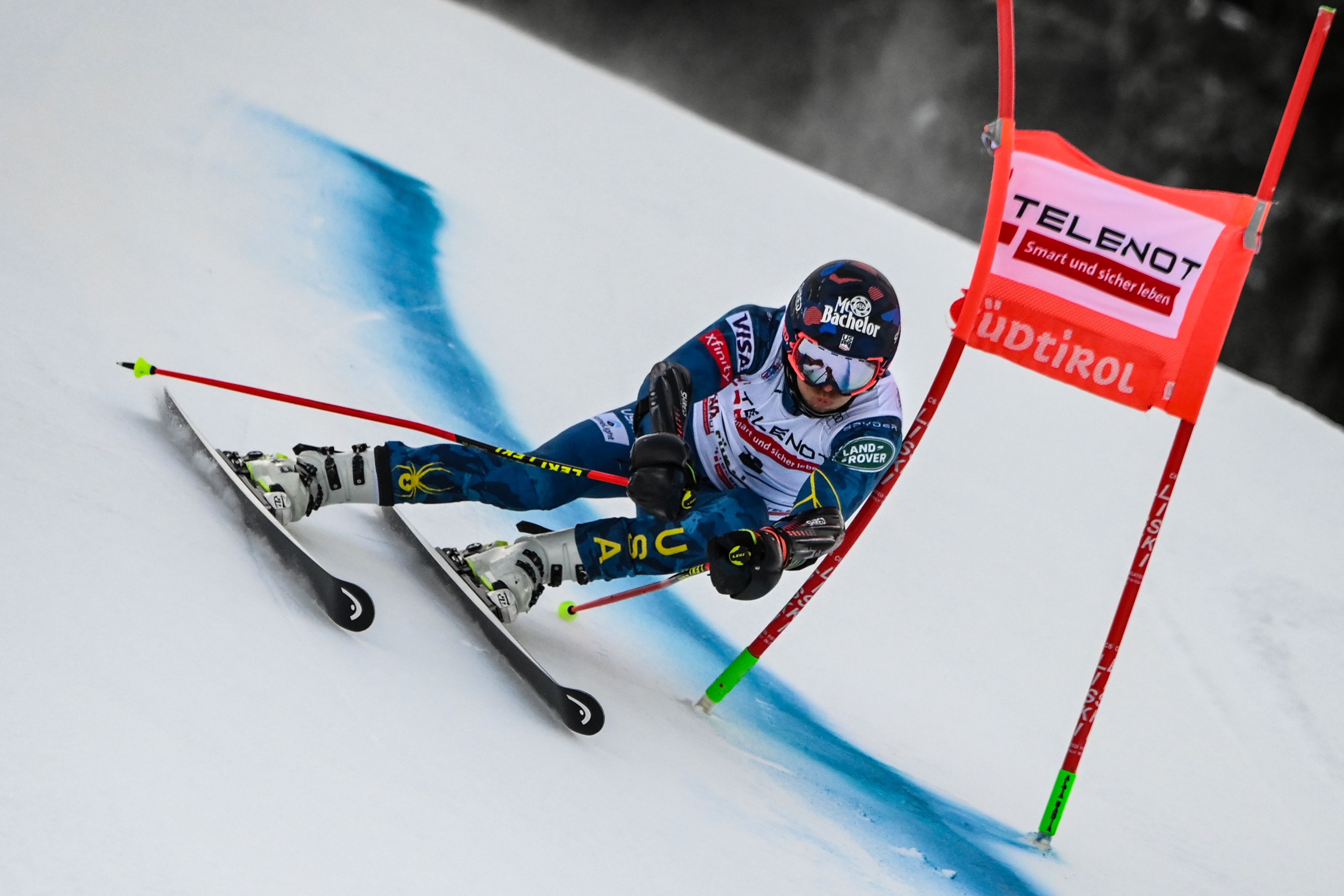 Tommy Ford continued his stellar streak of giant slalom results, finishing fifth in the Alta Badia GS and leading four U.S. men into the points.
Just on the other side of the valley from the weekend's speed events in Val Gardena, Italy, Alta Badia's conditions were perfect. The snow on the Gran Risa was ideal—not too grippy or slick—which resulted in high speeds and a close race. Alexis Pinturault of France won the race with young Atle Lie McGrath of Norway in second and Justin Murisier of Switzerland third.
Tommy was 14th first run, but threw down the third-fastest second run to take fifth place overall—matching his fifth place in Alta Badia in 2018. While he was happy to score another excellent result, he knows there's more in him. "First run, I didn't quite have the fire and made a better adjustment second run and allowed that to come out," he said. "I was a bit round and had a hard time finding the rhythm first run, but second run, I was more in the fall line and hitting with more power and burned all the way through the finish."
Tommy has already racked up three top-10 giant slalom results this season—a sixth and second place in Santa Caterina at the beginning of December and now a fifth in Alta Badia—assuring U.S. fans that he's one to watch. He suggested his upward trajectory last year, winning the Beaver Creek GS in front of the home crowd and scoring a podium in Japan, so with a (hopefully) complete season this year, U.S. fans should continue to see Tommy at the top of his game throughout 2020-21.
Including Tommy, four Land Rover U.S. Alpine Ski Team men finished in the points in Alta Badia. River Radamus turned it on and hammered to 20th place from bib 39—his best World Cup GS finish in his career so far. Ted Ligety was 26th and Ryan Cochran-Siegle, fresh off his second place finish in Saturday's downhill in Val Gardena, was 29th.
Bridger Gile did not qualify for a second run. George Steffey did not finish first run.
So what's next for Tommy now that the giant slalom is over? "Ravioli and a nap," he said. He then heads to Christmas in Austria with his girlfriend and fellow Land Rover U.S. Alpine Ski Team member Laurenne Ross.
However, not all of the World Cup men are done for the holidays yet, as there's one more slalom in Alta Badia on Monday and a night slalom in Madonna di Campiglio on Tuesday. Ben Ritchie, Luke Winters, and 2019 NCAA slalom champion (DU) Jett Seymour will represent the stars and stripes in the races.
RESULTS
Men's giant slalom
HOW TO WATCH
All Times EST
Sunday, Dec. 20
11:00 p.m. FIS Alpine World Cup Men's Giant Slalom - Same Day Broadcast, Alta Badia, ITA, Broadcast NBCSN
Monday, Dec. 21
4:00 a.m. FIS Alpine World Cup Men's Slalom, run 1 - LIVE, Alta Badia, ITA, Streaming Peacock
7:00 a.m. FIS Alpine World Cup Men's Slalom, run 2 - LIVE, Alta Badia, ITA, Streaming Peacock
7:00 a.m. FIS Alpine World Cup Men's Slalom - LIVE, Alta Badia, ITA, Broadcast NBCSN
Tuesday, Dec. 22
11:30 a.m. FIS Alpine World Cup Men's Slalom, run 1 - LIVE, Madonna di Campiglio, ITA, Streaming Peacock
2:30 p.m. FIS Alpine World Cup Men's Slalom, run 2 - LIVE, Madonna di Campiglio, ITA, Streaming Peacock
2:30 p.m. FIS Alpine World Cup Men's Slalom - LIVE, Madonna di Campiglio, ITA, Broadcast Olympic Channel