Diggins, Caldwell Hamilton Fourth in Dresden Team Sprint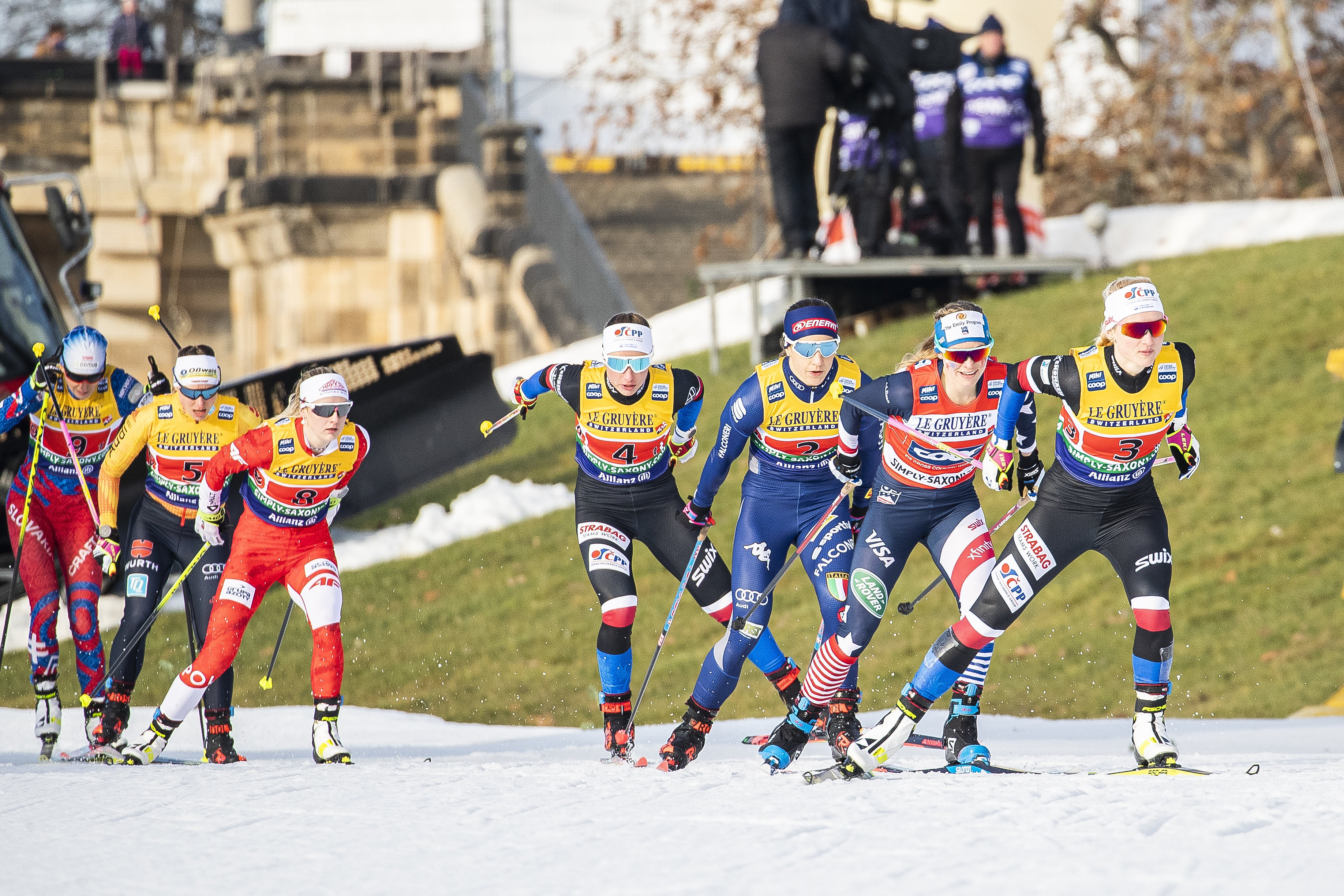 The chaotic, exciting, rough and tumble season of FIS Cross Country World Cup team sprinting opened Sunday in Dresden, Germany, with three Davis U.S. Cross Country Teams advancing to the finals, led by Jessie Diggins and Sophie Caldwell Hamilton finishing fourth.
"That was the most fun race I've ever done!" exclaimed Hannah Halvorsen, who teamed up with Julia Kern (USA II) to finish eighth. "I crashed in both the semi and final, which I felt bad about, but I definitely came away with an awesome experience. My teammate Julia skied amazing and our skis were super fast."
There were numerous crashes and collisions throughout to race, especially during the exchanges on the fast, narrow Robotron Ski Arena course along the banks of the Elbe River. After winning their semifinal race, Jessie and Sophie came into the finals as one of the favorites, along with Switzerland I and Russia I. But in the finals, the exchanges - where one teammate tags off by touching any part of their teammate's body all the while in a full sprint, proved to be the deciding factor of the race. 
Heading into the last two exchanges, Russia I and Switzerland I had a clear advantage over Slovenia, Czech Republic I, and USA I (Jessie and Sophie). Down the stretch, Switzerland I out-sprinted Russia I to take the victory, with Slovenia I finishing third. Sophie sprinted past Tereza Beranova of Czech Republic I to finish fourth.
"We fought hard out there, and I  so proud of all our teams for giving it our best effort," Jessie said. "Personally I struggled a bit with positioning on such a short and tactical loop, but I was proud of how I held my own in city sprinting on a course that challenged me in different ways. I thought we had great skis and it's nice to feel that we're working our way into better and better racing form."
In the men's race, Kevin Bolger and Simi Hamilton (USA I) represented the U.S. in the finals. On the opening lap, Kevin was third into the first exchange, however, Simi snapped a pole, so Kevin handed him one, but the ensuing chaos dropped Simi to the back of the 10-team field. As one of the best athletes in the race though, Simi turned on the power and moved back into the pack as Russia, France, and Italy kept the pace in check.
Down the stretch, Russia I took the narrow victory over France I, with Italy I in third. USA I (Simi and Kevin) finished ninth.
Overall, it was an outstanding weekend for the Davis U.S. Cross Country Team as they wrap up Period 1 of the World Cup season with five U.S. Women in the top 30 in the overall World Cup standings, including Rosie Brennan holding the overall World Cup lead, and the World Cup overall distance lead. For the men, Simi and Kevin sit eighth and ninth respectively in the overall World Cup sprint standings, and both are in the top 30 overall World Cup standings as well.
Most importantly, the Davis U.S. Cross Country Team walks away from Period 1 with a number of athletes posting World Cup best results, including:
Rosie Brennan, two World Cup victories, first Davos freestyle sprint; first Davos 10k freestyle
Hailey Swirbul, third Davos 10k freestyle
Kevin Bolger, sixth Dresden freestyle sprint
Logan Hanneman, ninth Dresden freestyle sprint
JC Schoonmaker, 14th Dresden freestyle sprint
Gus Schumacher, first World Cup Points, 24th Ruka 15k pursuit
Hannah Halvorsen, first World Cup Points, 23rd in Dresden sprint
Up next, the team will enjoy a bit of Holiday downtime while preparing for World Cup Period 2, which kicks off with the FIS Tour de Ski in Val Müstair, Switzerland with a freestyle sprint on January 1.
RESULTS
Women's team sprint
Men's team sprint
STANDINGS
Women's World Cup overall
Men's World Cup overall
Women's World Cup sprint
Men's World Cup sprint
HOW TO WATCH
All Times EST
Sunday, Dec. 20
5:00 p.m. FIS Cross Country Men and Women's Team Sprint - Same Day Delayed Broadcast, Dresden, GER, Broadcast Olympic Channel
7:00 p.m. FIS Cross Country Men and Women's Team Sprint - Same Day Delayed Broadcast, Dresden, GER, Broadcast NBCSN