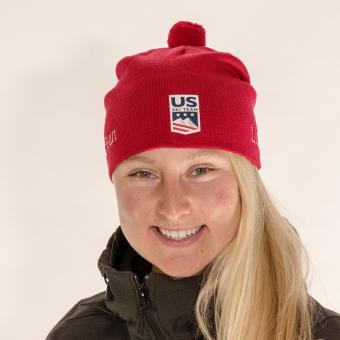 Hannah Halvorsen has seen huge improvements over the past three years, including a steady climb up the SuperTour standings, thanks to a number of top 10 sprint performances. But, most notably, her biggest accomplishment so far is a FIS Junior World Championship bronze medal as part of the 4x3.3k relay team.
Q:  Tell us something quirky about yourself that people would be amused to learn.
A: I give free haircuts as a hobby!
Q: Are you involved with any nonprofits, charities or social causes? If so, tell us why you're involved.
A: I am involved with Fast and Female, Girls on the Run, and the Boys and Girls club because I believe when kids finds a sport they love it will change their life.
Team Info
Alaska Pacific University Nordic Ski Center
Alaska Pacific University
Results
FIS JUNIOR WORLD CHAMPIONSHIPS
Bronze, 4x3.3 relay, Soldier Hollow, Utah, 2017
8th, Sprint FS, Goms, SUI< 2018
8th, 4x3.3 relay, Goms, SUI, 2018
YOUTH OLYMPIC GAMES
6th, Sprint CL, Lillehammer, NOR, 2016
13th, Cross Country Cross, Lillehammer, NOR, 2016
17th, 5k FS, Lillehammer, NOR, 2016
U.S. CHAMPIONSHIPS
1st, U18 5k FS, Houghton, Mich, 2016
5th, Sprint FS, Kincaid Park, Alaska, 2017
5th, Sprint FS, Houghton, Mich, 2016
5th, Sprint CL, Houghton, Mich, 2015
11th, U18 10k CL, Houghton, Mich, 2016
U.S. JUNIOR NATIONALS  
1st, U18 Sprint FS, Cable, Wisc., 2016
5th, U18 10k FS, Cable, Wisc, 2016
13th, U18 5k CL, Cable, Wisc., 2016
U.S. SUPER TOUR
2nd, Sprint FS, West Yellowstone, Mont., 2015
6th, Sprint CL, Sun Valley, Idaho, 2015
7th, Sprint, CL, Craftsbury, Vt. 2018
15th, 10K CL, Sun Valley, Idaho, 2016 (2nd in U18s)
16th, 10k FS, West Yellowstone, Mont., 2015 (2nd in U18s)
U18 SCANDINAVIAN CHAMPIONSHIPS  
4th, Sprint FS, Otepaa, EST, 2016
5th, 5k CL, Otepaa, EST, 2016
5th, Team Relay, Otepaa, EST, 201