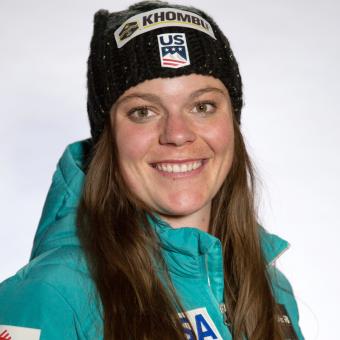 Rowmark Academy grad Breezy Johnson moved up to A Team this season after bursting onto the World Cup scene in a big way during the 2016-17 season, where she finished 18th in the Audi FIS Ski World Cup downhill standings and 36th in super-G.  She started the season with a bang, finishing in 11th place in the first downhill at Lake Louise and never looking back.  A 10th place finish at Cortina in downhill qualified Breezy to go to the World Alpine Ski Championships in St. Moritz. As the youngest member of the U.S. squad there, she raced to a 15th place in downhill and 28th in super-G.
In 2018, of her 15 downhill and super-G starts, Johnson was in the points ten times, top 15 five times, top 10 four times, and narrowly missed her first podium in Garmisch, with fourth place. Johnson qualified for her first Olympic team and grabbed a solid 14th place result in super-G and a seventh in the downhill. An incredible result for the first time Olympian. 
PATIENT NOTES
Johnson recently sustained an ACL tear that has sidelined her for the 2019 season. Throughout Johnson's road to recovery, she'll be sharing the ups and downs of rehabilitation here in a column of her own, entitled "Patient Notes," in hopes that you will follow along for the journey to learn how challenging it is both physically and mentally to return to snow at the elite level. Being an injured athlete can be challenging and lonely, and we're hoping that by writing this column, Johnson will be able to stay connected to the community and her sponsors.
volume 1: Introduction
volume 2: Pain is Temporary
volume 3: Ferocity and Frustration
volume 4: Dichotomies
volume 5: Lies and Greed
volume 6: Like I Never Left
FIRST TRACKS 
Breezy first strapped on skis to ski down her driveway at age 3 and hasn't slowed down since. Her father was her first coach when she started competing in club races for the Kelly Canyon Ski Team while she was still in kindergarten. A few years later, she joined the Jackson Hole Ski Club, splitting her time between training under the lights of Snow King during the week and ripping up the black runs at Jackson Hole Mountain Resort on the weekend. When Breezy was 13 she moved to Rowmark Ski Academy to further pursue her dreams of ski racing while maintaining a school-ski balance.
OFF THE SNOW
Breezy enjoys pretty much anything athletic although she admits that her coordination is pretty abysmal. In summer if she's not doing flips on her parent's trampoline in Victor, Idaho, she might out running on the trails with her dog or slacklining in the woods. "With the Tetons in your backyard it's hard not to be outside," she says. She also enjoys curling up with one of her cats and a book, cooking delicious food, or gardening.
Results
OLYMPICS
7th, DH, Pyeongchang, KOR, 2018 
14th, SG, Pyeongchang, KOR, 2018 
WORLD CHAMPIONSHIPS
15th, DH, St. Moritz, SUI, 2017
28th, SG, St. Moritz, SUI, 2017
First World Championships in St. Moritz, SUI, 2017
WORLD CUP HIGHLIGHTS
4th, DH, Garmisch, GER, 2018
8th, DH, Are, SWE, 2018
8th, DH, Garmisch, GER, 2018
11th, DH, Cortina d'Ampezzo, ITA, 2018
10th, DH, Lake Louise, CAN, 2018
11th, DH, Garmisch, GER, 2017
10th, DH, Cortina d'Ampezzo, ITA, 2017
16th, SG, Lake Louise, CAN, 2017
First World Cup points, 28th, DH, Garmisch-Partenkirchen, GER (2016)
U.S. Championships 
U.S. National Downhill champion, 2016
3rd, DH, Sugarloaf, Maine, 2015
4th, SG, Sugarloaf, Maine, 2015

OTHER
NorAm Downhill Title, 2016
2nd, Europa Cup, DH, Altenmarkt, AUT, 2016
First Europa Cup win, DH, Altenmarkt, AUT, 2016
4th, DH, Junior World Championships, Sochi, RUS, 2016
15th, 2014 World Juniors, Jasna, Slovakia, 1st place U18
5th, 2013-2014 Nor Am Downhill standings
15th, 2013-2014 Nor Am Super G standings