Top to Bottom Training for Moguls in Zermatt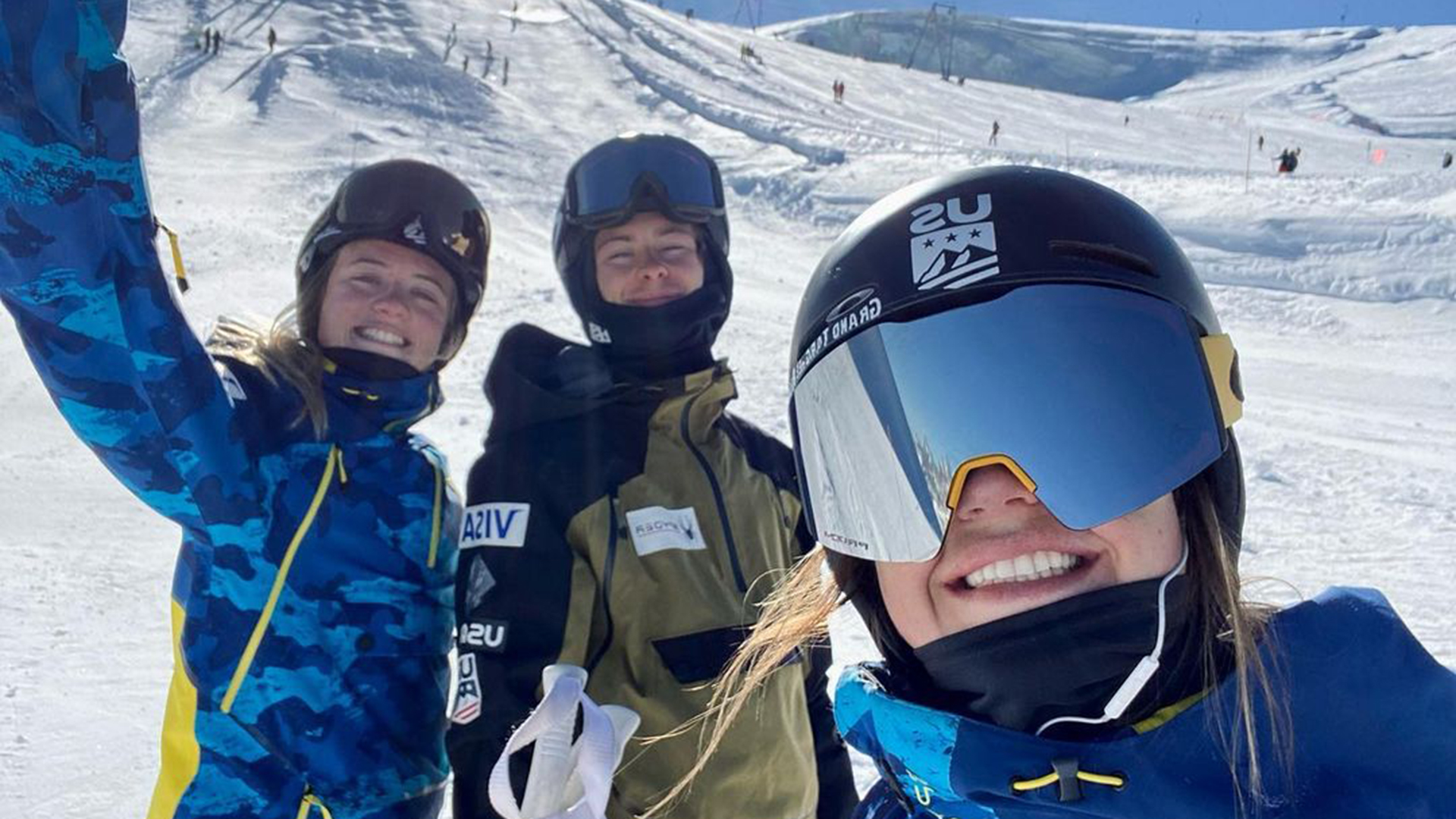 The mogul skiers of the U.S. Freestyle Ski Team put skis to a full-length mogul course for the first time this prep season during their on snow camp in Zermatt, Switzerland that wrapped October 17. 
The annual Zermatt camp is usually the marker of the first real push of the new season, and although Mother Nature interfered with several planned training days, the team was happy to be back on the glacier having been unable to do so last year with COVID travel restrictions.
"When we did finally get up after five-straight weather cancelation days, we were pleased with the quality of the training course and the quality of the snow. It was worth the wait," said Head Mogul Coach Matt Gnoza. 
Objectives of the camp varied by athlete, different athletes were focused on different aspects of their program. Some were working on upping their jump package degree of difficulty while others focused on foundational skills. One commonality was everyone's high spirits during the time they had on snow. "One theme I heard throughout the camp was that any day here was better than last year (which was zero)," said Gnoza. "Even without this camp last year we had a successful season. So any day here is seen as a bonus. It was an exciting atmosphere to have that much appreciation for what we were doing."
Tess Johnson worked on bringing her cork 7 to a full course and came away from camp feeling strong and proud. "I'm psyched to be bringing this trick to competition this upcoming season as I've put a tremendous amount of work towards it for years and years. That being said, things went incredibly well in Zermatt, and despite some adversity with weather and in my personal life, I was determined to execute the cork on both airs and in a top-to-bottom. Very proud of myself and thrilled for more fun and challenges to come!"
The Zermatt camp also marks the first time the international moguls community comes together and gives athletes and coaches the opportunity to see what the competition might look like this season. "You could feel the anticipation of [everyone getting on hill together], it kept us on our toes, made the athletes work hard," said Gnoza. 
"After two and a half years of rehabbing from injury I had the chance to test my mogul legs out at this camp to see how I could stack up to the international field that was present," said Morgan Schild. "The environment on-hill mimicked a World Cup training course and returning to this pace felt like coming home. The girls on the U.S. team made quite the impression at Zermatt and we could feel how close the Ruka World Cup opener is. Personally I am ecstatic with my progress at this camp and feel quite hungry to step into a competition gate for the first time since 2019!"
The Moguls Team has a few weeks to catch their breath and recharge in anticipation of their World Cup prep camp and season opener. Gnoza wants athletes to "play some golf, go for a bike ride, if there's snow, go ski. But ski for your passion and spend time with family and friends and remember why you're doing it."
Moguls World Cup season kicks off Dec. 4 in Ruka, Finland. 
To support the U.S. Freestyle Mogul Ski Team, please click here for more information.