Sargent, Saxton Win U.S. Classic Sprint Titles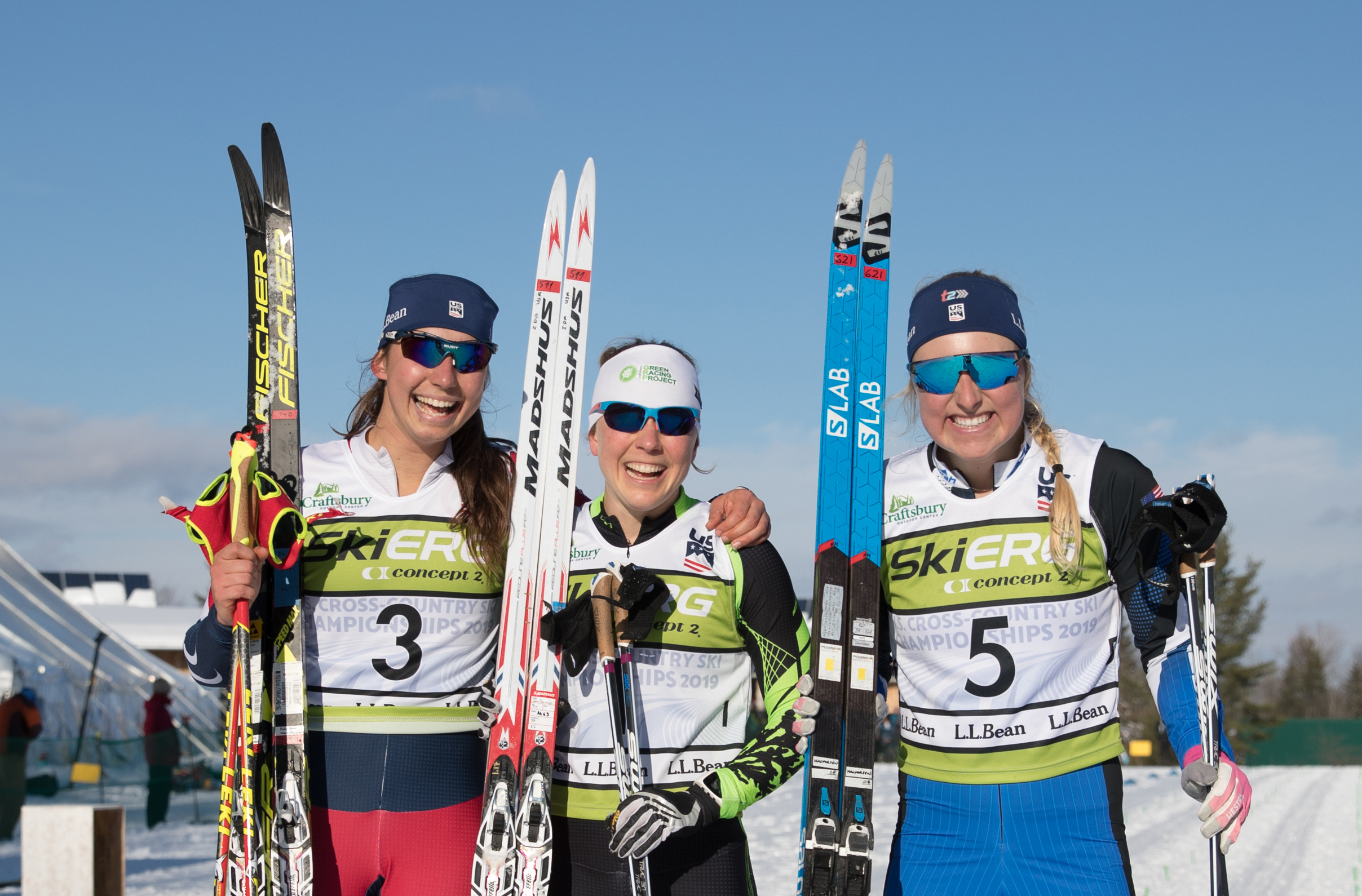 Ida Sargent (Craftsbury Green Racing Project / Craftsbury, Vt.) and Julien Locke (Black Jack Ski Team / Canadian National Ski Team) skied to classic sprint victories the 2019 L.L.Bean U.S Cross Country Championships at the Craftsbury Outdoor Center in Craftsbury, Vermont, Friday. Ben Saxton (SMST2 / Stratton Mountain, Vt.) finished second and was the top American in the men's race.
Sargent skied to her first national title as sunshine and outstanding snow conditions greeted athletes for the second day of the Championships. After posting the fastest qualifying time, Sargent cruised through quarterfinal round. In the semifinals, she narrowly defeated Kaitlynn Miller (Craftsbury Green Racing Project / ) and a hard-charging Hannah Halvorsen (Alaska Pacific University / Truckee, Calif) in the three-up sprint.
In the finals, Sargent skied alone to the line for the victory as Halvorsen and Julia Kern (SMST2 / Waltham, Mass.) sprinted for the final two podium positions with Kern just taking second by inches.
In the men's race, Saxton entered the heats as the top qualifier while Locke ninth. However, Locke easily cruised through his quarter-final and semi-final heats to advance to the finals, while Saxton won his quarterfinal heat and finished second in the semifinals to advance to the final race of the day.
Locke skied away from the fields midway through the finals and cruised to victory as Saxton held off Logan Hanneman (APU Nordic Ski Center) down the stretch to take the U.S. title.
Kendall Kramer (NSCF-FXC) and James Kitch (Harvard University Ski Team) each won their respective junior women and men's national titles.
RESULTS
Men and women's classic sprint
Junior men and women's classic sprint
HOW TO WATCH
All times EST
Sunday, Jan. 6.
9:15 a.m. - U.S. Cross Country Championships freestyle mass start - Craftsbury, Vt. - U.S. Ski & Snowboard Streaming
Tuesday, Jan. 8
8:45 a.m. - U.S. Cross Country Championships freestyle sprint - Craftsbury, Vt. - U.S. Ski & Snowboard Streaming