Ogden Sixth in Tour de Ski Stage Three; Career Best Day for Ogden and Wonders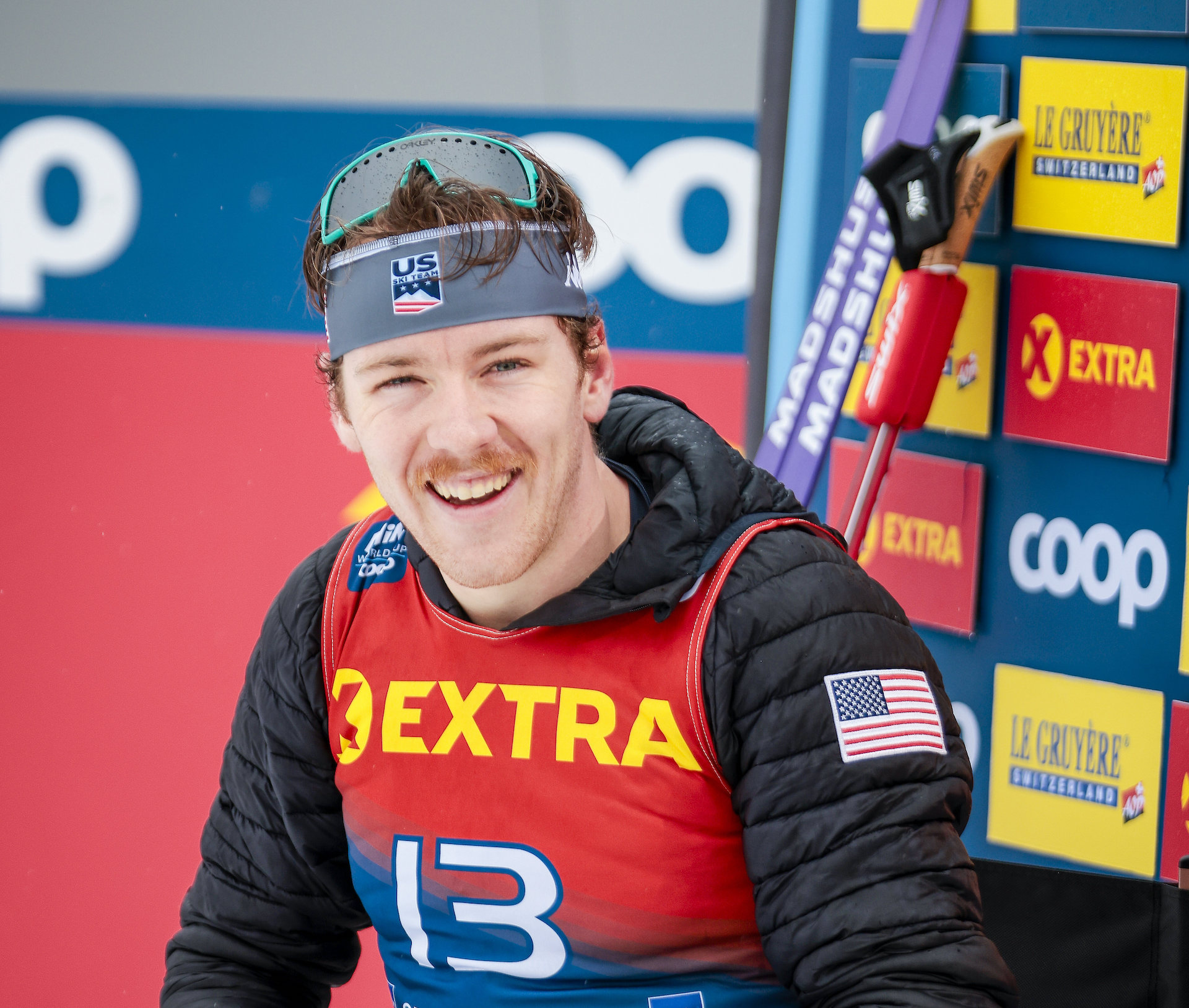 It was the day for career bests for the U.S Cross Country Ski Team in the third stage of the Tour de Ski. It was a very warm and rainy afternoon in Oberstdorf, Germany, but Ben Ogden and Hunter Wonders still posted historic results in the 10k classic. Ogden finished sixth in 22:08.5 and Wonders 11th, respectively. Rosie Brennan led the women in 11th place, crossing the line in 25:53.8. 
With temperatures reaching nearly 40 degrees Fahrenheit and rain misting the completely man-made track, the U.S. Cross Country Ski Team found their speed and had five men and four women in the top 50. 
Ogden continued his strong showing on the Tour with a sixth-place result, cementing his best-ever distance result in a World Cup. Hunter Wonders, who finished 11th, also had a career-best individual result to end the day. Five U.S. men were in the top 50 with Gus Schumacher in 15th, Scott Patterson 29th and Zak Ketterson 38th. Norway's Johannes Hoesflot Klaebo won for the third time in a row, crossing the finish line in first with a time of 21:38.5 and will continue sporting the yellow bib in the next race. 
"It was a real treat out there today," said Ogden. "I just had unlimited energy, especially given it was the third race of the Tour... it was just a ton of fun. Each passing race I learn a little bit more about how to ski smart and today it really came together, and I got to sit in the leader chair so it was pretty awesome."
On the women's side, Rosie Brennan persevered through the confusing conditions and finished 11th among the strong and fast field of women. Julia Kern finished in 38th, Jessie Diggins 40th and rounding out the top 50 was Sophia Laukli in 44th. Frida Karlsson of Sweden was atop the podium in 24:53.3 and will dawn the yellow bib heading into the next stage. 
Continuing the streak of races, the Tour continues with the 20k skate pursuit kicking off tomorrow, Jan. 4th, on the same track in Oberstdorf. Watch LIVE on skiandsnowboard.live. 
RESULTS
Women's 10k classic
Men's 10k classic
Start List Women
Jessie Diggins
Rosie Brennan
Julia Kern
Sophia Laukli
Alayna Sonnesyn
Start List Men
Ben Ogden
JC Schoonmaker
Scott Patterson
Hunter Wonders
Zak Ketterson
Gus Schumacher
Kevin Bolger
Finn O'Connell
TOUR DE SKI SCHEDULE 
Val Müstair, Switzerland 
Stage 1 - Saturday, Dec. 31, 2022: 1.5k freestyle sprint
Stage 2 - Sunday, Jan. 1, 2023: 10k classic pursuit 
Oberstdorf, Germany
Stage 3: Tuesday, Jan. 3, 2023: 10k classic interval start
Stage 4: Wednesday, Jan. 4, 2023: 20k freestyle pursuit 
Val di Fiemme, Italy 
Stage 5: Friday, Jan. 6, 2023: 1.5k classic sprint
Stage 6: Saturday, Jan. 7, 2023: 15k classic mass start 
Stage 7: Sunday, Jan 8, 2023: 10k freestyle final climb mass start 
HOW TO WATCH
All races will be LIVE with commentary on skiandsnowboard.live. 
Stage 4, Wednesday, Jan. 4, 2023
5:15 a.m. FIS Cross Country World Cup, Tour de Ski, 20k Skate Pursuit, men's, Oberstdorf, Germany, streaming on skiandsnowboard.live
8:15 a.m. FIS Cross Country World Cup, Tour de Ski, 20k Skate Pursuit, women's, Oberstdorf, Germany,  streaming on skiandsnowboard.live
Stage 5, Friday, Jan. 6, 2023
4:00 a.m. FIS Cross Country World Cup, Tour de Ski, 1.5k Classic Sprint, men's and women's, qualifiers, Val di Fiemme, Italy, streaming on skiandsnowboard.live
6:30 a.m. FIS Cross Country World Cup, Tour de Ski, 1.5k Classic Sprint, men's and women's, finals, Val di Fiemme, Italy, streaming on skiandsnowboard.live
Stage 6, Saturday, Jan. 7, 2023
5:45 a.m. FIS Cross Country World Cup, Tour de Ski, 15k Skate Mass Start, Women's, Val di Fiemme, Italy, streaming on skiandsnowboard.live
7:30 a.m. FIS Cross Country World Cup, Tour de Ski, 15k Skate Mass Start, Men's, Val di Fiemme, Italy, streaming on skiandsnowboard.live
Stage 7, Sunday, Jan. 8, 2023
5:00 a.m. FIS Cross Country World Cup, Tour de Ski, 10k Skate Mass Start Final Climb, Women's, Val di Fiemme, Italy, streaming on skiandsnowboard.live
6:45 a.m. FIS Cross Country World Cup, Tour de Ski, 10k Skate Mass Start Final Climb, Men's, Val di Fiemme, Italy, streaming on skiandsnowboard.live