Johnson Top 20 To Lead Three Into Points in Garmisch Super-G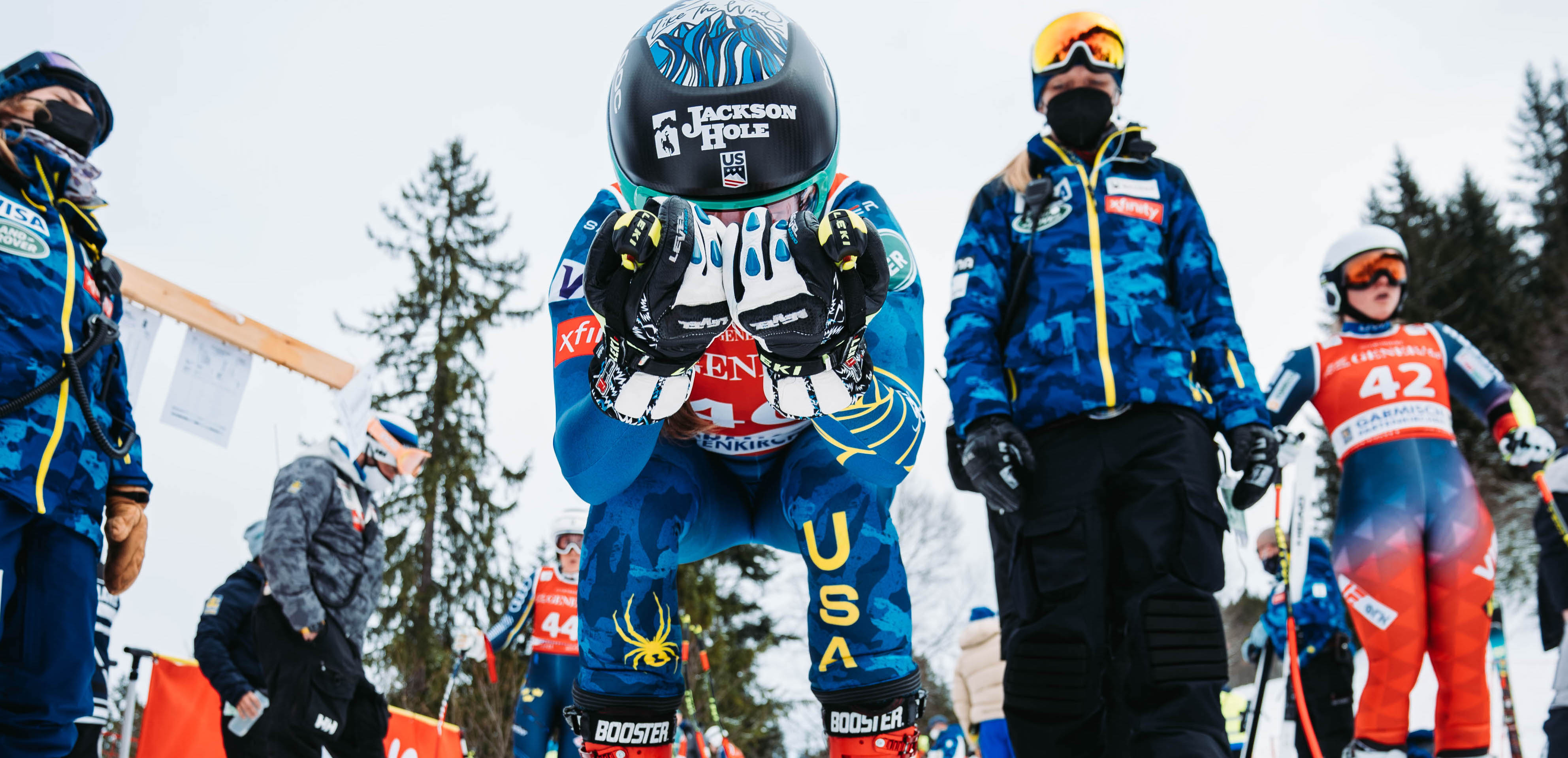 Land Rover U.S. Alpine Ski Team athlete Breezy Johnson grabbed her first FIS Ski World Cup super-G points of the season, landing in 20th, to lead three into the points in the second of two super-G races on Monday in Garmisch-Partenkirchen, Germany. Bella Wright was 27th, and the young up-and-comer, AJ Hurt, was 30th. 
Switzerland's Lara Gut won her fourth-straight super-G victory of the season, showing she's in top form heading into the upcoming FIS Ski World Championships in Cortina d'Ampezzo, Italy. Slovakia's Petra Vlhova, who is leading in the overall standings but has been inconsistent of late, was a surprising second, just .28 seconds off of Gut, to grab her first World Cup super-G podium. This was Vlhova's first podium since she won the Zagreb, Croatia slalom, early in January. Austria's Tamara Tippler rounded out the podium in third, .74 off the pace.
Johnson has struggled to find the points in super-G so far this season but has grabbed five top-five results in downhill, including four successive podiums (third-place finishes). With warm temperatures and rain/snow in the forecast in Garmisch, organizers were forced to cancel the originally scheduled downhill and replace it with another super-G. Johnson was bummed about that, seeing as though she was a favorite for the downhill heading into the weekend. Not only did Johnson score her first World Cup points at the German venue, but she also scored her first top-five there. After just missing the points in Saturday's super-G, Johnson showed on Monday she can hang with the best in super-G too. 
"I feel very relieved," she reflected in the finish. "Super-G has been a bit of an enigma to me this season, but it's good to be back in the 30 and feel like I had some good skiing again. I am definitely looking forward to the Cortina super-G. That track is really fun and I've only ever raced it once because of a number of things including the race getting cancelled three people from me. So, both excited to go back for that super-G and a little bit of a bone to pick with that super-G, too." she laughed.
Wright continues to show consistency, finding her home in the points for a seventh straight time on Sunday. The young 20-year-old AJ Hurt also was in the points for the Land Rover U.S. Alpine Ski Team, grabbing 30th. Hurt has scored in an impressive four events this season, including parallel, slalom, giant slalom, and super-G. 
Unfortunately, on Sunday, Italy's Sofia Goggia fell while skiing on the slope next to the Garmisch-Partenkirchen race slope and the FISI medical committee confirmed that she suffered a compound fracture of the lateral tibial plateau in her right knee. The International Ski Federation (FIS) said in a post on Instagram that the injury was season-ending. Having won four-straight downhill races this season, Goggia was a clear favorite for the downhill title on home turf in Cortina d'Ampezzo. Johnson is currently sitting second in the downhill standings behind Goggia with three opportunities left on the calendar. 
Also starting for the Americans on Monday were Jackie Wiles in 33rd, just missing the points, and Laurenne Ross in 36th. 
The women will now shift their focus to the much-anticipated World Championships at Cortina d'Ampezzo—a favorite track of the Americans. 
RESULTS
Women's super-G