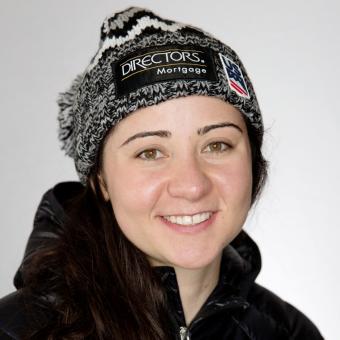 Northwesterner Jackie Wiles blasted onto the race scene early in the 2013 season in a big way. She won the Nature Valley U.S. Alpine Championship downhill title at the U.S. Ski Team Speed Center hosted at Copper Mountain. She then won it again in 2014 and went to her first Olympics. Now firmly on the U.S. Ski Team, she's a full-fledged member of the women's World Cup speed team and she's constantly pushing everyone else with her natural talent and fearless ability to ski fast.
How fast is this Pacific Northwest ripper? Fast enough to land World Cup points in her rookie season, including a top 15 during a three-day stand in Cortina d'Ampezzo, Italy, which ultimately punched her ticket to the Olympics (where she finished 26th in downhill).
Now it's up to "Janky Lil J" to keep the momentum rolling. After a challenging 2015 season, Wiles was able to find the fire in 2016, finding her way back into the points consistently. Ultra-fast on training days, she'll look to translate that speed into her race day routine. At only 25-years-old, most would be overwhelmed, but Wiles' cool personality allows her to take it all in stride and juice every ounce of knowledge from each new experience. Watch out for her in 2018.
FIRST TRACKS
A product entirely of the Pacific Northwest Ski Association, Wiles was on skis about the same time she figured out walking. From there it was weekend trips to the mountain to learn all about what makes skiing fun with the White Pass Ski Club. In the 2016 season, teammate Lindsey Vonn (Vail, CO) named Wiles the Lindsey Vonn Foundation's first-ever athlete ambassador. "I'm really lucky that I have such a great teammate as Jackie Wiles," Vonn noted. "She needed help to be able to support herself this season, so I personally gave her money to be able to ski this year and in return, she is the first ambassador for the Lindsey Vonn Foundation."
OFF THE SNOW
Life in the Northwest means riding all types of bikes. She's been known to cruise around on road, mountain, and stationary bikes as well as motorcycles.
Team Info
2014 Sochi
2018 Pyeongchang
Results
OLYMPICS
26th, DH, Sochi, RUS, 2014

WORLD CHAMPIONSHIPS
Teams: 2015, 2017
12th, DH, St. Moritz, SUI, 2017
17th, DH, Vail/Beaver Creek, CO, 2015
WORLD CUP HIGHLIGHTS
3rd, DH, Cortina d'Ampezzo, ITA, 2018
7th, DH, Cortina d'Ampezzo, ITA, 2018
5th, DH, Lake Louise, CAN, 2017
11th, DH, Jeongseon, KOR, 2017
3rd, DH, Altenmarkt-Zauchensee, AUT, 2017
17th, DH, Val d'Isere, FRA, 2016
17th, DH, Lake Louise, CAN, 2016
10th, SG, Lake Louise, CAN, 2016
Three top-20 World Cup finishes, 2016
21st, DH, Lake Louise, CAN, 2015
Scored World Cup points three times in three different disciplines (DH, SG, AC), 2015
Points over three straight races during rookie season, 2014
U.S. CHAMPIONSHIPS TITLES
DH, Copper Mountain, CO, 2014
DH, Copper Mountain, CO, 2013
FIS JUNIOR WORLD CHAMPIONSHIPS
Teams: 2012, 2013
8th, SC, Quebec, CAN, 2013
9th, SC, Le Massif, CAN, 2013
OTHER
Two-time member of World Junior Championships Team (2012, 2013)
Top 10s in DH and Combined at 2013 World Juniors
2013 NorAm super G title
2013, second in both DH and overall NorAm standings