Gile Top American at U.S. Alpine Championships Giant Slalom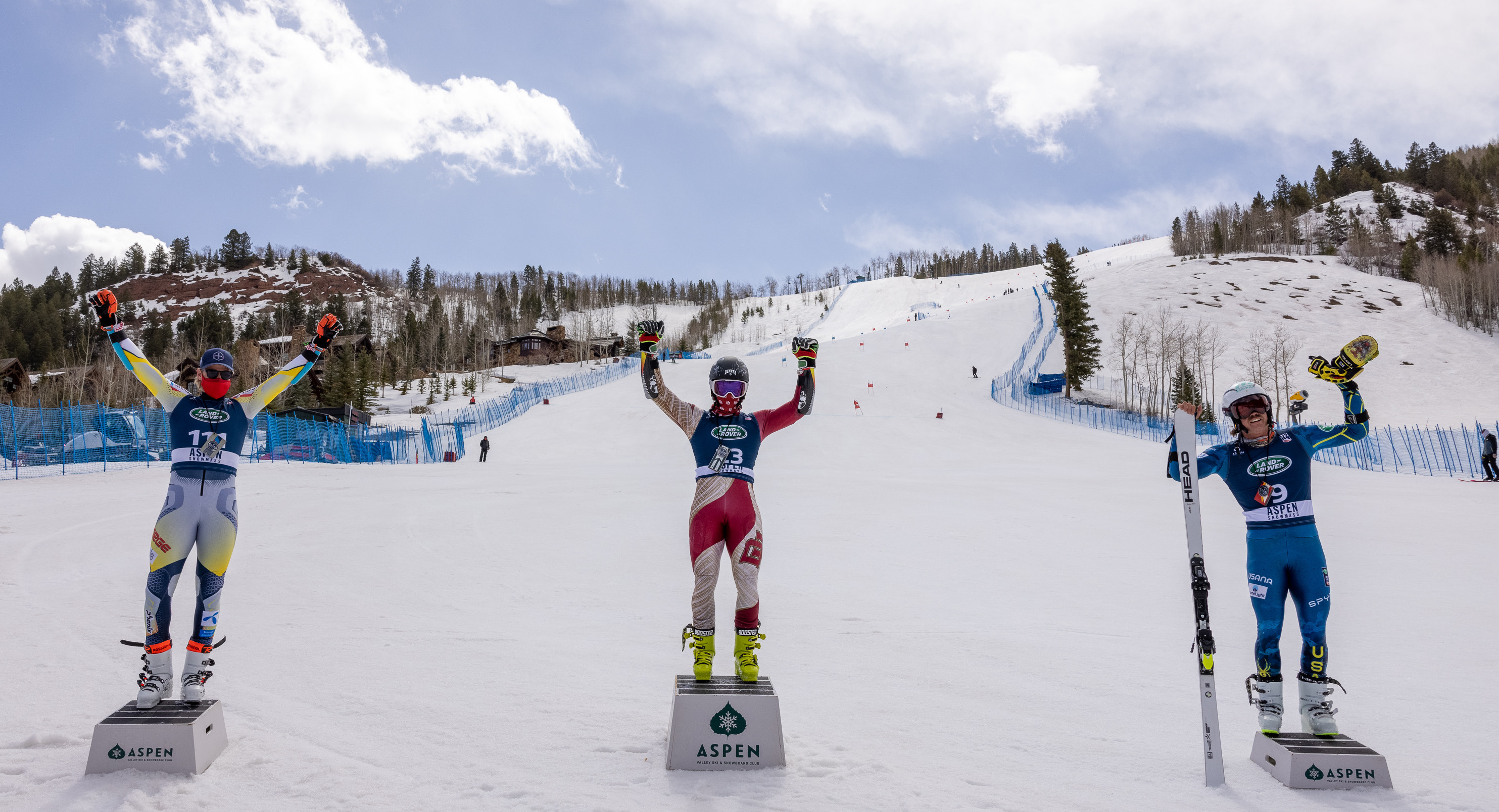 On day two of the U.S. Alpine Championships at Aspen Highlands, it was an international giant slalom podium, with University of Denver's Tobias Kogler (Austria) in first, University of Utah's Joachim Bakken Lien (Norway), and Land Rover U.S. Alpine Ski Team athlete and hometown Aspen boy, Bridger Gile, in third. 
It was another early morning for the athletes, staff, and race organizers, and the conditions were challenging. Though the temperatures were cooler than on Monday, the wind took the moisture out of the snow, causing issues for the salt to do its job and firm up the surface. Several athletes came through the finish after second run gassed, referencing the tough conditions and "dead snow."
Giant slalom favorite River Radamus ran into trouble on the first run, getting bounced by the terrain and ending up in 16th after the first run. Gile had the fastest first run, followed by Kogler .47 seconds back, and Middlebury College's Erik Arvidsson, .54 off Gile's pace. With softer snow and a groove forming during the second run, athletes were challenged to push on the surface and get power out of the turn. 
It was a tight race for the podium, with Kogler taking the victory, Bakken Lien in second by a mere eight one-hundredths of a second, and Gile in third, .19 seconds off Kogler. Isaiah Nelson, who was the fastest junior on the day, moved up from sixth to land in fourth, tied with the University of New Hampshire's Patrick Kenney, .47 seconds off Kogler's pace. Arvidsson moved back to sixth. 
"COVID kind of prevented me from going over to Austria [for Nationals]...and I was stoked that it is here in Aspen—great hill, love that hill, skied here before—and perfect conditions," said Kogler. Following NCAAs, Kogler kept the momentum going to U.S. Alpine Championships. "We just kept the race rhythm...we did NCAAs, never stopped training, did some FIS races, and then a week ago we got a new coach—he got us all fired up and that was the last bit of energy I needed." This was Kogler's final race of the season. 
Gile, who is just off of a long winter in Europe with his first full FIS Ski World Cup schedule, was the fastest American. Though the conditions were challenging, Gile is stoked to finish the season at home in Aspen. "The course was pretty long...I'd say I'm pretty beat from the season in general, at least it's warm weather, so that's nice and makes it easier to be outside," he said. "But, it makes the snow softer...they did their best to keep it as hard as they could, but it's pretty hot out—and I think that makes the course more tiring as well. It's fun to ski. First run was good...last run I struggled with having fast first runs, so at least this year I had fast first runs. I think I need to work on my fitness because second run I crashed and I couldn't go any faster...It's a good way to end the season knowing you need to get stronger because you work out harder in the summer."
After traveling all winter in Europe, Gile is elated to be at home in Aspen and for the ability to sleep in his own bed. "It's amazing to ski in my own bed," he added. "Honestly, skiing and racing while sleeping in my own bed feels weird...I feel uncomfortable not sleeping in a hotel room before a race. I know the town, I know good places to eat, and so it just makes coming home after a long season and a long race today...to be able to chill out in your own house is awesome." Gile will ski in the alpine combined and the downhill. 
The three fastest juniors for the day were Nelson, followed by Burke Mountain Academy's (BMA) Oliver Morgan and Land Rover U.S. Alpine Ski Team athlete Jack Smith. Following his near-podium performance, Nelson commented, "The conditions were not very good, especially on the first run. Running eight was sweet, but the snow was pretty inconsistent and I couldn't get into the flow of it, I kept pinching off the turns. So the second run I knew I had to go deep and it actually worked out because that next course was even more space so it exaggerated the need to go deep."
Nelson is working to attack both runs, and he's finding that balance. "I definitely attacked really hard...last night in our meeting we talked about the aggression of that second run mentality and skiing like you have time to make up, and I need to figure out how to do that first run because that's something I didn't do the past two days, but I really liked the way I attacked that second run," he added. "I was happy to move up and almost get on the overall podium, which would have been super cool." Nelson will ski the alpine combined and downhill to finish off his 2020-21 season. 
Looking back to one year ago when 2020 U.S. Alpine Tech Championships were slated to take place at Aspen, it's a miracle the event is able to happen at all this season. Despite the fact that there are no spectators and limited media at the event, there is a sense of gratitude for the ability to race at all. Fans can follow the action via Instagram, Facebook, and Twitter. 
Up next for the men is alpine combined on Wednesday, headlined by Jared Goldberg, Arvidsson, Radamus, Nelson, among others. 
The 2021 U.S. Alpine Championships at Aspen is contingent on local and state health department approvals based on existing and future COVID-19 rules and regulations. FIS, U.S. Ski & Snowboard, the local organizing committee, and Aspen Snowmass are taking a unified approach consistent with guidance from federal, state, and local health authorities. 
RESULTS
Men's giant slalom
2021 U.S. Alpine Championships at Aspen - Event Schedule
Wednesday, April 7, Super-G/Alpine Combined National Championships, Men
Friday, April 9, Downhill Training, Men/Women
Saturday, April 10, Downhill Training, Men/Women
Sunday, April 11, Downhill National Championships, Men/Women
Tuesday, April 13, Super-G/Alpine Combined National Championships, Women
Thursday, April 15, Giant Slalom National Championships, Women
Friday, April 16, Slalom National Championships, Women
Media:
Virtual Media Hub
Media Contacts:
Aspen Snowmass
Tucker Vest Burton, (970) 300-7020, tvestburton@aspensnowmass.com  
U.S. Ski & Snowboard
Megan Harrod, (435) 714-9393, megan.harrod@usskiandsnowboard.org