Brennan Fifth, Diggins, Schumacher 11th In Cold Ruka Pursuit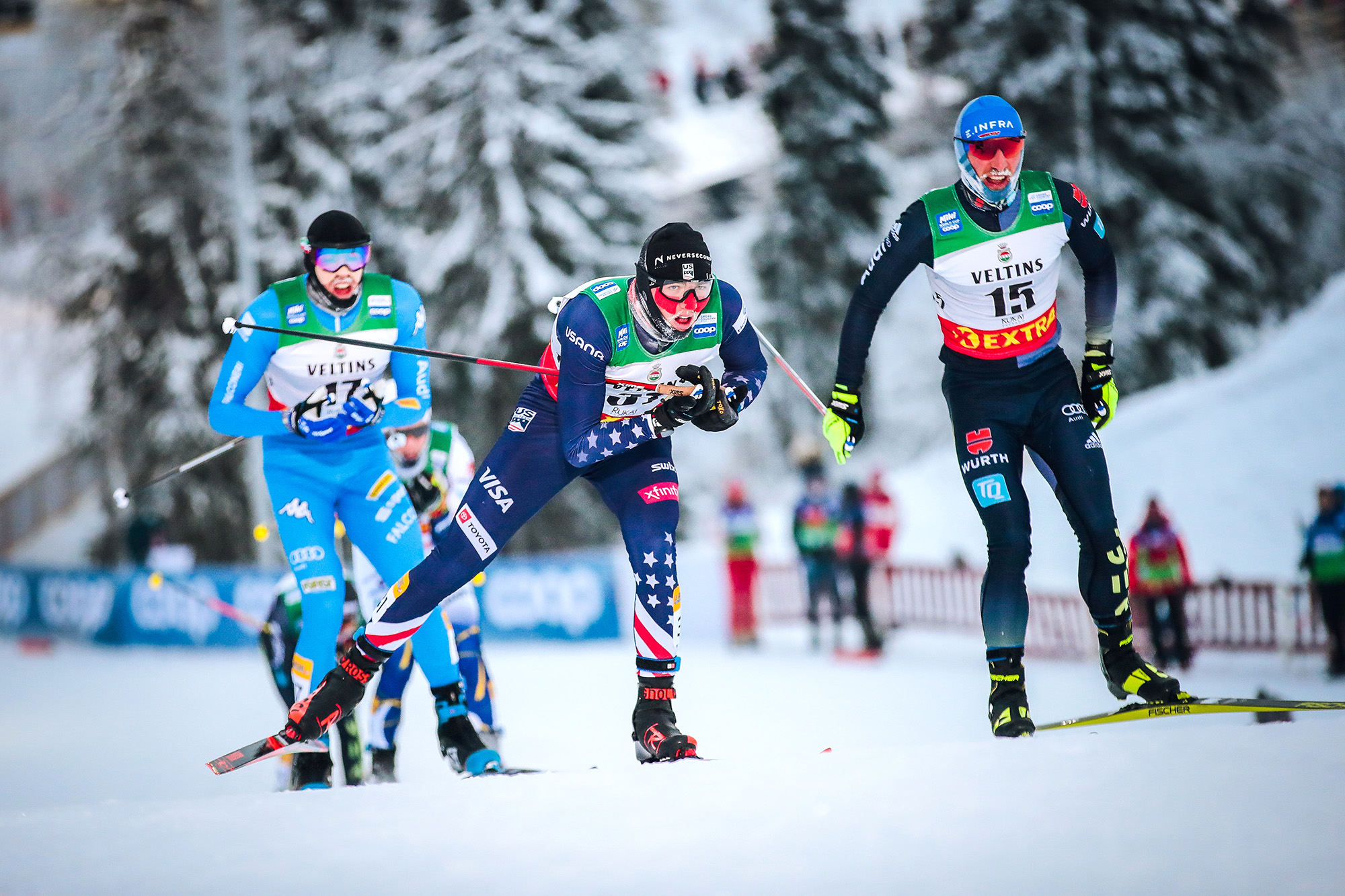 Rosie Brennan once again proved her early-season form, finishing fifth to lead four of her Davis U.S. Cross Country athletes into the top 30 in Sunday's brutally cold FIS Cross Country World Cup freestyle pursuit in Ruka, Finland. 
"I felt really good, or as good as one can racing in so many layers," Brennan said. "But struggled with my tactics and confidence today. I am very happy to remain in the mix and to know my body is there but have some to gain on the mental side. It was a good first weekend for me and really gave me a good starting point. I know where I am now and where I need to go to meet my goals later in the season. I am working with a new wax technician this season to add a little more chaos into the mix, but am feeling good about our start! I know we will be dealing with some subpar snow conditions so that will be the next hurdle to tackle next week."
Jessie Diggins continued to make strides in her early season form, finishing 11th. Hailey Swirbul and Katharine Ogden each scored the season's first World Cup points, finishing 26th and 30th respectively. Julia Kern just missed the points, finishing 31st, with Sophia Laukli in 32nd, Caitlin Patterson in 35th and Novie McCabe in 37th.
Norway's Therese Johaug caught Saturday's race winner, Sweden's Friday Karlsson, just past the 5k mark of Sunday's race as she skied to her first World Cup victory of the season. Karlsson held on for second, with Norway's Heidi Weng out-sprinting Finland's Krista Parmakoski and Brennan for the final podium spot. 
The women's race was postponed until later in the afternoon due to the cold conditions, which saw more than a dozen women choosing not to start. "We had to be flexible as the race kept getting delayed and finally rescheduled for the afternoon," Brennan said. "It's always hard to warm-up, have to stop, go back home and then start over again and in the dark...I am happy I managed to deal with the punches and make the best of it."
In the men's race, Gus Schumacher found a spark in the bitterly cold day, finishing 11th in the six-up sprint to the line in the men's 15k pursuit. David Norris was 37th, Zanden McMullen was 40th; Hunter Wonders 45th; Ben Ogden 55th; and Luke Jager 60th.
"Honestly, it felt like it wasn't too different than yesterday," Schumacher said of the cold temperatures, "but I rocked the full face tape and double under layers. Stayed warmer than yesterday actually. And yea, my skis were rockets, really fun to be able to use that to my advantage!"
With the Norwegians opting not to start due to the cold conditions, Russia swept the podium with Alexander Bolshunov taking the win, followed by Sergey Ustiugov in second, and Artem Maltsev in third.
The FIS Cross Country World Cup continues next week in Lillehammer, Norway.
RESULTS
Women's 10k Pursuit 
Men's 15k Pursuit
STANDINGS
Women's World Cup overall
Men's World Cup overall
Women's World Cup distance
Men's World Cup distance
2021-22 FIS World Cup Schedule
2022 Olympic Winter Games Schedule
Follow the Davis U.S. Cross Country Team:
Instagram: @usskiteam
Facebook: @usskiandsnowboard
TikTok: @usskiandsnowboard
Twitter: @usskiteam