Baumgartner, Jacobellis Take Fourth at World Championships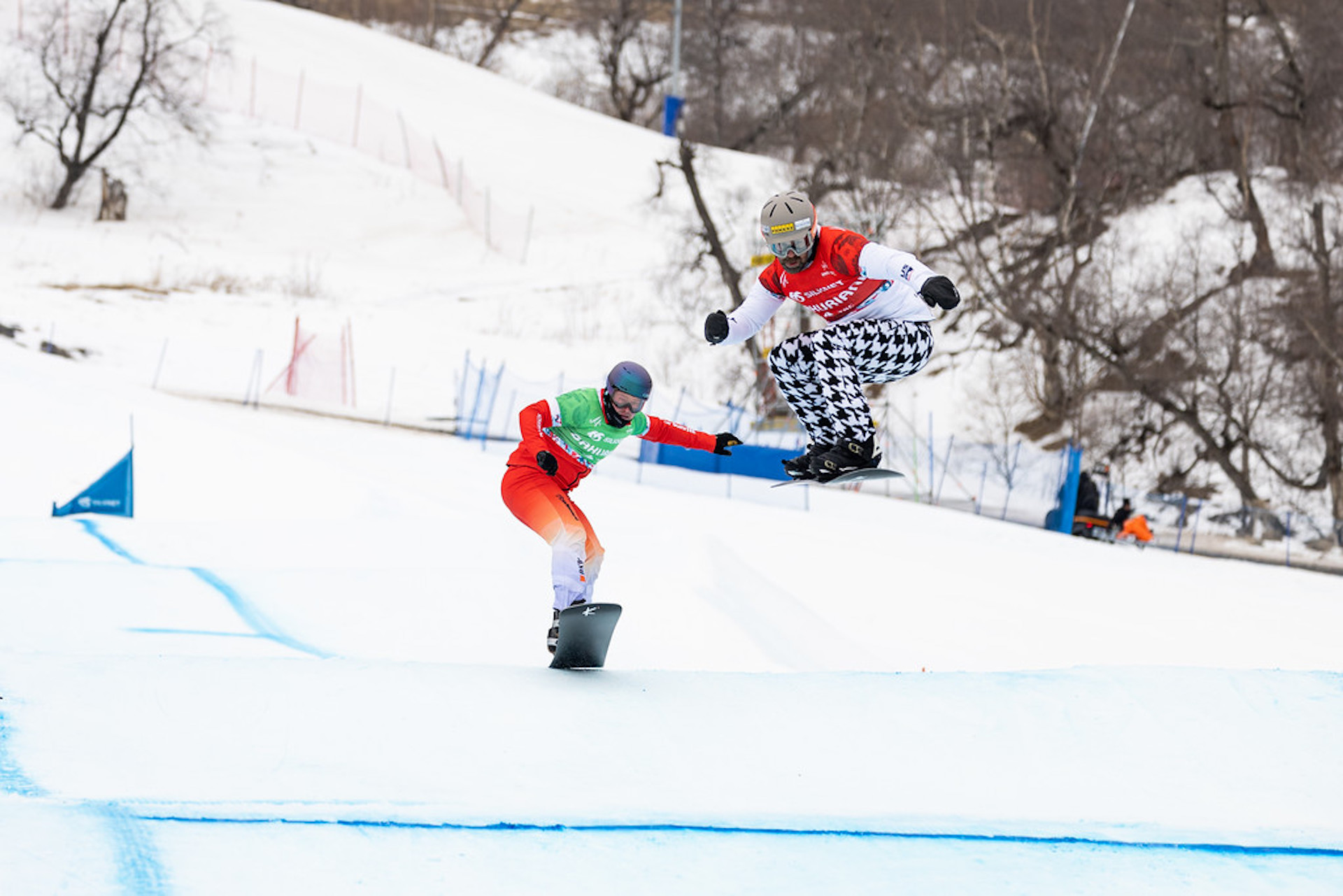 Amid the sleet and slush, Nick Baumgartner and Lindsey Jacobellis battled their way to a fourth place finish in the snowboardcross mixed team event at the Bakuriani 2023 FIS Freestyle Ski, Snowboard and Freeski World Championships, finishing as the top American team, followed by Senna Leith and Faye Gulini, who took seventh place.
It was a tough day for the Americans, who came off a full day of racing yesterday in the individual events. Due to inclement weather moving into the Bakuriani region, the decision was made to move the team event up by a full two days. The weather had started to move in by race time, with a mix of sleet and light snow affecting visibility and course speed throughout the event. However, Gulini said of the weather, "I'd rather have things be consolidated and get to race under better conditions than try to ride it out and race in heavy snow and sleet and rain."
Baumgartner and Jacobellis stormed through the early rounds of competition to the Big Final, but a mistake by Baumgartner resulted in a small crash. With Jacobellis facing a four second deficit at the beginning of her leg, it proved too much to overcome, and the 2022 Olympic gold medalists ultimately missed the podium by one spot.
After the race, an emotional Baumgartner broke down how he was feeling. "I'm happy with how I rode in the first two heats, but it's a little bit harder when you ruin it for someone else. Yes, when you make a small mistake you have a partner that can make up for it, but when you fall down, you leave them high and dry. It's a bummer. I just feel bad for Lindsey for not even giving her a chance."
Still, he acknowledged that Lindsey and his partnership in team events is something special. "We've been doing this for so long," said Baumgartner. "Our knowledge comes together and we work well together. She's been on [the U.S. Snowboard Team] for 20-something years and I've been on for eighteen, so I think it's just that camaraderie you gain over the years being teammates. I let her down this time; it's unfortunate, but that's racing."
The other U.S. team event partnership of Leith and Gulini were happy to come away with a seventh place finish after the small final. Ledith said of course conditions: "[They] were really iffy when we came up here and then it made for way better racing than I thought it was going to be."
"I really lucked out, my teammate was really fast today and I wish I could have done more on my end but we had a good time and I think we rode really well overall," said Gulini. "I'm happy with how the day went aside from maybe a few positions."
The U.S. Snowboard Team snowboardcross riders will still have plenty of chances at redemption this season, with upcoming World Cup stops in Sierra Nevada, Spain, Veysonnaz, Switzerland, and another chance at a team event podium in Mont-Sainte-Anne, Canada.
The 2023 World Championships will wrap up for the U.S. Snowboard Team with men's halfpipe, scheduled for March 3 at 1 a.m. ET. Chase Josey will hold it down as the lone American to make finals. Tune in to watch on skiandsnowboard.live and Peacock.
Results
SBX Team Event
HOW TO WATCH
*subject to change
Friday, March 3
1:00 a.m. ET - men's and women's halfpipe finals - Peacock, skiandsnowboard.live