2020-21 Land Rover U.S. Alpine Ski Team Season Highlights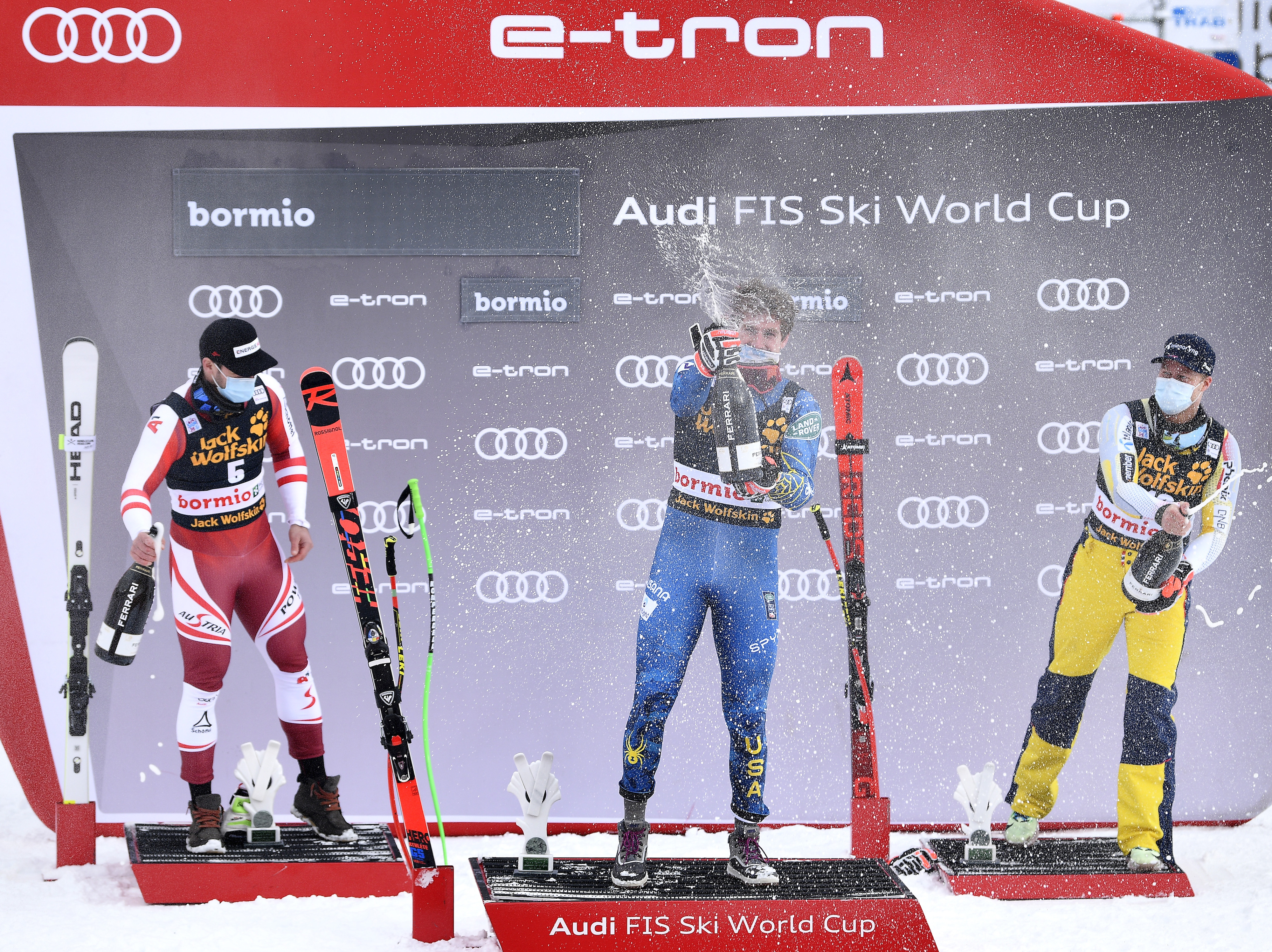 Despite the fact that the 2020-21 season was full of new and uncharted territories, from thousands of nose swabs, stacks of paperwork to get from point A to point B, to mask-wearing on the podium and social distancing, the Land Rover U.S. Alpine Ski Team also experienced new and uncharted territory on the mountain—depth like we haven't experienced in a long time. 
As the domestic schedule was affected by the global pandemic and NorAms were nonexistent, younger athletes hopped the pond and spent a majority of their season in Europe, getting invaluable experience on the road and a glimpse into what their future will look like on the FIS Ski World Cup circuit. They drove from International Ski Federation (FIS) races to Europa Cups, in search of points-scoring opportunities, and enjoyed that amazing Italian pizza and coffee along the way. 
At the World Cup level, the North American events—including the much-anticipated Homelight Killington Cup in Killington, Vt., Xfinity Birds of Prey at Beaver Creek, Colo., and Lake Louise speed series—were sadly canceled, in an effort to minimize travel and find efficiencies in an already complicated nearly 80-race schedule. The events were relocated to Europe, and though the North American World Cups signal the kickoff to the bulk of the World Cup season, the Land Rover U.S. Alpine Ski Team didn't seem to skip a beat. In fact, the team kicked off the season with a bang. 
With an already challenging European-centric schedule, American alpine athletes found themselves living out of duffel bags for up to six months at a time. In a normal season, most athletes are able to at least go home once during the season, but this season was far from normal. Since travel back and forth between Europe and the United States was limited, so too was the ability for athletes to sneak in a break at home. And so, it was months on end of schnitzel, semmel rolls, salami, and Servus greetings in the morning. Nevertheless, the alpine crew showed their resilience. 
At the highest level, the Land Rover U.S. Alpine Ski Team grabbed 18 podiums and four victories across five athletes—led by two-time Olympic champion and six-time world champion Mikaela Shiffrin, with three victories, and Olympian Ryan Cochran-Siegle with two podiums and his career-first World Cup victory. Add to that four World Championship medals for Shiffrin, two World Junior Championship medals, including Ben Ritchie's gold in slalom and AJ Hurt's bronze in slalom, and career-first podiums by Paula Moltzan in the parallel and Breezy Johnson with four-straight third-place finishes in downhill, and it's clear the team was absolutely firing from all cylinders and feeding off of each other's success. Let's not forget continued success by 2019 Xfinity Birds of Prey victor Tommy Ford, who snagged second place in an early-season Santa Caterina, Italy's giant slalom.  
Digging a bit deeper, and perhaps most impressively, there were firsts of all kinds—from returns to the mountain after injury or heartache and loss, to career-first points, top-10s, podiums, victories...and there were also devastating season-ending injuries. Every single day of the season seemed like an amalgamation of skyscraper-high highs and crushing heartbreaking lows. It was a rollercoaster we collectively wanted to ride forever while simultaneously wanting to exit stage left at any and all of its emotion-inducing twists and turns. Perhaps there are two words that can sum it all up: wild and unprecedented. 
From veterans like Laurenne Ross, Alice McKennis Duran, and Jackie Wiles, to young athletes hungry to make their mark like Keely Cashman and Kyle Negomir...the early season injuries were brutal. Then there was Sam Dupratt's violent crash in the second of two downhill training runs at Val Gardena, Italy, where he sustained bilateral lower extremity injuries, Ford's horrific crash at in the giant slalom at Adelboden, Switzerland, and Cochran-Siegle's fall through the nets in the fastest section of the course in the downhill at Kitzbuehel, Austria, after leading in the top splits and winning the first of two downhill training runs. 
It was just...a lot. Of everything. A lot of nose swabs. A lot of paperwork. A lot of success. A lot of heartbreak. A lot. 
So let's talk about the good stuff, shall we?! Moltzan and teammate Nina O'Brien started the season off on fire, grabbing a 10th and 15th, respectively, in giant slalom at Solden, Austria. Keely Cashman scored her first World Cup points and first top-20 and top-10 all in one weekend at Val d'Isere, France in December: 17th in downhill, 16th in downhill, and then 10th in super-G. It just kept getting better. Best bud and teammate AJ Hurt scored her first World Cup points in the parallel at Lech Zeurs, Austria, finishing 25th...but then grabbed a top-20 (18th) in Courchevel, France in giant slalom. The 20-year-old Hurt would go on to score points six times across four disciplines: slalom, parallel slalom, giant slalom, and super-G this winter. She also snagged herself a bronze at World Junior Championships...in slalom. 
Moltzan and O'Brien kept the momentum going all season long, with personal best after personal best. Moltzan's season was highlighted by a top-five in the slalom at Are, Sweden, and she ended up ranked a career-best 11th in the world in slalom. O'Brien had a career-best ninth in Flachau, Austria, and 12th in giant slalom in Lenzerheide, Switzerland...but it was her World Championships performance that blew everyone away. Behind teammate Shiffrin, she had the second-fastest first run. She ended up 10th after a sizable mistake at the finish, but she's got her sights set on the podium. 
Newly named to the team for 2020-21, Bella Wright scored her first World Cup points at St. Anton, Austria in the downhill, in her teammate McKennis Duran's honor. She went on to score eight times across downhill and super-G, finishing with a career-best 14th place at Val di Fassa, Italy in the downhill. 
And let's talk about Breezy Johnson...dang. She started by grabbing her career-first FIS Ski World Cup podium in Val d'Isere, France in December, and scored four consecutive podiums from there. In six downhill starts, she was top five in five starts and only DNFed once. Despite a big mistake at FIS Ski World Championships in Cortina d'Ampezzo, Italy, where she was the favorite, she ended up in ninth...but was gunning for the win. She finished the season with a career-best super-G result in 10th at Val di Fassa, Italy, and ended up ranked fourth in the world in downhill—her best-ever ranking. Aside from teammate Mikaela Shiffrin, and former teammate and downhill legend Lindsey Vonn, Johnson is the first American to crack the top five in the women's World Cup downhill standings in the last five years.
On the men's side, Travis Ganong kicked the season off with a bang, matching a career-best fourth in super-G at Val d'Isere, France. Bryce Bennett matched his career-best with a fourth-place in the downhill at Val Gardena. That same day, Cochran-Siegle stood on the podium in second for the first time in what will undoubtedly be a promising career. Jared Goldberg was a career-best sixth, while Sam Morse grabbed his career-first World Cup points in 29th. Up next? Bormio. Cochran-Siegle carried that momentum and his career-best eighth place in super-G at Val Gardena led to a first-ever super-G victory at Bormio, Italy—ending a 14-year drought to become the first American male to win a World Cup super-G since Bode Miller in Dec. 2006. 
Morse also grabbed a third-place—sharing the podium with teammate Erik Arvidsson, who won—and a fourth place in Europa Cup downhills. 2016 World Juniors downhill champion Arvidsson joined the men's speed team as an invitee for the season, and made quite the mark, finishing in the top six in all four Europa Cup downhills he started, including two victories. As the only male athlete to have skied NCAA and successfully transitioned to the World Cup circuit, he proved he belongs there, grabbing his first World Cup points, top-20, top-15, and top-10 in one fell swoop ending up eighth in the downhill at Saalbach, Austria. 
River Radamus came to play this season, stepping up as veteran teammates fell injured, scoring consistently in giant slalom, highlighted by an 11th place at his first World Championships bid, and a career-best 14th to finish off the season in Bansko, Bulgaria. Luke Winters matched a career-best 19th in slalom at Chamonix, France, while the young slalom team continued to show their progression, as teammate Ben Ritchie won World Juniors and snagged a top-15 at World Championships. 
Last but certainly not least...Shiffrin. It was a season of unknowns and a lack of a prep period, but Shiffrin still walked away with numerous records and—perhaps more importantly—a joy for the sport of ski racing and the fire to win, once again. Shiffrin's season was highlighted by the four World Championships medals she won at Cortina 2021 (a career-best World Champs), as she became the first skier—male or female—to win four medals at the World Championships in 14 years, the most decorated American alpine skier in World Championships history (11 medals), with the most World Championship gold medals for American alpine skier (six gold). 
However, it was the giant slalom victory in Courchevel, France, that was the most emotional for Shiffrin. One year prior she finished a disappointing 17th in giant slalom on the track. This season she would be competing without her father Jeff, and void of the opportunity to text him after she won...her first win since before her father passed away in February of 2020. Collapsing to the ground as she won by .85 seconds, Shiffrin felt a mix of emotions. She recently told Nancy Armour with USA Today, that she thought between runs, "This is going to be the first race I win without him saying anything. Without being able to call him," Shiffrin said, recalling her thinking that day. "This is the start of the rest of my ski career without one of the biggest pieces of my ski career." Despite limiting her schedule to tech this season, Shiffrin was still fourth in the overall, second in the slalom standings, and surprised even herself when she finished second in the giant slalom standings. With an early start to the 2021-22 season, Shiffrin is feeling good and next season should be very exciting to watch. 
We'd be remiss not to mention the four veterans and legends who retired this season, including two-time Olympic champion Ted Ligety, St. Anton World Cup victor Mckennis Duran, two-time podium finisher Ross, and three-time Olympian Resi Stiegler. McKennis Duran and Ross went out in style at U.S. Alpine Championships in Aspen, Colo, as did Stiegler, with her first national slalom title since 2017.
It was a season full of ups and downs, but the Land Rover U.S. Alpine Ski Team's depth was stronger than ever and the athletes are feeding off of each other's success and positive vibes. Fans have a lot to be stoked about, as the 2021-22 season is already underway, with training camps at Official Training Sites in Mammoth and Squaw, Calif. Buckle up! 
Until then, relive all the top moments of the year below.
FOLLOW
Instagram - @usskiteam
Facebook - @usskiandsnowboard
Twitter - @usskiteam