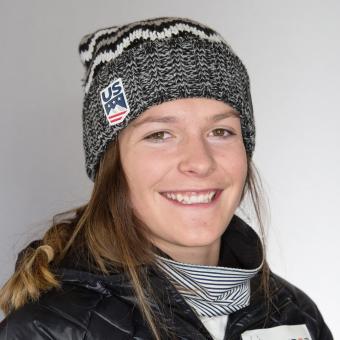 Keely Cashman
2019 Giant Slalom National Champion
Hailing from a town with a population of just 86 people, Keely Cashman—a member of the B Team—is the daughter of former U16 National Training Group (NTG) Coach John and wife Christy Cashman.
After a successful two-year stint with the National Training Group, Cashman moved up the ranks to the D Team for the 2018 season. In 2017, she was only a first-year FIS athlete, but her solid fundamentals,  balance and fast skiing turned heads. She snagged top three in her birth year in the first two European FIS races of the season. In 2014, Cashman competed as the only U16 American woman to participate in the 2nd annual Longines Future Ski Champions event and in 2016 competed in the Youth Olympic Games in Lillehammer, Norway. At the end of the season, she grabbed second place in slalom at the National Junior Championships at Copper Mountain, CO.  She'll look to continue her success in the 2017 season. Welcome, Keely!
OFF THE SNOW
Not only is she a rockstar skier, but when she's not crushing on the slopes, she serves as a barista at her family's coffee shop, plays the guitar and ukulele and fishes, paddle boards, hunts, cooks, rides dirt bikes...she does it all. This summer, Cashman, and teammate Nellie-Rose Talbot (Vail, Colo.) joined about 20 other athletes from U.S. Freeskiing and U.S. Snowboarding and traveled to Tijuana, Mexico with Hope Sports to build a home for a family in need.
Results
WORLD CUP
First World Cup Start - SL, Flachau, AUT, Jan. 10, 2017
FIS JUNIOR WORLD SKI CHAMPIONSHIPS
Teams: 2018, 2019
4th, AC, Val di Fassa, ITA, 2019
5th, SG, Val di Fassa, ITA, 2019
11th, DH, Val di Fassa, ITA, 2019
15th, AC, Davos, SUI, 2018
U.S. ALPINE CHAMPIONSHIPS
1st, GS, Waterville Valley Resort, N.H., 2019
4th, AC, Sun Valley, Idaho, 2018
6th, GS, Sugarloaf, Maine, 2017
6th, SL, Waterville Valley, N.H., 2019
7th, SL, Sun Valley, Idaho, 2018
U.S. JUNIOR ALPINE CHAMPIONSHIPS
1st, SG, Mittersill Cannon Mountain, N.H., 2019
1st, SL, Waterville Valley Resort, N.H., 2019
1st, GS, Sugarloaf, Maine, 2017
2nd, SL, Sugarloaf, Maine, 2017
2nd, SL, Copper Mountain, Colo., 2016
6th, SL, Sun Valley, Idaho, 2018
7th, DH, Copper Mountain, Colo., 2016
7th, SG, Copper Mountain, Colo., 2016
YOUTH OLYMPIC WINTER GAMES
10th, SG, Lillehammer, NOR, 2016
13th, SL, Lillehammer, NOR, 2016
14th, GS, Lillehammer, NOR, 2016