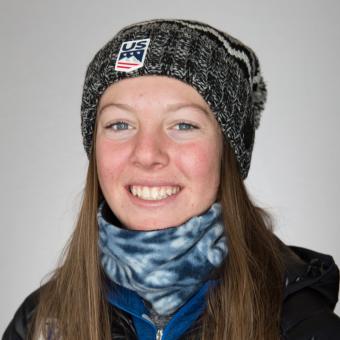 AJ Hurt
Two-Time National Alpine Champion
Cruisy-cool AJ Hurt is an up-and-coming athlete to watch. She's got that Squaw Valley-chill-'tude and skills on the mountain to boot, and—at just 17-years-old—already has two World Cup starts under her belt. 
Hurt's passion for skiing and ski racing began at a very early age. Growing up in North Lake Tahoe, Squaw Valley was her winter playground. At four years old, she entered the Squaw Valley Ski Team and fell in love with the sport. With a father who has been a member of the Squaw Valley Ski Patrol for the past 30 years, Hurt was raised a true member of the Squaw Valley family.
At 14, as a U16 standout, Hurt was invited to be a part of the National Training Group. As a first-year FIS racer in the 2016-17 season, she was the top junior for birth year 2000 in NorAm qualifying race points—not only in the speed disciplines but also the technical disciplines. She traveled with the C and D Team during the 2018 season, starting in her first World Cup in Killington on U.S. home soil as a 16-year-old, just shy of her 17th birthday.
Not only did she get a couple of World Cup starts under her belt, but Hurt went on to end up sixth in the NorAm Cup Overall standings, fourth in the downhill standings, fourth in super-G, and third in the giant slalom. She capped the year off with not only her first National Champion title, but also her second—taking the alpine combined and giant slalom victories. In giant slalom, she blew away the field by 1.51 seconds. Then, she went on to win the U.S. Junior Alpine Championships' giant slalom, too. 
Watch Hurt this season as she catapulted to the B Team and will be skiing more World Cups—but don't blink, because you might miss her...she inspects the course like Bode Miller used to: at lightning speed. 
Results
WORLD CUP
First World Cup Start - GS, Killington, Vt., Nov. 25, 2017
JUNIOR WORLD SKI CHAMPIONSHIPS
Teams: 2018, 2019
2nd, TE, Val di Fassa, ITA, 2019
7th, GS, Val di Fassa, ITA, 2019
7th, DH, Davos, SUI, 2018
8th, GS, Davos, SUI, 2018
10th, DH, Val di Fassa, ITA, 2019
U.S. ALPINE CHAMPIONSHIPS
1st, AC, Sun Valley, Idaho, 2018
1st, GS, Sun Valley, Idaho, 2018
2nd, SG, Sun Valley, Idaho, 2018
4th SL, Sugarloaf, Maine, 2017
U.S. JUNIOR ALPINE CHAMPIONSHIPS
1st, GS, Sun Valley, Idaho, 2018
2nd, SL, Waterville Valley Resort, N.H., 2019
2nd, SL, Sun Valley, Idaho, 2018