Jacobellis Third at Inaugural Bakuriani World Cup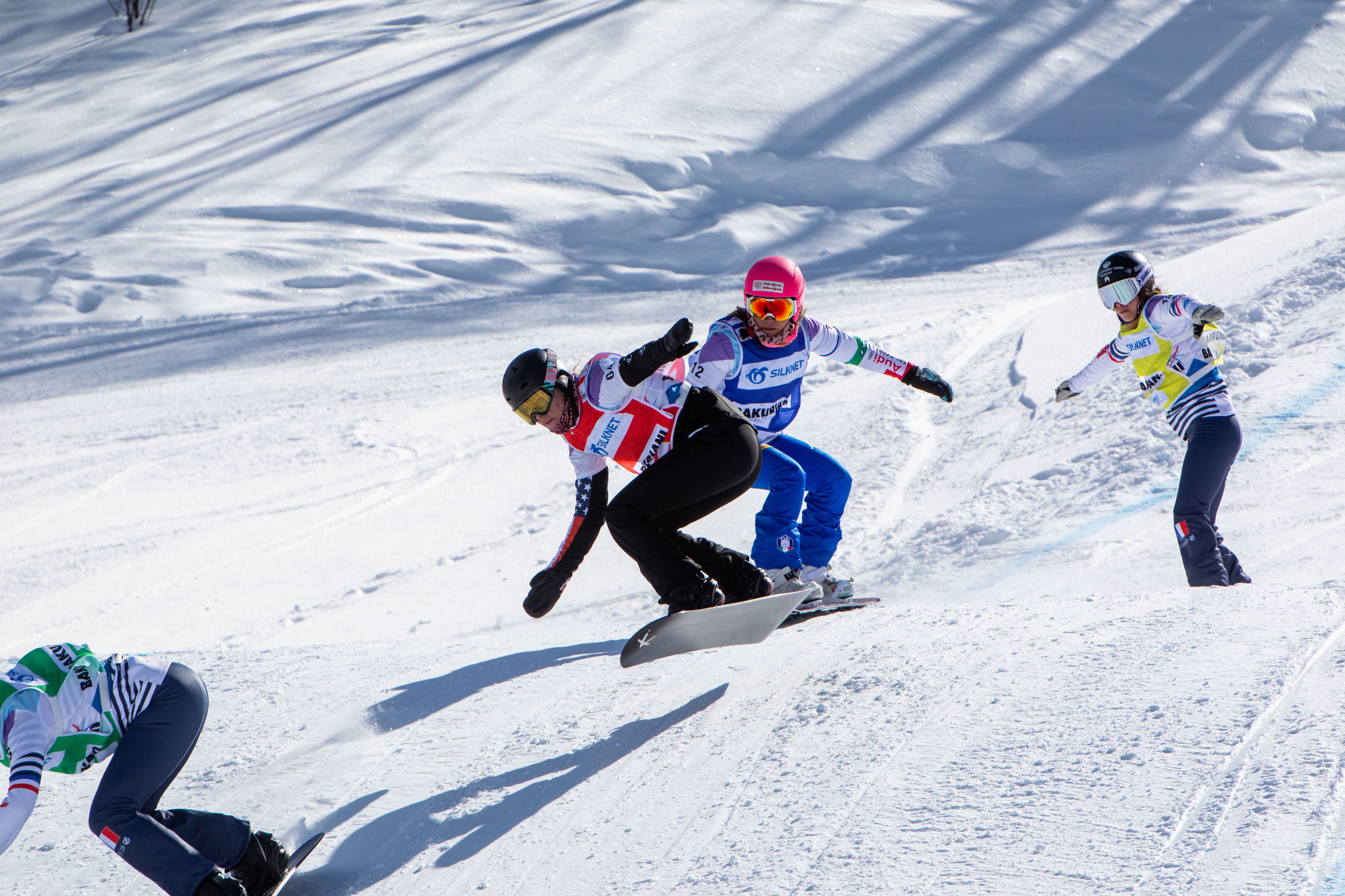 Lindsey Jacobellis, the winningest snowboardcross rider of all time, earned her 55th World Cup podium on Thursday, finishing third at the inaugural Bakuriani World Cup in Georgia. 
Jacobellis enjoyed the course at Bakuriani as it reminded the veteran rider of the "old days" competing in snowboardcross.
"I was really happy that this course catered to more than just the person who won the start," said Jacobellis. "There were times where I won the start but ended up getting passed in the end. It makes you have to work from top to bottom and it's not just suited for one style of rider. The course had a lot of turns that meant we needed to carry speed. It has a lot of transitions you needed to match and there are multiple drafting opportunities. It felt like the old days, honestly."
This sentiment played out in a stacked big final where Jacobellis was matched up with Olympic Champions Michela Moioli of Italy, Eva Samkova of the Czech Republic, and rising star Julia Pereira de Sousa Mabileau of France.
"In the finals, I didn't have a great start so I strategically hung back," Jacobellis reflected. "I knew the last two big turns would carry all the speed into the final stretch. I wanted to do those really well in hopes that the front of the pack would be battling, maybe bumping into each other, and losing some speed. When I exited turn eight, I got stuck on the left side of Michela (Moioli). I was just happy to get on the podium after coming from behind."
 
Samkova topped the podium in first place and Perreira De Sousa was second. U.S. Snowboardcross Team members Faye Gulini, Stacy Gaskill, and Meghan Tierney finished seventh, ninth, and 13th respectively. 
For the men, Eliot Grondin of Canada won the event, Lukas Pachner of Austria finished second, and Lorenzo Sommariva of Italy rounded out the podium in third. U.S. rider Nick Baumgartner earned his best result of the season, finishing 11th. Teammates Senna Leith and Hagen Kearney finished 15th and 17th respectively. 
Moving into the final race of the program on Friday in Bakuriani, Jacobellis will lean on her wisdom in hopes to add to her World Cup podium streak. 
"Moving into tomorrow I learned I should trust my experience," she said. "I definitely have had a little trouble with that lately with the style of courses that have been common over the last couple of the years. They have been shorter with not enough length to execute my strengths. It's a longer course than what we are used to and gives us an opportunity to capitalize on someone else's mistake as well as gives you a chance to come back if you make a mistake."
 
RESULTS
Women's Snowboardcross Finals
Men's Snowboardcross Finals
 
Interested in organization, athlete, and event-related news?
Sign up for our Daily or Weekly Update

Learn more about how to support the U.S. Freeski & Snowboard Teams..