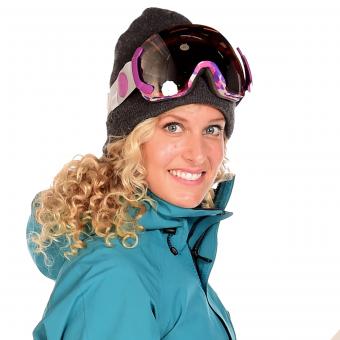 Four-time Olympian Lindsey Jacobellis is the most dominant snowboardcross rider in history. She has already written an impressive resume for herself and shows no signs of slowing down anytime soon. Jacobellis is an Olympic silver medalist, five-time world champion and 10-time X Games gold medalist. 
FIRST TRACKS
Big brother "Benny" introduced Lindsey to riding in 1996. She attended Stratton Mountain School in Vermont and was a member of the U.S. Snowboard Team by age 17. 
OFF THE SNOW
When she's not riding or training, you can find Jacobellis indulging in fashion, shoe collecting, watching movies and hanging out with her friends down in Encinitas, California. She is an avid surfer and you can find her racking up waves at Ponto in Carlsbad, Calif.
Team Info
2006 Turin
2010 Vancouver
2014 Sochi
2018 Pyeongchang
Results
OLYMPIC WINTER GAMES
Teams: 2006, 2010, 2014, 2018
Silver, Torino, ITA, 2006
5th, Vancouver, CAN, 2010
7th, Sochi, RUS, 2014
4th, PyeongChang, KOR, 2018
FIS WORLD CHAMPIONSHIPS
Teams: 2005, 2007, 2011, 2015, 2017
Gold, Sierra Nevada, ESP, 2017
Bronze, Team SBX, Sierra Nevada, ESP, 2017
Gold, Kreischberg, AUT, 2015
Gold, La Molina, SPA, 2011
Gold, Arosa, SUI, 2007
Gold, Whistler, CAN, 2005

WORLD CUP HIGHLIGHTS
1st, Val Thorens, FRA, 2017
1st, Cerra Catedral, ARG, 2017
2nd, Cerra Catedral, ARG, 2017
Two-time World Cup title winner (2009, 2007)

X GAMES
Gold, SBX, Aspen, CO, 2016
Gold, SBX, Aspen, CO 2015
Gold, SBX, Aspen, CO 2014
Gold, SBX, Aspen, CO, 2011
Gold, SBX, Aspen, CO, 2010
Gold, SBX, Aspen, CO, 2009
Gold, SBX, Aspen, CO, 2008
Gold, SBX, Aspen, CO, 2005
Gold, SBX, Aspen, CO, 2004
Gold, SBX, Aspen, CO 2003
Silver, SBX, Aspen, CO, 2007
Bronze, SS, Aspen, CO, 2003

FIS JUNIOR WORLD CHAMPIONSHIPS
Gold, SBX, Rovaniemi, FIN, 2002
Gold, HP, Prato Nevoso, ITA, 2003