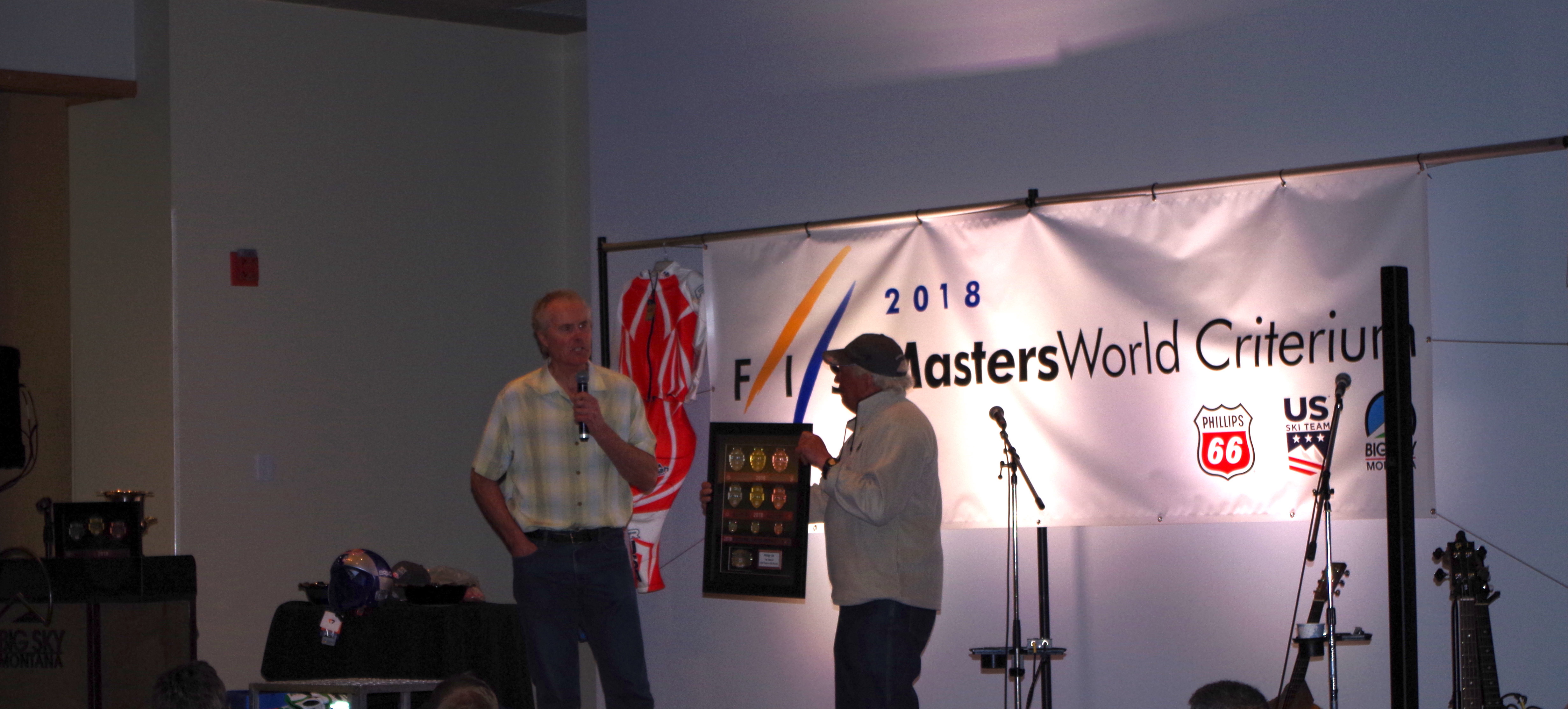 Masters News
The latest news and updates about Masters racing from all divisions!
Follow us at usalpinemasters on:
To talk with and ask questions of fellow masters racers, check out the
Facebook Group   
2019 Phillips 66 National Championships
The U.S­­­­. Ski & Snowboard Alpine Masters had quite the week at the 2019 National Championships in Mammoth Mountain, CA. Masters racers participated in all 4 events, DH, SG, GS, and SL through all types of winter weather. Racers ranged in age from to 20 to 90 and came from all across North America. The weather, which was sunny and clear to start the week, later brought challenges via avalanche closures, wind, snow, and low visibility forcing scheduled adjustments and the cancellation of 2 of the 7 races. Not to be dismayed, racers made the most of the experience getting out for powder turns and spending the extra time catching up with friends over coffees and beers. 
On the final night we surprised Bill Skinner with a retirement gift from contributions from Masters racers across the county. Thank you for all the enthusiasm and effort you brought to masters racing and for keeping us all racing for the last 20 years! We look forward to many more years racing with you!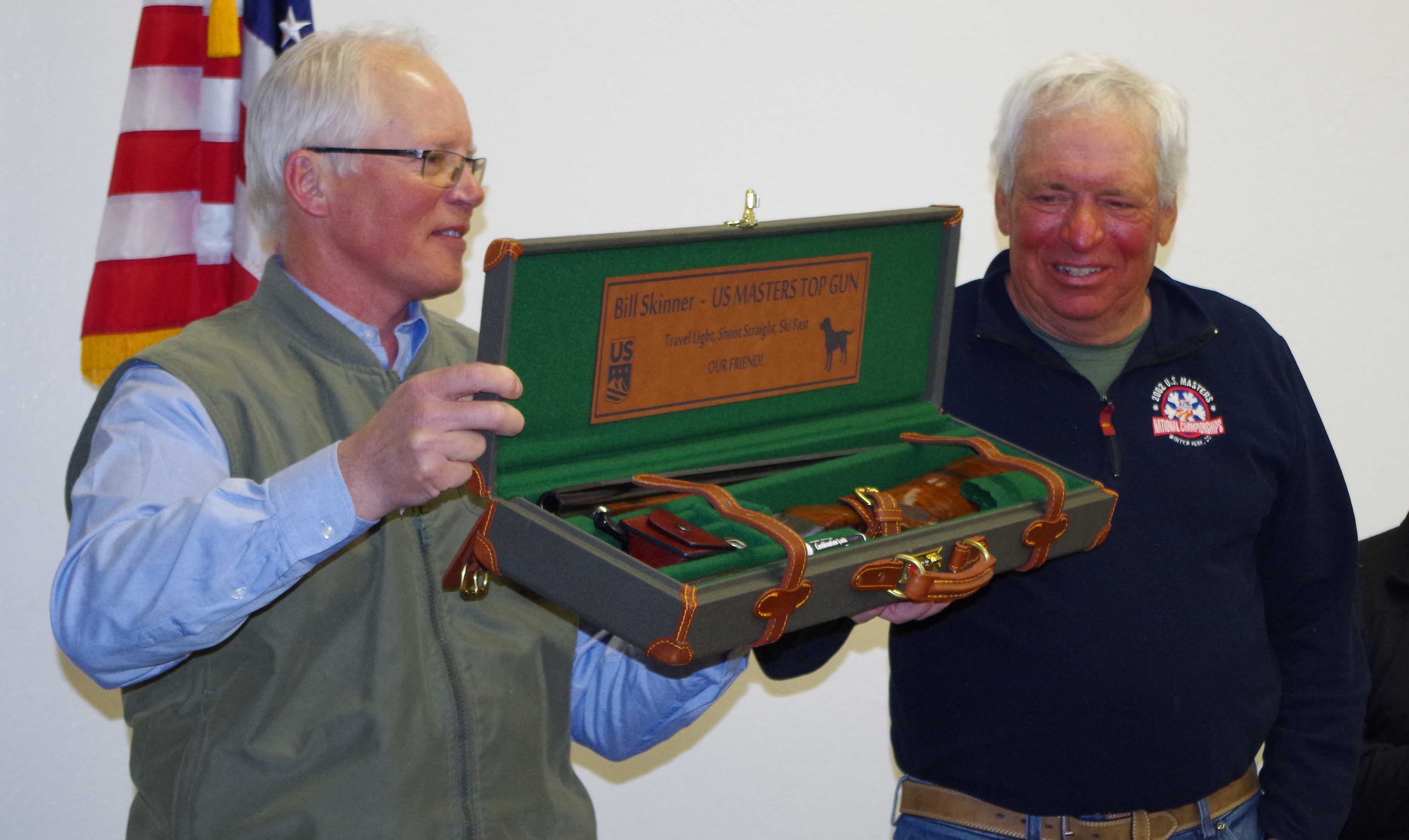 Race photos by Susan Morning can be viewed and purchased - all photo purchases support the  Mammoth Mountain Community Foundation and local youth athletes.
DH        C/D SL (run 1)       A/B GS (run 1)        A/B GS (run 2)        A/B SL (run 1)
Congratulations to all the winners! Links to results and photos: 
usalpinemasters.org/nationals
usalpinemasters.org/2019/nss




2019 FIS Masters Cup/Western Regionals/NSS DHs
It was an action packed 5 days of racing at Aspen Highlands, CO! With races in all 4 disciplines over the weekend, there were ample opportunities to challenge and hang out with your fellow competitors! We had 10 different countries represented: United States, Canada, Chile, Australia, Italy, New Zealand, Poland, Germany, France, and Japan! 
On Saturday, February 9th we had an extra special celebration for Gaetano Demattei's 90th birthday! 7 of his 8 kids were present -- we shared stories from the past as well as heard about Gate's big plans for the next year - ski racing of course! Gate's infectious love for ski racing and life was felt by all - we thank you for sharing your 90th with us!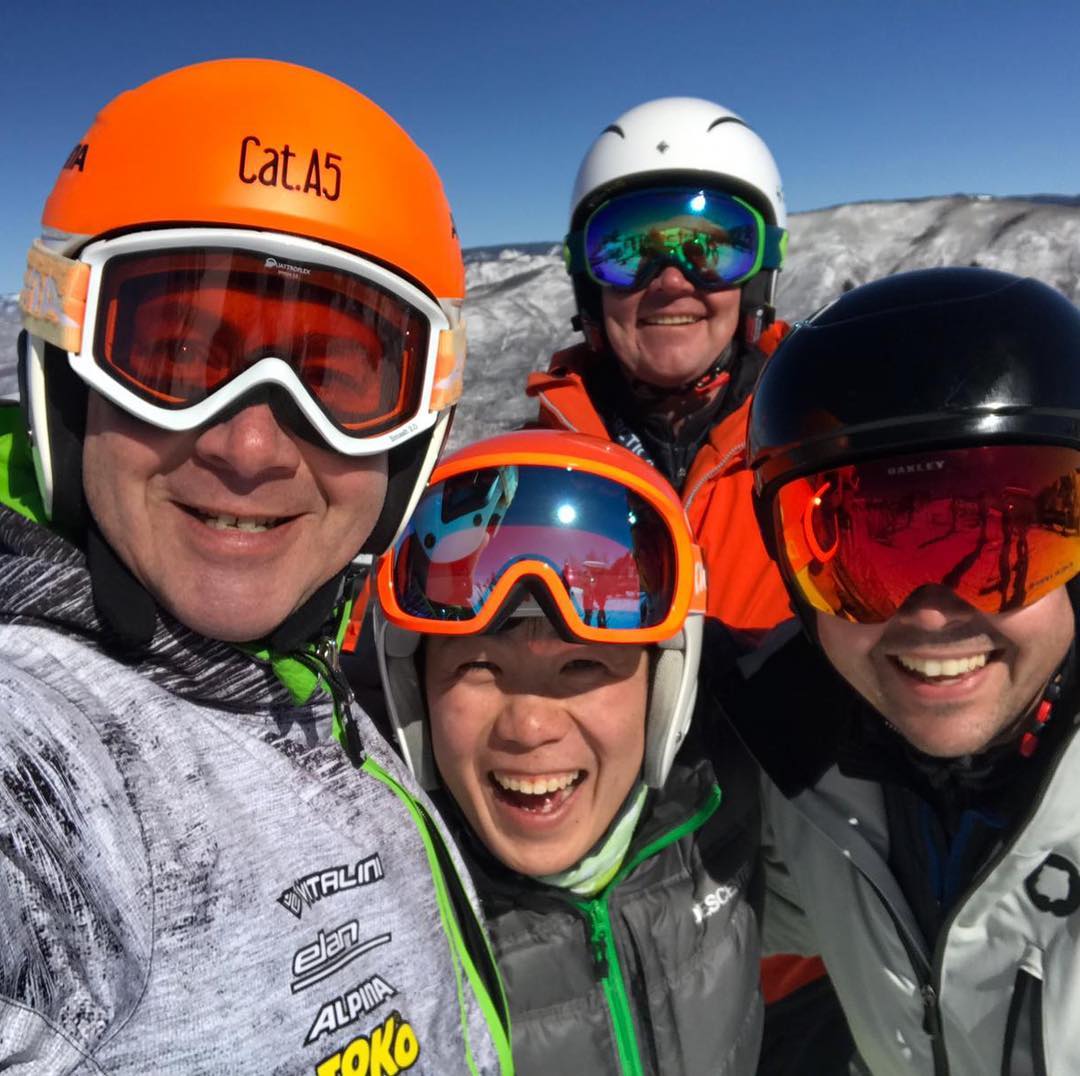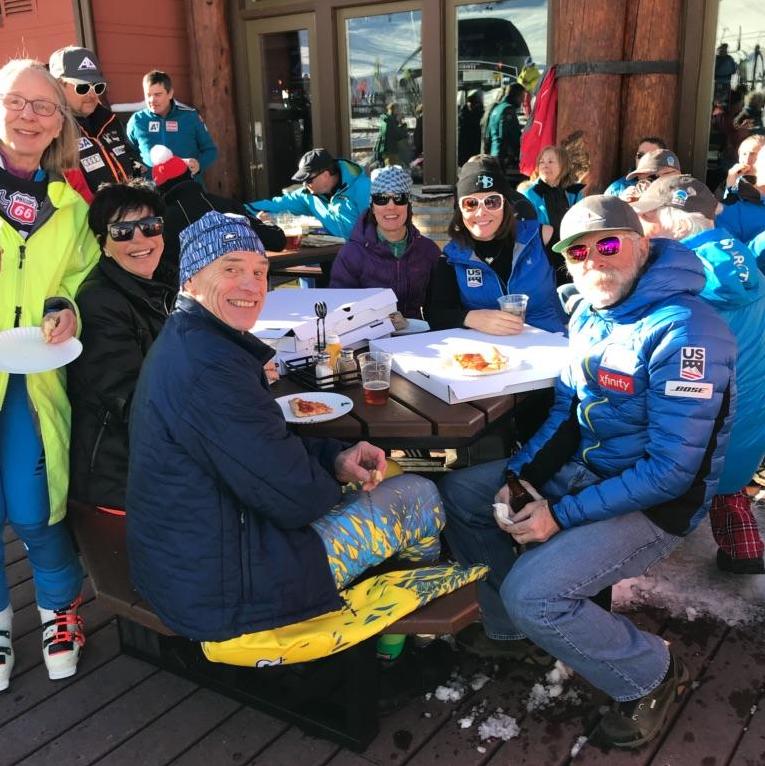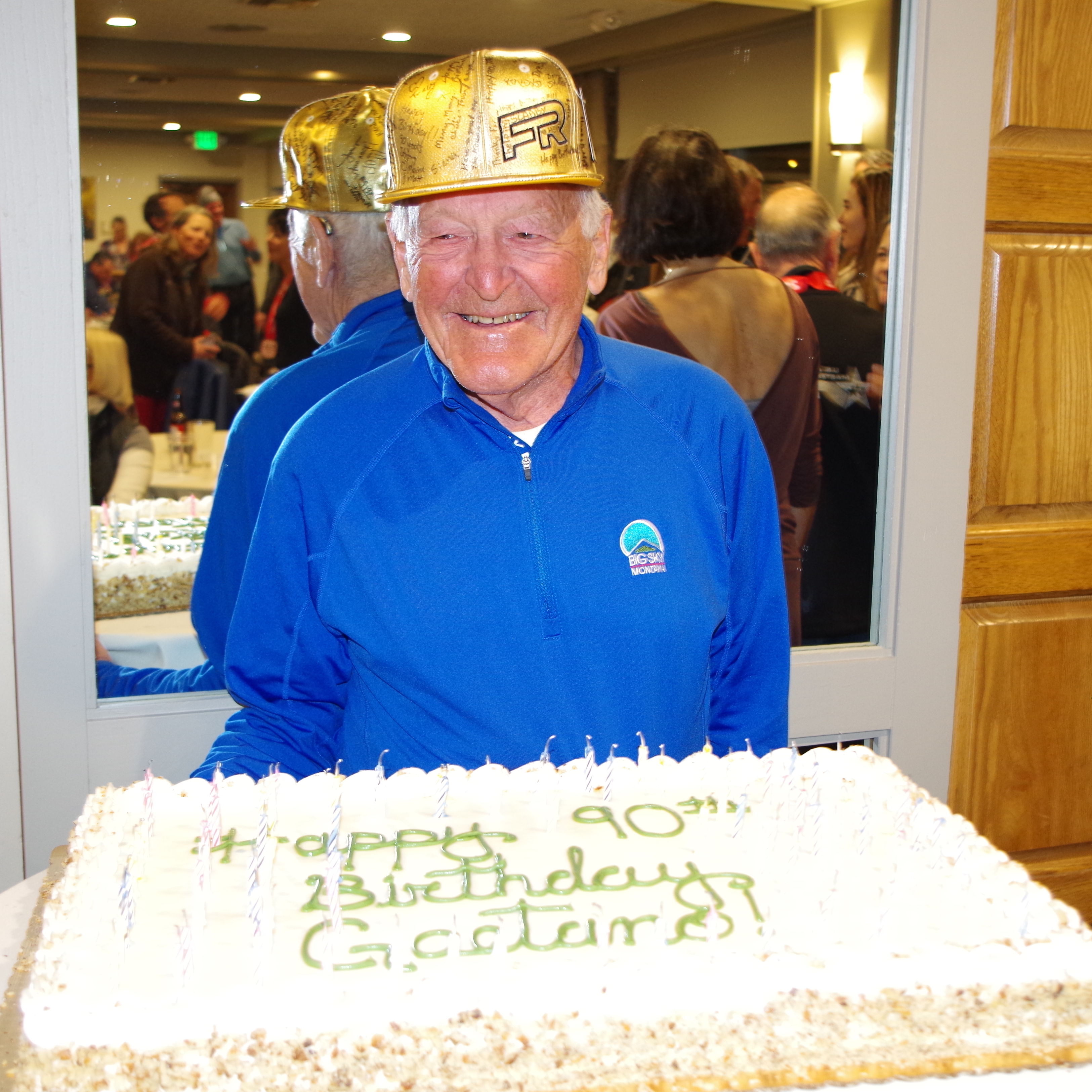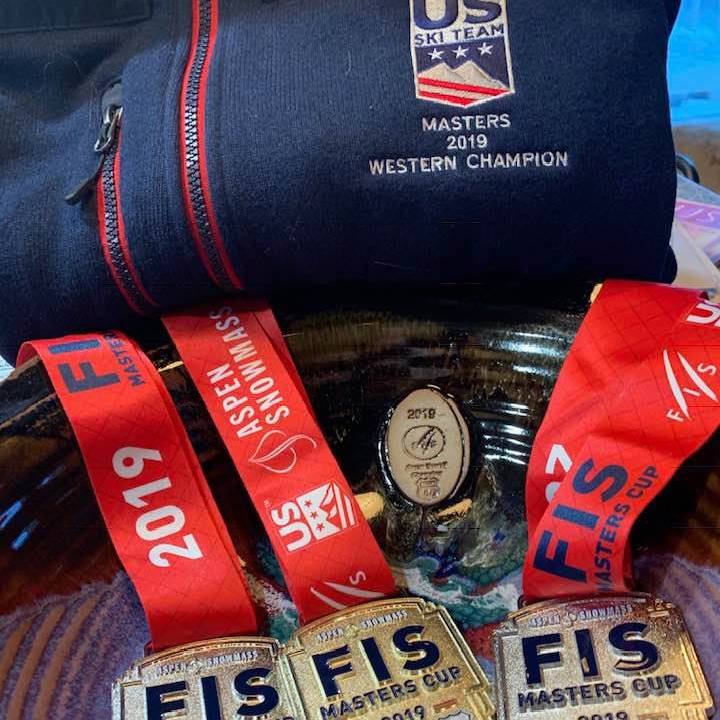 2019 Eastern and Western Region Champions
EASTERN REGION CHAMPIONS
The 2019 Eastern Region Championships in Stratton, VT saw some tough weather and the cancellation of the SG. Not to be deterred, the Eastern Region Masters racers along with several visiting from the Canada Masters were able to throw down some great competition in the GS and SL to crown the 2019 Eastern Region Champions! 

CLASS

MEN

WOMEN

13 (85-89)

George MacNeil

 

12 (80-84)

Doug Wisse

 

11 (75-79)

Paul Rogers

 

10 (70-74)

Pepi Neubauer

 

09 (65-69)

Eric Cutting

 

08 (60-64)

Mark George

Nadine Price

07 (55-59)

Greg Sarkis

Sharon Way

06 (50-54)

James Spillane

Pollyanna Schmid

05 (45-49)

Kevin Wickless

Deborah Adams

04 (40-44)

Susan Bradshaw

03 (35-39)

Andrea Occhi

Martine Allaire (CAN)

02 (30-34)

Daniel Scuderi

Kristen Bonkowski

01 (18-29)

Matthew Dodge

Alexandra Mitchell
WESTERN REGION CHAMPIONS
The 2019 Western Region Championships were part of the FIS Masters Cup event in Aspen Highlands. Racers were scored on results from 4 events: SL, GS, and 2SG. The race days had typical CO bluebird weather and many had to take off for long flights and drives home before the final results were ready.
| | | |
| --- | --- | --- |
| CLASS | MEN | WOMEN |
| 13 (85-89) | Gaetano Demattei |   |
| 12 (80-84) | Charlie Hauser | Marietta Frinell |
| 11 (75-79) | Knut Olberg | Lilla Gidlow |
| 10 (70-74) | Pepi Neubauer | Lydia Young |
| 09 (65-69) | Mike Robbins (CAN) |   |
| 08 (60-64) | Stein Halsnes | Jeanette Saylor |
| 07 (55-59) | Michael Braun | Lisa Ballard |
| 06 (50-54) | Scott Strickland | Ingrid Braun |
| 05 (45-49) | Kevin Hendrickson | Tanya Muller |
| 04 (40-44) | John Beckos | Asia Jenkins |
| 03 (35-39) | Phillips Armstrong | Kelli Keith |
| 02 (30-34) | Leonard Kwan | Lauren Beckos |
| 01 (18-29) | Stephen Barton |   |

2018-2019 Season Masters Newsletter
The 2018-2019 Season Masters Newsletter has gone out for print. It'll be coming to you mailbox sometime in the next month. In the meantime, you can read a digital copy here:
You can always find links to copies of the email updates and print newsletters on this page!
Posted December 9, 2018
Where & How to Watch World Cup Racing
The season starts this weekend in Solden!

When/where to watch NBC Sports via cable:
Where to Watch on U.S. Ski & Snowboard Website
NBC Sports Coverage for Cable Channels and Subscription Gold Snow Pass

See details of the Gold Pass which will have events live and on demand:
Details on Coverage, Cost, and How to Purchase Snow Pass (no cable subscription required)
Other online services offer access packages to many of the NBC Sports channels:
(see websites for specific details)
Hulu, DirectTV Now, SlingTV, YouTube TV

See full schedule and there's a link you can use to add the events to your digital calendar:
FIS Website Calendar

Printable PDF calendars of schedules: (for the tuning room, fridge, cube wall, bathroom mirror, etc)
Official FIS PDF Schedule
PDF Schedule Also Listing Times of Events
Posted: October 25, 2018
New Masters Website Organization and Content!
Masters Competition Guide is Posted and Printed
This year with a color cover featuring Nancy Auseklis (W13) from the Intermountain Division!
Pre-season is a great time to refresh your memory on the rules so you are ready to go at the first race!
View the electronic version by clicking on the cover below or pick upi your copy at your next division event.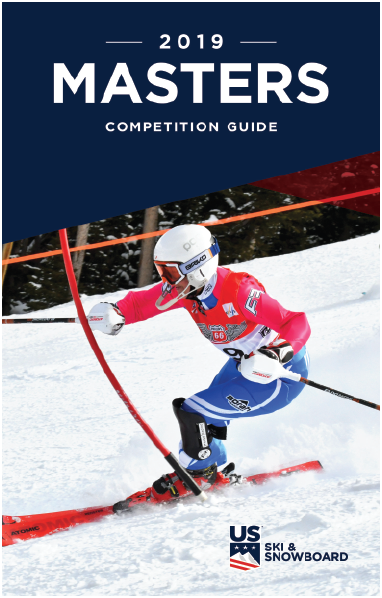 Posted: October 8, 2018
Got a question about Masters racing?
Contact us!