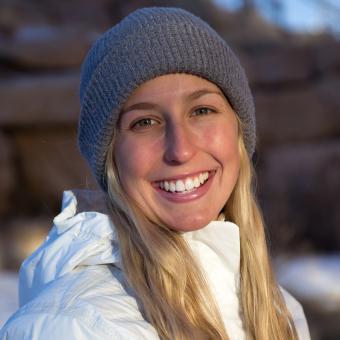 Winter Vinecki has been a competitive athlete since age five. Starting from a young age, she was running races, winning triathlons and spending her winters dominating the ski slopes. When Winter was nine years old, she completed her first Olympic distance triathlon in under four hours, a distance many said she was too young for. It would be the last race her dad would ever meet her at the finish line. He died from a rare and aggressive form of prostate cancer shortly after. His death fueled her passion and determination in a way few athletes might experience. Vinecki's determination has translated to successful performances in the first few years of her aerials career.

Q: Tell us something quirky about yourself that people would be amused to learn.
I was born with black, spiky hair but it all fell out when I was a baby and then grew back blond

Q: Are you involved with any nonprofits, charities or social causes?
I am the founder of Team Winter, a non-profit organization for prostate cancer research and awareness. I formed this foundation at nine years old, after my dad passed away from a rare and aggressive form of prostate cancer.