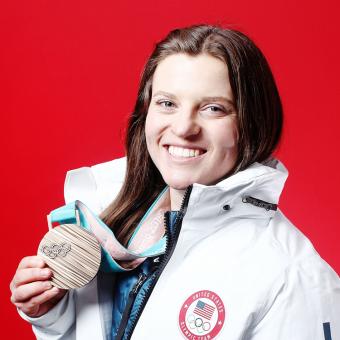 Arielle Gold
Pro Halfpipe - Snowboarding
Steamboat Springs native Arielle Gold has made a big impact in halfpipe snowboarding. A consistent podium threat, she has a strength and style that set her apart from the field. With a bronze medal at the 2018 Olympic Winter Games, Gold has proven that she's one of the Best in the World. 
When you're not not snowboarding, what are you doing for fun?
Riding my horse Sparky, mountain biking, hiking and taking classes.
If you could be a Star Wars Character, who would you be and why?
Yoda because he's small and feisty, but also wise.
Are you involved with any nonprofits, charities or social causes?
I'm involved with both Protect Our Winters and Animal Rescue of the Rockies. I have always grown up with a love for animals and the outdoors, so for me to be able to use my platform as a professional athlete to create positive change on issues that mean so much to me is something I'm grateful to be able to do.
Team Info
Steamboat Springs Winter Sports Club
2014 Sochi
2018 Pyeongchang
University of Colorado - Boulder
Results
OLYMPIC WINTER GAMES
Teams: 2014, 2018
Bronze, PyeongChang, KOR, 2018

X GAMES
Silver, Aspen, USA, 2018
Silver, Aspen, USA, 2016
Bronze, Oslo, NOR, 2016
Bronze, Tignes, FRA, 2013
Bronze, Aspen, USA, 2013
WORLD CHAMPIONSHIPS
Teams: 2013, 2017
Gold, Stoneham, QC, 2013
WORLD CUP HIGHLIGHTS
Five career podiums (Four Toyota U.S. Grand Prix podiums)

YOUTH OLYMPIC GAMES
Silver, SS, Kuehtai, AUT, 2012
Silver, HP, Kuehtai, AUT, 2012

JUNIOR WORLD CHAMPIONSHIPS
Gold, Sierra Nevada, ESP, 2012