The Land Rover U.S. Alpine Ski Team and Staff Kick off 2019-20 Season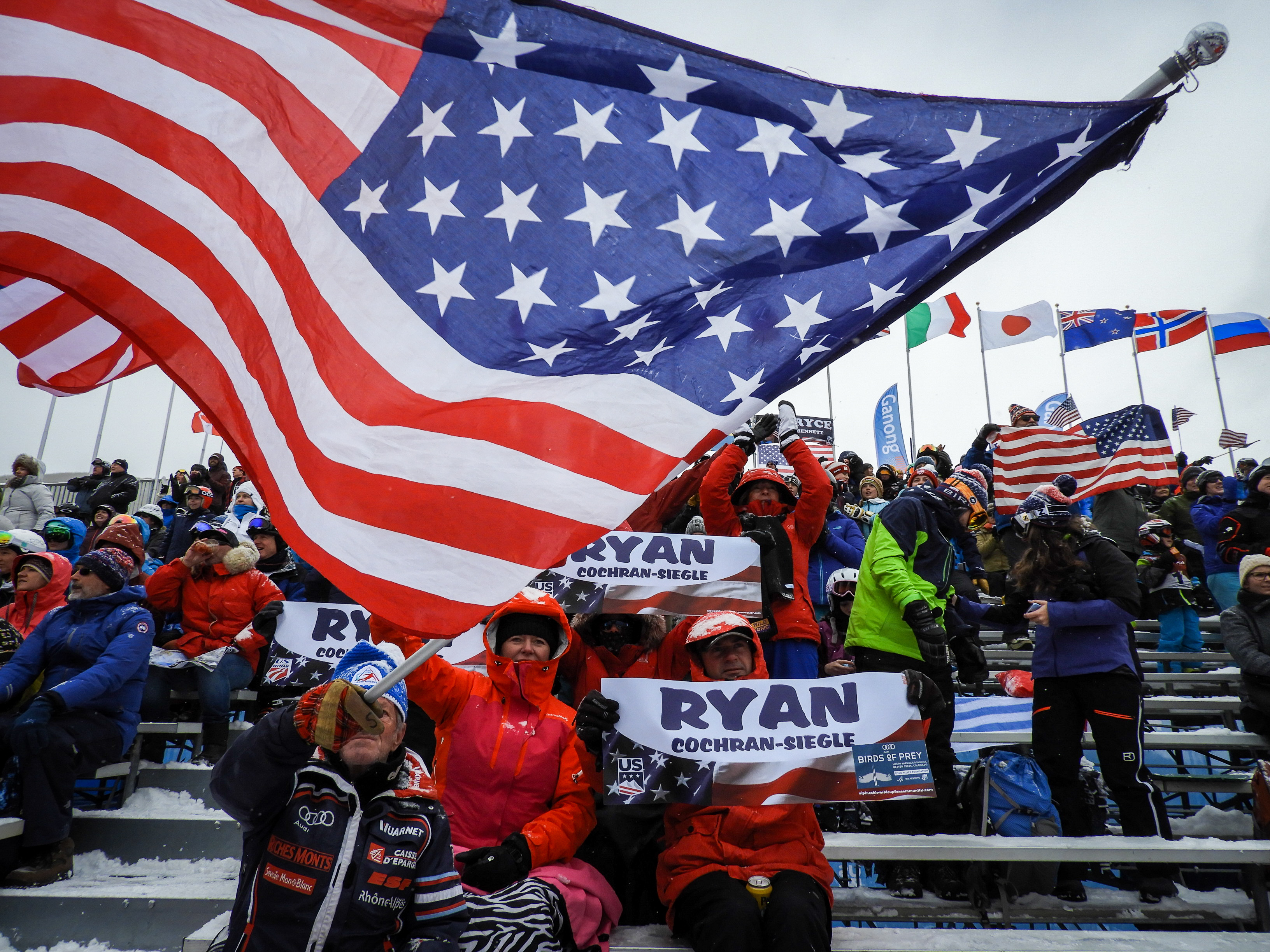 The 2019-20 Land Rover U.S. Alpine Ski Team has kicked off their final prep period camp at the U.S. Ski Team Speed Center at Copper Mountain, Colorado with hard snow, sunshine and bluebird days. The conditions have made for both a picturesque and productive setting as U.S. Ski & Snowboard officially announces the 2019-20 Land Rover U.S. Alpine Ski Team, featuring Olympic champions Mikaela Shiffrin and Ted Ligety as well as a lot of depth and up-and-coming talent.  
The season kicked off yet again in Sölden, Austria on Oct. 26-27 with women's and men's giant slalom races. Mikaela opened the season with a bang, and quite the show as she fought for second place by just .06 behind the 17-year-old kiwi Alice Robinson - who scored her first World Cup victory. Alice became the youngest athlete since Mikaela seven years ago to win a World Cup. This was Mikaela's best result at Sölden since 2016 when she was second, and is just one stop on a very long journey that has Mikaela skiing in six disciplines. Nina O'Brien scored a career-best 21st, showing that all of that hard work in the prep period has paid off. 
For the first time in three seasons, the weather cooperated and the men were able to race in Sölden. And what a race it was! The Land Rover U.S. Alpine Ski Team had the best collective team result in years, with Tommy Ford grabbing a career-best fourth, Ted on his heels in fifth, and Ryan Cochran-Siegle in 11th. This bodes well for the Team as they head into their final prep period camp at Copper Mountain. 
Speaking of Copper, the training at the U.S. Ski Team Speed Center at Copper Mountain has been better than it's been in the eight years of the partnership. With cold temperatures and snow guns a' blazin' - winter is here and it's here to stay! The full Team descends upon Copper on November 6, but Mikaela and the women's tech team have been training for the last week, and the conditions have been supreme - including extremely productive top-to-bottom super-G training for the reigning super-G titleholder,  Mikaela. The venue hasn't seen top-to-bottom training this early in years. 
Mikaela, along with American slalom star/teammate Paula Moltzan will lead the crew as they head to Levi, Finland for the World Cup slalom kickoff, which will also feature Luke Winters on the men's side. From there, all eyes are on the North American tour, starting with the women's tech series in Killington, Vermont - where athletes have been welcomed into the finish by record-breaking crowds the last three seasons - and the men's speed kickoff in Lake Louise, Canada on Thanksgiving weekend. 
First, let's get you acquainted with the TV broadcast schedule. 
It's not an Olympic year or a World Championship year...so while many may say "HO-HUM," the hardcore fans know that this is actually - in many ways - the most exciting season. Why, you may ask? Because a non-Olympic, non-World Championship year means there's time for athletes to experiment a bit with the schedule. Will Mikaela ski more speed events? Will traditionally speed-focused athletes, who have bridged speed/tech in the past, ski more giant slalom events? 
During - and after - the 2018-19 season, the FIS Ski World Cup circuit said many goodbyes, including stars like the seemingly unbeatable Austrian Marcel Hirscher, Viking god Aksel Lund Svindal, German heartthrob Felix Neureuther, and the Land Rover U.S. Alpine Ski Team's own Queen of Speed Lindsey Vonn - the winningest female ski racer of all time. As such, everyone is asking who will emerge as the next star, alongside the likes of Mikaela...and it will certainly be an action-packed season in that regard. Will France's Alexis Pinturault or Norway's fiery Henrik Kristoffersen rise to the top, in the wake of Marcel's retirement? Will kiwi giant slalom specialist/phenom Alice Robinson - at just 17-years-young - be able to maintain consistency at the top, after her second place in Andorra last year and her first victory in Sölden this year? With Slovenia's Ilka Stuhec and Italy's Sofia Goggia fully healthy heading into the season, what will the speed disciplines look like on the women's side? Will the tallest man on the circuit - Bryce Bennett - taste the podium? 
Most certainly, all eyes will be on 24-year-old double Olympic champion, five-time World Champion, and reigning slalom, giant slalom, super-G and overall champion Mikaela Shiffrin. There may be no Olympics or World Championships this year, but Mikaela's focus will be on trying to strike the tricky balance of skiing all six disciplines without burnout in that grueling January tech series heading into speed events. In 2019, she realized her goal to win the giant slalom globe, she surprised even herself with super-G dominance both at FIS Ski World Championships and on the World Cup circuit, and now she'll look to simply find more balance. In 2019, Mikaela shattered records seemingly every weekend, including Vreni Schneider's season win record, which was 14. In fact, she blew that out of the water with 17 victories in one season. And so it may seem hard to top 2019 for Mikaela. Good thing she is not driven by the numbers, and is therefore not expecting to top 2019 although, she says, "anything is considered 'impossible' until someone achieves it, so who knows?!". She is aiming to find balance and continue to strive for the perfect turn. 
With 60 career World Cup victories, Mikaela brings 40 slalom victories into Levi - tied with the Swede great Ingemar Stenmark. A win in Levi would have her breaking yet another record: most slalom World Cup victories - male or female. Does she know she's about to break another record? Honestly, unlikely. However, Mikaela knows she's got tough competition. Mikaela, Paula, and Nina are joined by the young Squaw Valley duo of AJ Hurt and Keely Cashman, who are two to watch this season too. Switching gears to speed, Alice McKennis and Jackie Wiles - who were both sidelined due to injury in 2019 - will return to competition and join their teammate and Junior Worlds downhill champion Alice Merryweather on the mountain. They'll look to find their dominating ways once again, having been the fastest women's downhill team in the world in 2018. 
On the men's side, Olympic champion Ted Ligety showed at Sölden that he still has the speed to hang with the top dogs and the young guns. Tommy is podium-hunting in his cool, calm, and collected style, and we are confident he'll bring it home this winter. On the speed side, big man duo Bryce Bennett and veteran Steven Nyman will look once again to find the consistency they've seen in recent seasons. Bryce finished last season ranked seventh in the world, and was just off the podium numerous times - not just at his favorite track of Val Gardena, Italy - but on other real-deal downhills like Bormio, Italy - which resembled a vertical ice hockey rink last year - and the classic Lauberhorn at Wengen, Switzerland. No one-trick pony here, folks! To put it quite simply, he knows he has what it takes to stand on the top step.  
Last season was the first season back from injury for 2015 World Championships downhill silver medalist Travis Ganong. This year, with a full prep period under his belt, he's healthy, strong, and fired up heading into the season. Ryan Cochran-Siegle has been training a high volume of speed events in the prep period and his natural gift paired with his intense focus is a winning combo, while Jared Goldberg will look to pick up where he left off in Kvitfjell, Norway - with a top-10, his best finish all season. Double Junior Worlds Champ River Radamus, Junior World Championships medalists Luke Winters and Ben Ritchie, and 2019 NorAm Overall Champion Kyle Negomir are the up-and-comers to keep an eye on this season. Keep in mind that the American men's team - which included many of these guys, and a cast of characters on the Development Team - was the best in the world last year at FIS Ski Junior World Championships in Val di Fassa, Italy.  
"We are all looking forward to a great season with this newly named team," said Alpine Director Jesse Hunt. "We have experienced athletes who are leading this team, combined with young hard-charging athletes, and proven talents returning from injury. The team worked hard on the fundamentals this preparation period with the goal to re-emerge as a team bound for the top...the Sölden World Cup was a great start to the journey."
A highlight of the 2019-20 season will be the first of two alpine Olympic test events in Beijing. The men test out the Olympic track in Beijing this winter, as they stage men's downhill and super-G World Cup races on Feb. 15-16, 2020. According to Olympic course designer Bernhard Russi, the track should be about 1 minute, 55 seconds, and equate more to Sochi's Olympic course than the 2018 Olympic track in PyeongChang. The women will follow with their speed test event at Yanqing in 2021. Additionally, this year will feature the 2020 Youth Olympic Games in Lausanne, Switzerland, starting on January 9, 2020. The 2020 Youth Olympic Games will showcase some of the best youth talents in winter sport across the world, and U.S. nominations will be shared in December. 
2019-20 Land Rover U.S. Alpine Ski Team 
(Hometown; Club; Birthdate)
A TEAM
Men
Bryce Bennett (Squaw Valley, Calif.; Squaw Valley Ski Team; 7/14/1992)
Tommy Ford (Bend, OR; Mt. Bachelor Ski Education Foundation; 3/20/1989)
Travis Ganong (Squaw Valley, Calif.; Squaw Valley Ski Team; 7/14/1988)
Ted Ligety (Park City, Utah; Park City Ski and Snowboard; 8/31/1984)
Steven Nyman (Sundance, Utah; Park City Ski and Snowboard/Sundance Ski Team; 2/12/1982)
Women
Breezy Johnson (Victor, Idaho; Rowmark Ski Academy; 1/19/1996)
Alice McKennis (New Castle, Colo.; Sunlight Winter Sports Club/Rowmark Ski Academy; 8/18/1989)
Laurenne Ross (Bend, Ore.; Mt. Bachelor Sports Education Foundation; 8/17/1988)
Mikaela Shiffrin (Eagle-Vail, Colo.; Burke Mountain Academy/Ski & Snowboard Club Vail; 3/13/1995)
Jacqueline Wiles (Aurora, Ore.; White Pass Ski Club; 7/13/1992)
B TEAM
Men
Ryan Cochran-Siegle (Starksboro, Vt.; Cochran's/Mount Mansfield Ski & Snowboard Club; 3/27/1992)
Jared Goldberg (Holladay, Utah; Snowbird Sports Education Foundation; 6/15/1991)
Brian McLaughlin (Waitsfield, Vt.; Dartmouth College/Green Mountain Valley School; 6/24/1993)
Sam Morse (Carrabassett Valley, Maine; Carrabassett Valley Academy; 5/27/1996)
Kyle Negomir (Littleton, Colo.; Ski & Snowboard Club Vail; 10/3/1998)
River Radamus (Edwards, Colo.; Ski & Snowboard Club Vail; 2/12/1998)
Ben Ritchie (Waitsfield, VT; Green Mountain Valley School; 9/5/2000)
Luke Winters (Gresham, Ore.; Sugar Bowl Academy; 4/2/1997)
Women
Keely Cashman (Strawberry, Calif.; Squaw Valley Ski Team; 4/4/1999)
AJ Hurt (Carnelian Bay, Calif.; Squaw Valley Ski Team; 12/5/2000)
Alice Merryweather (Hingham, Mass.; Attitash Race Team/Stratton Mountain School; 10/5/1996)
Paula Moltzan (Prior Lake, Minn.; University of Vermont/Buck Hill Ski Team/Ski and Snowboard Club Vail; 4/7/1994)
Nina O'Brien (Edwards, Colo.; Burke Mountain Academy/Squaw Valley Ski Team; 11/29/1997)
C TEAM
Men
Cooper Cornelius (Glenwood Springs, Colo.; Aspen Valley Ski Club; 6/20/1999)
Bridger Gile (Aspen, Colo., Aspen Valley Ski Club and Ski & Snowboard Club Vail; 10/15/1999)*
George Steffey (Lyme, N.H.; Stratton Mountain School; 8/8/1997)
Women
Abi Jewett (Ripton, Vt.; Green Mountain Valley School; 1/10/2000)
Katie Hensien (Redmond, Wash.; Rowmark Ski Academy; 12/1/1999)
Galena Wardle (Aspen, Colo.; Aspen Valley Ski & Snowboard Club; 4/24/1998)
DEVELOPMENT TEAM
Men
Jacob Dilling (Vail, Colo.; Ski & Snowboard Club Vail, 10/19/1999)*
Kellen Kinsella (Edwards, Colo.; Ski & Snowboard Club Vail; 8/7/2001)*
Isaiah Nelson (Wayzata, MN.; Buck Hill Ski Racing Club; 4/3/2001)
Jack Smith (Sun Valley, Idaho; Sun Valley Ski Education Foundation; 4/24/2001)*
Women
Lauren Macuga (Park City, Utah; Park City Ski & Snowboard; 7/4/2002)*
Ainsley Proffit (St. Louis, MO; Sugar Bowl Ski Team & Academy; 3/21/2001)
Emma Resnick (Vail, Colo.; Ski & Snowboard Club Vail; 7/23/2003)*
Alix Wilkinson (Mammoth Lakes, Calif.; Squaw Valley Ski Team; 8/2/2000)*
Zoe Zimmermann (Gilford, N.H.; Burke Mountain Academy; 5/16/2002)
*Newly named to the U.S. Ski Team
2019-20 ALPINE STAFF
Alpine Director: Jesse Hunt
Alpine Development Director: Chip Knight
Alpine Communications Manager: Megan Harrod
Alpine World Cup Medical Coordinator: Gillian Bower
Alpine Europa Cup Medical Coordinator: David Quammen
MEN
Team Manager: Gwynn Watkins
Men's World Cup Speed
Head Coach: Randy Pelkey
Assistant Coach: Scotty Veenis
Assistant Coach: Urban Planinsek
Assistant Coach: Chris Beckmann
Fischer Ski Service: Leo Mussi
Physiotherapist: Sam Eiler
Men's World Cup Technical
Head Coach: Forest Carey
Assistant Coach: Ian Garner
Assistant Coach/Strength and Conditioning Coach: Will Courtney
Assistant Coach (Slalom): Ryan Wilson
Head Ski Service: Alex Martin
Men's Europa Cup
Head Coach: Matt Underhill
Assistant Coach: Josh Benge
Strength and Conditioning Coach: Michael Bingaman
Ski Service: Max Lamb
Men's Development
Head Coach: Sasha Rearick
WOMEN
Head Coach: Paul Kristofic
Team Manager: Colleen Jamieson
Women's World Cup Speed
World Cup Speed Head Coach: Chip White
Assistant Coach: Karin Harjo
Assistant Coach: Alex Hoedlmoser
Assistant Coach: Daniel Dejori 
Strength and Conditioning Coach: Bob Poehling
Physiotherapist: Torey Anderson
Women's World Cup Technical/Speed 
Mikaela Shiffrin
Coach: Mike Day
Coach/Strength and Conditioning Coach: Jeff Lackie
Atomic Ski Service: Johann Stroebl
Physiotherapist: Regan Dewhirst
Women's World Cup Technical and Europa Cup
Head Coach: Magnus Andersson
Assistant Coach: Kris Shampeny
Assistant Coach: Katie Twible
Women's Development
Head Coach: Marjan Cernigoj
Follow the Land Rover U.S. Alpine Ski Team on Social Media:
Instagram: @usskiteam
Facebook: @usskiandsnowboard
Twitter: @usskiteam
Hashtag: #LandRoverUSAlpineSkiTeam
OFFICIAL LAND ROVER U.S. ALPINE SKI TEAM PARTNERS AND SUPPLIERS
---------
HEY! Would you like to sign up for Megan Harrod's World Cup Notes—a behind-the-scenes race day communication? Yeah?! Click here, fill out the form, and tick the "Alpine World Cup Notes from Megan Harrod" box.