Caldwell, Diggins 2-3 In Val Mustair Sprint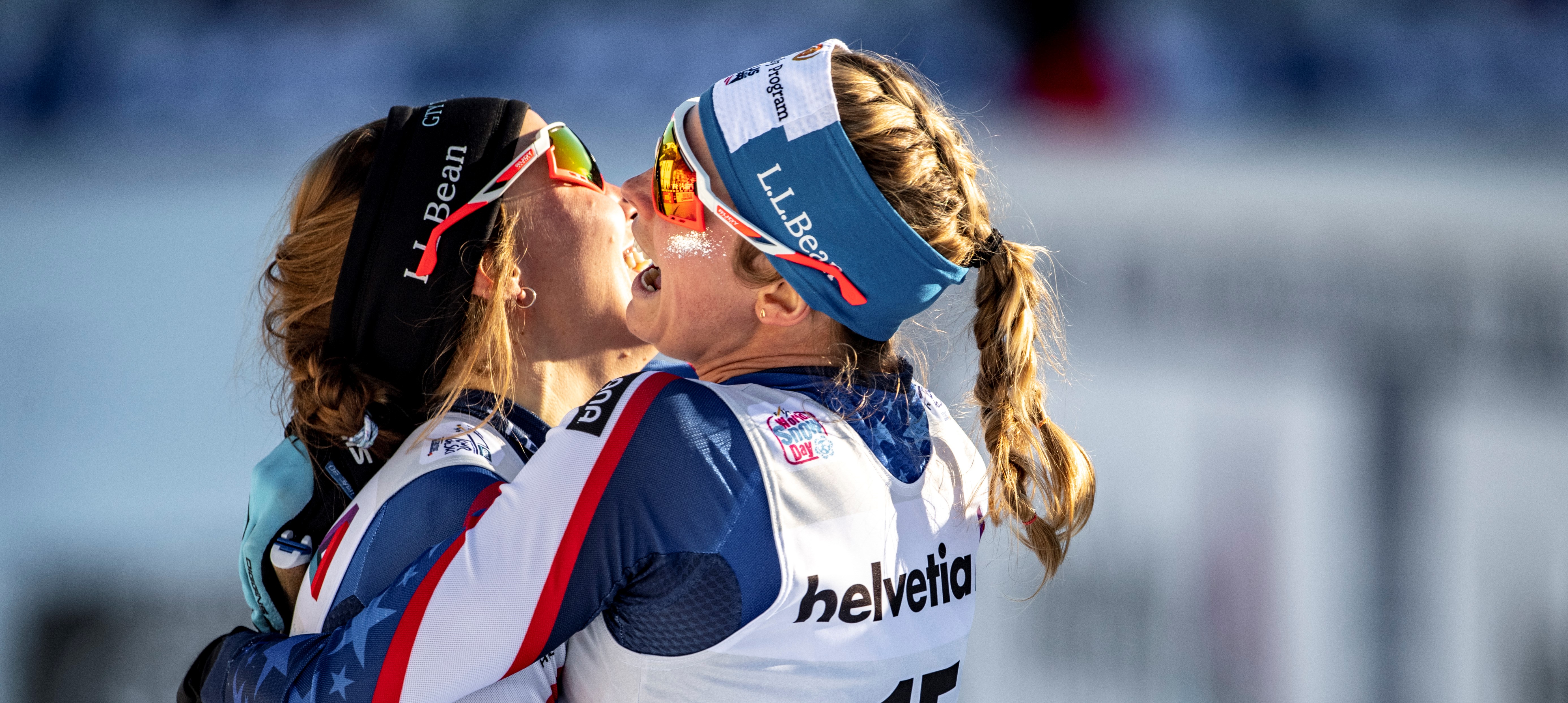 Sophie Caldwell (Stratton Mountain, Vt.) and Jessie Diggins (Afton, Minn.) both landed on the podium Tuesday at the FIS Cross Country World Cup Tour de Ski freestyle sprint in Val Mustair, Switzerland. Diggins finished third and took the overall lead in the Tour de Ski through three stages. Caldwell skied a smart race and edged out Diggins at the line for second.
Diggins becomes only the second U.S. women to lead the Tour de Ski in its 13-year history. Kikkan Randall led after the 3k prologue in 2012.
The race was won by Sweden's Stina Nilsson, her second sprint victory of the Tour. Sadie Bjornsen (Winthrop, Wash.) qualified sixth and narrowly missed advancing to the quarterfinals by .05 seconds.
"It's so exciting to be putting on that blue leader's bib after today," said Diggins. "We had great skis thanks to our team and it was so cool skiing with Sophie in the final! The course was tough as it's at altitude and a longer course, with a really steep hill in the middle, so positioning was pretty important today. I was happy with how I skied the corners and rollers today and happy to be feeling good at this stage of the tour!"
"Today was an amazing day for our team," said Caldwell. "It was a long, hard course at altitude, so it was pretty different from some of the shorter sprints we've been doing. My strategy in the final was to conserve as much energy as possible while maintaining good position and then give it everything I had up and over the top of the second hill while still saving a bit of legs for the downhills and sprint finish. It was so much fun to share the podium with Jessie and crazy how close of a photo finish it was. I think it must have come down to my Salomon boots being one size bigger than hers! We both had great skis and this course had some new downhill features like a jump and rollers that were fun to work through. I'm finished with the tour now, but I'm psyched to cheer my teammates on for the rest of it and its pretty awesome Jessie is the leader after today!"
Simi Hamilton (Aspen, Colo.) was the lone U.S. qualifier and ended up 13th for the day.  The men's sprint was won by Johannes Hoesflot Klaebo of Norway, second was Italian Federico Pellegrino and Sergey Ustiugov of Russia complete the podium in third.
Stage 4 of the Tour de Ski takes place Wednesday in Oberstdorf, Germany with a women's 10k mass start and a men's 15k mass start.
RESULTS 
Women's sprint 
Men's sprint 
STANDINGS
Women's overall 
Men's overall
HOW TO WATCH
All times EST

Wednesday, Jan. 2
6:00 a.m. - Tour de Ski Stage 4 women's 10k mass start - Oberstdorf, GER - Olympic Channel-TV,OlympicChannel.com & NBC Sports Gold
8:00 a.m. - Tour de Ski Stage 4 men's 15k mass start - Oberstdorf, GER - Olympic Channel-TV,OlympicChannel.com & NBC Sports Gold
Thursday, Jan. 3
7:00 a.m. - Tour de Ski Stage 5 men's 15k pursuit - Oberstdorf, GER - Olympic Channel-TV,OlympicChannel.com & NBC Sports Gold
8:45 a.m. - U.S. Cross Country Championships classic individual start - Craftsbury, Vt. - U.S. Ski & Snowboard Streaming
9:00 a.m. - Tour de Ski Stage 5 women's 10k pursuit - Oberstdorf, GER - Olympic Channel-TV,OlympicChannel.com & NBC Sports Gold
Friday, Jan. 4
9:15 a.m. - U.S. Cross Country Championships classic sprint - Craftsbury, Vt. - U.S. Ski & Snowboard Streaming
Saturday, Jan. 5
8:00 a.m. - Tour de Ski Stage Stage 6 women's 10k mass start - Val di Fiemme, ITA - Olympic Channel-TV,OlympicChannel.com & NBC Sports Gold
9:10 a.m. - Tour de Ski Stage Stage 6 men's 15k mass start - Val di Fiemme, ITA - OlympicChannel.com &NBC Sports Gold
2:00 p.m. - Tour de Ski Stage Stage 6 men's 15k mass start - Val di Fiemme, ITA - Olympic Channel-TV*
Sunday, Jan. 6
7:00 a.m. - Tour de Ski Stage Stage 7 women's hill climb - Val di Fiemme, ITA - Olympic Channel-TV,OlympicChannel.com & NBC Sports Gold
9:15 a.m. - U.S. Cross Country Championships freestyle sprint - Craftsbury, Vt. - U.S. Ski & Snowboard Streaming
8:45 a.m. - Tour de Ski Stage Stage 7 men's hill climb - Val di Fiemme, ITA - OlympicChannel.com & NBC Sports Gold
2:00 p.m. - Tour de Ski Stage Stage 7 men's hill climb - Val di Fiemme, ITA - Olympic Channel-TV
Tuesday, Jan. 8
8:45 a.m. - U.S. Cross Country Championships freestyle mass start - Craftsbury, Vt. - U.S. Ski & Snowboard Streaming