Logan, Marino, Miller Earn Dew Tour Podium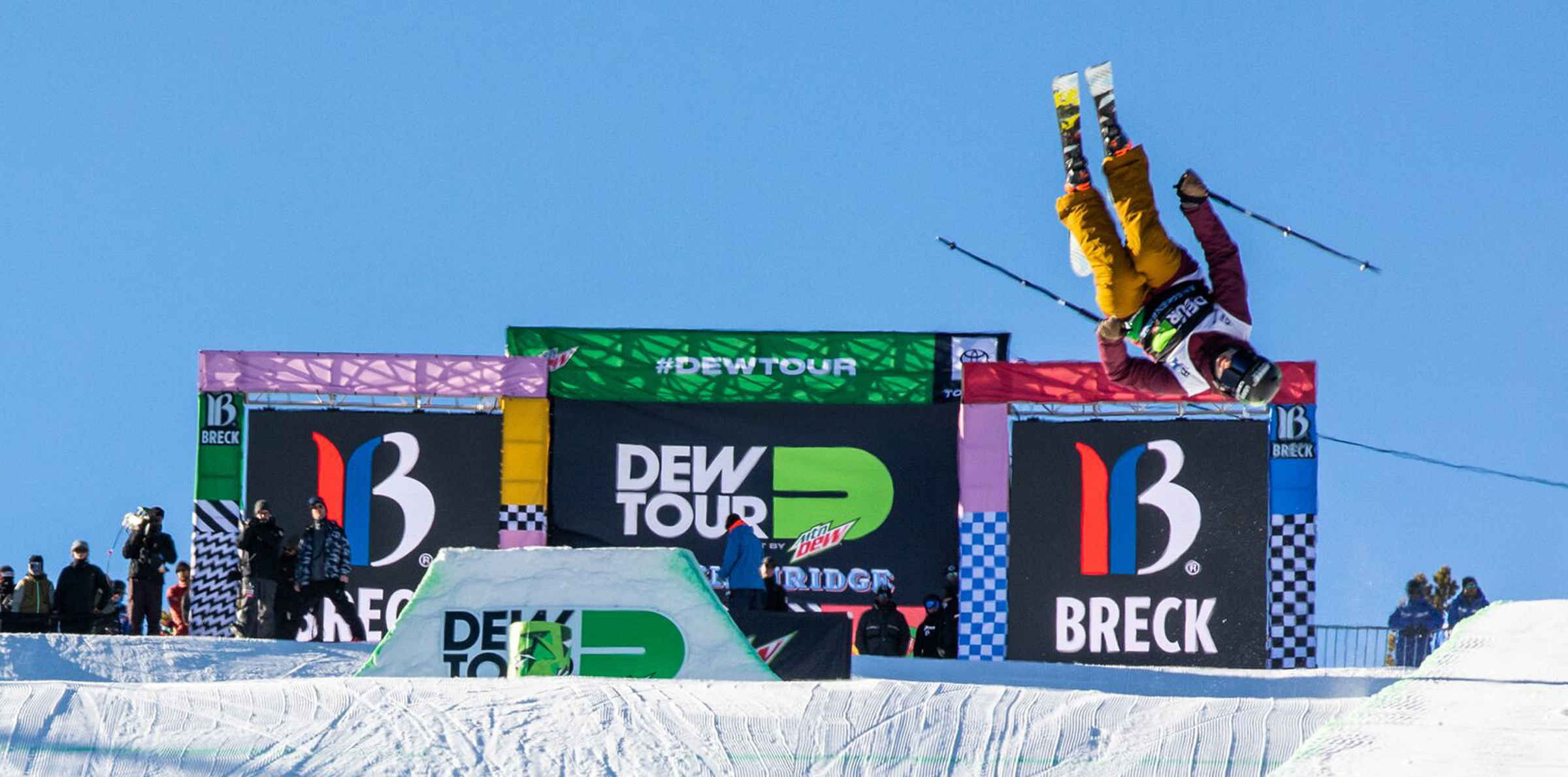 The day started with a love, hate, relationship with the modified superpipe for freeskiers on day two of the Dew Tour in Breckenridge, Colorado. But by the end of the day, Devin Logan (West Dover, Vt.) showed some slopestyle love to court a third-place finish.
"I definitely think I had a little bit of an advantage with all the slopestyle skiing I have done over the years with this modified pipe," said Logan. "You have the natural pipe in there, but playing with the tombstones and the regular jump landings cater to a slopestyle background. I think my experience helped and we had a lot of fun. I'm stoked to land on the podium."
Canadians Rachel Karker and Cassie Sharpe finished in first and second respectively. Karker echoed logan statements. "I skied slope for the majority of my skiing career," she said. "I think the weird angles were a lot easier to handle having some jump experience."
U.S. Freeski Team members Brita Sigourney (Carmel, Calif.) finished just outside the podium in fourth putting down a very stylish run followed by U.S. Rookie Team members Abigale Hansen (June Lake, Calif.) and Svea Irving (Winter Park, Colo.) in fifth in sixth respectively.
The ladies snowboard slopestyle program followed suit with an exciting contest. U.S. Snowboard Team member and Olympian Julia Marino (Westport, Conn.) finished second, claiming her first ever Dew Tour podium. As this is a non-Olympic year and Dew Tour did not need to serve as a qualifier, there was more flexibility with competition format. Dew Tour organizers chose to divide the slopestyle competition into a jumps and rails, essentially creating two contests for slopestyle athletes and making for a long day on the hill. Luckily the weather was beautiful and the riders pushed the sport once again.
"I actually prefer the rails and jumps all being part of one run," said Marino. "But this was a nice change, the weather was beautiful and that's the most important thing. As competitive snowboarders, we always adapt to whatever situation we are given. It was a long day and we are all really tired and it's a relief it's over. At the beginning, it was really hard, but I think after a couple practices we all adjusted. This is my first Dew Tour podium so I'm pretty hyped!"
PyeongChang big air gold medalist Anna Gasser of Austria topped the podium and Finland's Enni Rukajarvi finished in third. In the jumps section, double-gold medalist Jamie Anderson (S. Lake Tahoe, Calif.) made her three-jump combination look stylish and effortless. However, Anderson needed a bit more technicality to compete with Gasser who was firing on all cylinders, linking a backside double cork 1080 and a switch double underflip. Gasser was also the first female snowboarder to land a cab triple underflip in Stubai, Austria this fall.
Anderson looked to step up to Gasser with a double underflip 900 and frontside double cork 1080 combination, but unfortunately, she slid out the last 180 of her 1080 rotation putting her in second leading into the rails competition. Marino finished fourth in the rails section landing her first run but struggling with the backside 720 on her next two runs. Gasser did not slow down though, adding a frontside 900 to the last jump of her final run solidifying her position. In the jumps section, It was Gasser, Norwegian Silje Norendal and Anderson in the top three spots moving into the rails section of the slopestyle program.
Anderson showed her rail prowess right off the bat with a strong run, but it was Marino who would lead the way. Marino started her rail run very smooth with full presses and good speed. She upped the difficulty on her final run landing her in second-place at the end of the rails competition. Enni Rukajarvi from Finland finished first, Marino in second, and Spencer O'Brien from Canada finished in third to close out the rails competition. Marino's rail performance would put her in second-place overall to finish the slopestyle competition.
As Marino was wrapping up the post-competition press conference, her eye caught Finnish snowboarder Rene Rinnekangas dropping into the modified pipe to kick off the snowboard team challenge competition on a TV in the Dew Tour Press Center. Marino's excitement for the sport of snowboarding was incredibly refreshing as she spoke out during in a lull in the press conference exclaiming, "Rene is the definition of what it means to be a snowboarder and I love watching him ride. He just has so much fun." Marino's statement serves as a reminder that all these athletes are also true fans of the sport.
The team challenge proved to be a great show. Team DC grabbed the win led by Toby Miller (Mammoth, Calif.) in the modified superpipe, the Capita Team took second with U.S. Snowboard Team members Chase Josey (Sun Valley, Idaho) in the modified halfpipe and Nikolas Baden (Steamboat Springs, Colo.) on the slopestyle jumps, while Team Rome took third.
"I'm feeling great to walk away with a win with Team DC," said Miller. "It's really cool to have this aspect of snowboarding. It's an individual sport so if you don't do well, you are the only one who suffers. In the team challenge, if you don't do well your whole team comes down with you. Mons and Sebbe both had amazing runs to seal the deal for us. My mentality was you have to have creativity and fun and utilize the course, but at the same time, I wanted to make sure I did my traditional halfpipe tricks. I ended up taking second and Chase Josey won with an insane run"
As Miller referenced, there was no lack of creativity and style in the modified superpipe part of the team challenge with Miller throwing a lawn dart front flip on the first feature and Josey with a switch method and a disaster on the coping to close out his run. Not to mention Baden showing full control in the jumps section.
"This is just such a unique and cool course," said Josey. "It reminds me of Danny Davis' Peace Park. It's fun to find new lines and honestly watch everyone else is a good time."
The last competition of the day would take place right off Main Street under the lights with the snowboard and freeski streetstyle competition. After earning the top score in the Team Challenge Jibs competition for Faction yesterday, Alex Hall (Park City, Utah) clinched the first place finish in his second of three Dew Tour competitions this weekend. Teammate Colby Stevenson (Park City, Utah) claimed second-place. For the snowboarders, Brandon Davis (Mammoth Lakes, Calif.) finished third.
"The course had a good speed, dope rails, and was pretty fun!" said Hall. "I'm in the individual competition tomorrow so I came out just wanting to have fun. It's so fun skiing with all of our friends and we all just feed off each other to go bigger."
It was an amazing day two at Dew Tour for U.S. Ski & Snowboard athletes. Saturday's schedule including men's snowboard modified superpipe as well as men's freeski slopestyle.

A total of six hours of Winter Dew Tour coverage will air on NBC and NBCSN, with DewTour.com live streaming all finals through Sunday, Dec. 16. All finals will stream live on Facebook, Periscope, Twitch, Daily Motion, Youtube, TWSnow.com, Newschoolers.com, Powder.com, adventuresportsnetwork.com, and Snowboarder.com.  The new Dew Tour app will also exclusively offer live scoring in addition to the live stream.
TRICK LIST
Ladies Freeski Modified Halfpipe
1. Rachel Karker: Left Alley-Oop 360 Mute, Left Flair Mute, Right Flair, Left 900 Safety, Straight Air Tail, Left 720 Safety.
2. Cassie Sharpe: Backflip, Left 900 Tail, Right 900 Safety, Left Flair, Carve, Straight Air, Right 360.
3. Devin Logan: Left Alley-Oop 360 Safety, Straight Air Mute, Right Flair, Left 540 Japan, Right 540 Japan, Left 540, Switch Left Alley-Oop 540.
Ladies Snowboard Slopestyle
JUMPS
Anna Gasser - 96.67 -  Cab Underflip 900 Mute, Cackside Corked 1080 Melon, Frontside 900 melon
Jamie Anderson - 86.33 - Backside Indy 540, Cab Underflip 900 Mute, Lightly Scrubbed Frontside 1080 Mute
Silje Norendal - 85.33 - Cab 900 Melon, Backside 720 Mute, Frontside Rodeo Indy 720
RAILS
Enni Rukajarvi - 92.00 - 50-50 Back 360, Front Board 270, Switch Back 180 Bump, 50-50 180 Out, Switch Lipslide to 50-50 to 180 Out
Julia Marino - 90.00 -  Lip Slide 270 Out, Front Boardslide Fakie, Half Cab Bump, Gap to Lipslide, 50-50 Frontside 360
Spencer O'Brien - 84.00 - 50-50 to Front Board out of the Stanley Rail, Backside Lipslide, Backside 50-50 to Frontside 360 out, Noseslide Pretzel 270 out of the Mountain Dew Rainbow feature.
OVERALL
Anna Gasser - 177.67
Julia Marino - 170.66
Enni Rukajarvi - 169.67
RESULTS
Women's freeski modified superpipe
Women's snowboard slopestyle
Snowboard Team Challenge
HOW TO WATCH
*Subject to change
All times in EST

Saturday, Dec. 29
4:00 p.m. - Dew Tour Show, Breckenridge, Colo. - NBC

Sunday, Dec. 30
5:00 p.m. - Dew Tour Show, Breckenridge, Colo. - NBC

Thursday, Jan. 3
11:00 p.m. -  Dew Tour Show, Breckenridge, Colo. - NBCSN

Tuesday, Jan. 8
11:30 p.m. - Dew Tour Show, Breckenridge, Colo. - NBCSN

EVENT SCHEDULE
*Subject to change
All times in MST

FREESKI
Saturday, Dec 15
12:00 p.m. – 1:15 p.m. - Men's slopestyle jump finals
1:45 p.m. – 3:00 p.m. - Men's slopestyle jib finals

Sunday, Dec. 16
9:15 a.m. – 10:15 a.m. - Men's modified superpipe final presented by Toyota

SNOWBOARD
Saturday, Dec 15
10:30 p.m. – 11:30 p.m. - Men's modified superpipe final presented by Toyota

Sunday, Dec. 16
10:45 a.m. – 11:30 a.m.- Women's modified superpipe final presented by Toyota
12:00 p.m. – 1:15 p.m. - Men's slopestyle jump final
1:45 p.m.  – 3:00 p.m. - Men's slopestyle jib final