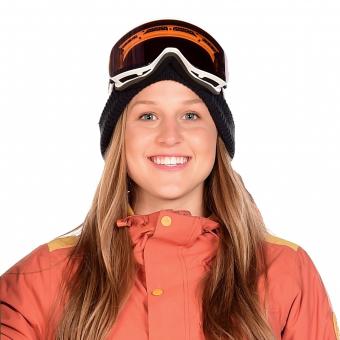 Julia Marino
Pro Slopestyle - Snowboarding
After marked success at amateur events and then on the Revolution Tour, Julia Marino put the snowboarding world on notice when she stomped her way to victory at the FIS World Cup/U.S. Grand Prix big air event at Fenway Park in 2016. Marino then officially made it a breakout year with a podium performance in slopestyle at the Corona World Championships of Snowboarding in Yabuli, China. At just 18 years of age, she became the first woman ever to land a double in slopestyle competition and she landed not one but two in the same run--a Cab double underflip and a double backflip. She is a 5-time X Games medalist and 2018 Olympian
What are your go-to travel items?
Camera and sketchbook

Who is your favorite band/artist?
Led Zeppelin

Tell us about your career in your sport.
I feel fortunate that snowboarding is my career. I've traveled to so many places and experienced different cultures. Even though my fellow competitors & I compete against each other almost every week during the season, we are really close and support each other and share these amazing experiences together.
Results
OLYMPIC WINTER GAMES
10th, BA, PyeongChang, KOR, 2018
11th, SS, PyeongChang, KOR, 2018

X GAMES
Gold, SS, Aspen, USA, 2017

Silver, SS, Aspen, USA, 2018
Silver, BA, Aspen, USA, 2018

Bronze, SS, Oslo, NOR, 2017
Bronze, BA, Aspen, USA, 2017

FIS WORLD CHAMPIONSHIPS
Teams: 2015
19th, SS, Kreischberg, AUT, 2015

WORLD CUP HIGHLIGHTS
Seven career podiums
First podium and win: BA, Boston, USA, 2016