Hansen Dominates Rev Tour Halfpipe at Copper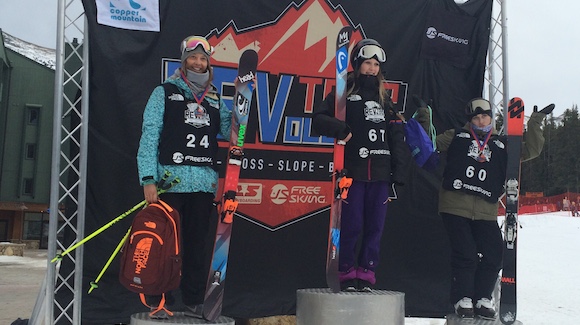 COPPER MOUNTAIN, CO (Dec. 11, 2015) – U.S. rookie halfpipe team member Abigale Hansen (June Lake, CA) dominated the first stop of the U.S. Revolution Tour at Copper Mountain, CO on Thursday and Friday, winning both halfpipe events. Hansen led a strong contingency of up-and-coming U.S. freeskiers to kick off what looks to be a promising season for U.S. athletes
The first stop of the Rev Tour featured back-to-back halfpipe competitions under mostly sunny, Colorado skies. In addition to Hansen's wins, the American ladies scored a couple of podium finishes: Carly Margulies (Mammoth Lakes, CA) finished third on Thursday and Zyre Austin (Glenwood Springs, CO) took second on Friday (she also took fourth on Thursday).

Hunter Hess grabbed third in the Copper Mountain Rev Tour.
The American men also fared well, with Hunter Hess (Bend, OR) snagging a podium spot with a third-place finish on Friday.
The rest of the Americans in the field showed well, with strong showings in the final on both days: Paula Cooper (Vail, CO), fifth on Thursday and sixth on Friday; Jeanee Crane-Mauzy (Park City, UT), fifth on Friday; Joey Lang (Aspen, CO), sixth on Thursday; Cameron Brodrick (Mammoth Lakes, CA), sixth on Friday.
Next up for the Revolution Tour is the Mammoth Mountain stop Jan. 26-31, where the next generation of elite freeskiers and snowboarders will compete in slopestyle, halfpipe and big air.   

Abigale Hansen stands on the podium again on Friday, this time with American Zyre Austin in second.
HIGHLIGHTS
Abigale Hansen scored back-to-back wins at the kick-off stop of the 2015 Revolution Tour at Copper Mountain. Hansen is a 17-year-old member of the U.S. rookie halfpipe team from June Lake, CA. She now has four wins on the Revolution Tour - she won at Northstar in 2013 and Sun Valley in 2014.
U.S. rookie team member Jeanee Crane-Mauzy scored a fifth-place finish at Friday's comp but she's no stranger to the Rev Tour podium - she had two wins in 2014 (Sun Valley and Seven Springs)
Cameron Broderick, another member of the strong U.S. rookie halfpipe team, finished sixth on Friday. Broderick is a 17-year-old skier out of Mammoth Lakes, CA who won the USASA national title in 2015.
The U.S. Revolution Tour is the place for top amateur skiers and snowboarders to prove their merit and transition from competing at grassroots to the elite level.
RESULTS
Halfpipe #1
Women's Results
Men's Results
Halfpipe #2
Women's Results
Men's Results
Follow Us!
U.S. Snowboarding: Instagram, Facebook, Twitter and our Homepage
U.S. Freeskiing: Instagram, Facebook, Twitter and our Homepage