Despite Fall, Diggins Rallies For Second-Straight Podium in Toblach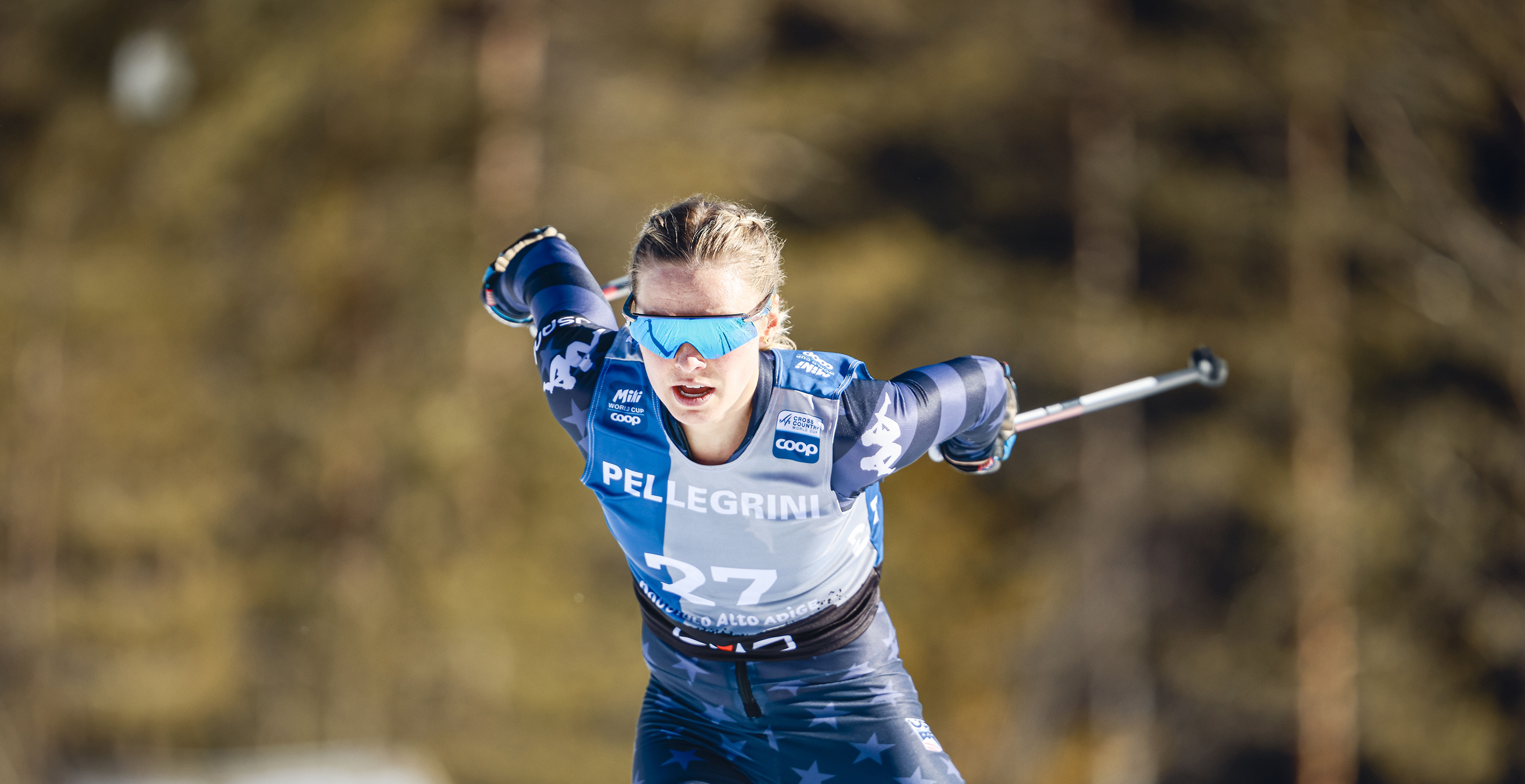 Despite taking a fall, Jessie Diggins skied to her second-straight podium, finishing second in the 10k freestyle individual start FIS Cross Country World Cup in Toblach, Italy, on a sun-baked Saturday.
Racing in alternating slushy, and icy conditions due to the warm-spring-like weather, Rosie Brennen just missed the podium by less than five seconds, finishing fifth. Julia Kern was 10th and Hailey Swirbul was 26th. In the men's 10k race, Scott Patterson was 14th.
Diggins was pacing herself onto the podium throughout the first of two 5k laps. However, at the start of the second lap, while she was skating down an icy shaded section, she caught her left ski tip on snow just off the side of the track and fell.
"I hit my left knee, honestly really hard, spun around and got back up, and kept going as hard as I could," Diggins said, racing through the pain and numbness, she was able to maintain her podium pace. "I kind of put it behind me, and I was really proud of how I skied the rest of the course."
Brennen too was pleased with her effort on the fast, challenging course. "The skiing was mostly very fast with a few wet sections and I wanted to do my best to hold an even pace and push a bit on every section," Brenna said. "I did this to the best of my ability but ended up on the wrong side of a tight battle for third. I am happy with my focus today and felt that I was able to push hard the whole time so with that I am satisfied with the result."
Up next, Sunday features a 4x7.5k classic/freestyle team relay. "I hope we see some cooler temps and can get back to winter. But most importantly, it's relay day tomorrow!" Brennen said. 
RESULTS
Women's 10k freestyle individual start
Men's 10k freestyle individual start