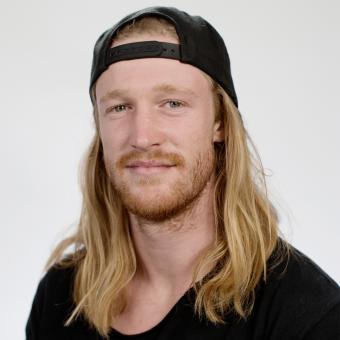 Hagen Kearney is a motorcycle loving, metal head skateboarder with a knack for the snowboardcross course. He won his first World Cup in 2016, brought home a World Championship medal in 2017 and made his first Olympic team in 2018.

FIRST TRACKS
In 2000, when Kearney was nine years old, he was able to travel to Telluride, but the Kearney family still lived in Florida. To his delight, the family moved to Telluride at the end of 2000. After that, all he wanted to do was snowboard. He remembers, "My brother and I got a private coach in 2005, Jason Troth. He basically taught me how to snowboard and he was my coach/mentor up until the previous season, when I moved to Summit County and joined ISTC. The skills I learned from Jason and ISTC combined really helped my snowboarding get to the level I wanted it to get to. "
OFF THE SNOW
Kearney stays active by skating a lot. He started skateboarding before he started snowboarding and in 2016 he competed in the inagural Skatercross competition in San Diego. He's also a huge motorcycle enthusiast and spends a lot of time eating up the pavement on his Harley or 1972 Shovelhead chopper. When he's not skating, riding his bike, or training for snowboarding he plays drums and guitar in a metal band. 
Team Info
International Snowboard Training Center (ISTC)
Telluride Mountain School
Results
OLYMPIC WINTER GAMES
Teams: 2018
13th, PyeongChang, KOR, 2018

FIS WORLD CHAMPIONSHIPS
Teams: 2017, 2013
Bronze, Team SBX, Sierra Nevada, 2017
WORLD CUP HIGHLIGHTS
1st, Montafon, AUT, 2016
X GAMES
9th, SBX, Aspen, CO, 2014