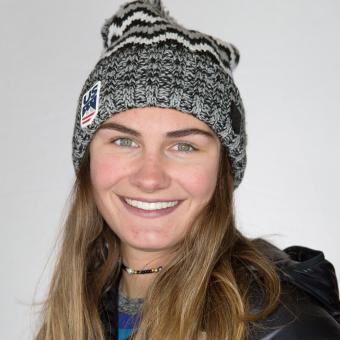 Alice Merryweather learned to ski at four years old on the wintery slopes of Attitash Mountain, chasing her brother down the hill. This was how she discovered her passion for speed. When she was eight, her parents signed both kids up for the Attitash Race Team, and she fell in love with the sport. When she reached high school, she realized Merryweather wanted to pursue her ski racing dreams and enrolled at Stratton Mountain School. At Stratton, she earned herself spots on the Junior World Championship teams in 2014 and 2015, as well as a spot on the D Team in 2016. That's all old news, as she's now graduated to the B Team for the 2018 season. 
Her big goal in the 2016 season was to qualify for the Junior World Championships in Sochi, Russia, which she did. Little did she know, she'd also make her World Cup debut in 2016, skiing the downhill at Altenmarkt, Austria. In 2017, she really had a breakthrough though, starting in her first giant slalom World Cup on home snow at Killington, and also starting in two more World Cup races in Europe before she competed in the Junior World Championships in Are, Sweden and was crowned Junior Worlds Downhill champion alongside teammate Sam Morse for a gold medal sweep. That earned her a starting spot for World Cup Finals on home snow in Aspen, Colorado, where she broke into the top 20 in downhill. She was 24th in a world cup super G in Val d'Isere, France this past December.
Not only is Alice fast, but she's whip-smart too. She plans to start school at Dartmouth in the spring of 2018. The future is bright for Alice Merryweather! 
Team Info
Attitash Race Team/Stratton Mountain School
Results
OLYMPICS
15th, AC, Pyeongchang, KOR, 2018
42nd, SL, Pyeongchang, KOR, 2018

WORLD CHAMPIONSHIPS
22nd, DH, Are, SWE, 2019
18th, AC, Are, SWE, 2019
First World Championships in Are, Sweden (2019)
WORLD CUP
8th, DH, Garmisch, GER, 2019
29th, SG, Garmisch, GER, 2019
22nd, DH, Cortina d' Ampezzo, ITA, 2019
27th, DH, Val Gardena, ITA, 2018
21st, DH, Lake Louise, CAN, 2018
27th, DH, Lake Louise, CAN, 2018
24th, SG, Val d'Isere, FRA, 2017
19th, DH, World Cup Finals, Aspen, CO, 2017
World Cup debut, DH, Altenmarkt, AUT, 2016
OTHER
1st, DH, Junior World Championships, Are, SWE, 2017
3rd, SG, Junior U.S. Alpine Championships, Sun Valley, ID, 2016
5th, SG, U.S. Alpine Championships, Sun Valley, ID, 2016
4x Junior World Championships team member ('14-'17)
2x 2nd, DH, Junior U.S. Alpine Championships ('14,'15)
5th, DH, U.S. Alpine Championships, Sugarloaf, ME, 2015
3rd, SG, Nor-AM, Nakiska, CAN, 2015
3rd, SC, U18 Junior World Championships, 2014