Norris Earns Personal Best at World Championship 50k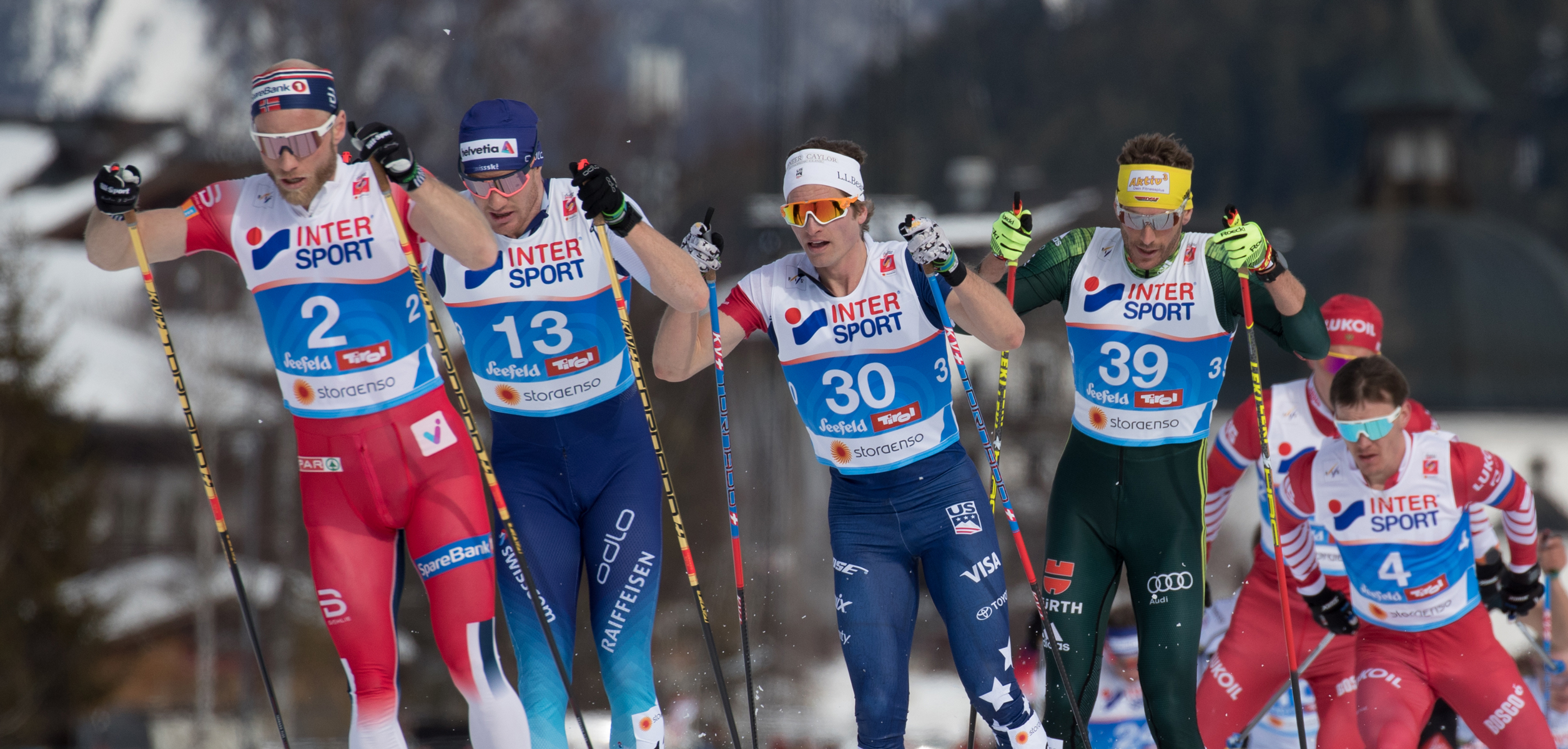 David Norris (Fairbanks, Alaska) skied a personal best in the 50k freestyle on the final day of the 2019 FIS Nordic World Ski Championship in Seefeld, Austria. Norris skied the entire first lap of the six-lap race between third and fourth place, and was consistently in the main pack the entire race, eventually finishing 20th.
"I felt good and my skis were working really well," said Norris. "It almost seemed easier to position myself in the top 15 as best as possible and just try to stay out of trouble. Then I came into 700 meters in medal contention but at that point I had no more juice left and just tried to survive."
Scott Patterson (Anchorage, Alaska) was 23rd on the day, Simi Hamilton (Aspen, Co.) was 34th with Adam Martin (Wausau, Wis.) in 45th.
"I was in for the hunt, but I felt like I wasn't skiing the downhills well and I missed the move on that last lap," Patterson said. "I was thinking I need to go, need to go, but it was too late. I felt like if I had made that split, I could have fought with guys."
"David was in the mix from the beginning," said U.S. Cross Country World Cup Coach Matt Whitcomb.  "On the last climb at 49.5k he was still charging with the Bronze within reach, and for him to be in that pack is just next level. He led a very strong performance for the team today with Scotty finishing 23rd and in the mix all the way for 98-percent of the race, super proud of all the guys today. It's fun when coaches in the feed zones are saying hey, the American's are having a good day today. We are proud and leaving Seefeld with our heads high."
The U.S. Cross Country Team team now heads to Oslo, Norway, for a women's 30k and men's 50k March 9-10.
RESULTS
HOW TO WATCH
All times EST
*Same-day broadcast
Saturday, March 9
4:00 a.m. - Men's 50k mass start - Oslo, NOR - Seefeld, AUT - Olympic Channel-TV, OlympicChannel.com & NBC Sports Gold
Sunday, March 10
6:45 a.m. - Women's 30k mass start - Oslo, NOR - OlympicChannel.com & NBC Sports Gold
1:00 p.m. - Women's 30k mass start - Oslo, NOR - Olympic Channel-TV*
All streams are available via desktop (NBCSports.com/Live, NBCSports.com/Gold and OlympicChannel.com) as well as mobile, tablet and connected television platforms. The NBC Sports app, NBC Sports Gold app and Olympic Channel app are available on the iTunes App Store, Google Play, Windows Store, Roku Channel Store, Apple TV and Amazon Fire. Exclusive commercial-free coverage will be available for subscribers of the NBC Sports Gold Pass.