Blunck, Irving Take Top Spots in FIS Cup Standings
Halfpipe athletes let 'er buck for the final FIS World Cup of the season during the Calgary Snow Rodeo and Birk Irving led the pack for the U.S. Freeski Team taking third. 
"I've been getting fourth all year with a similar run, but I didn't have the double on the left side," said Birk. "I knew what I had to do to get on the podium. I learned the right dub 12 on my first run. I'm really glad I learned that trick and have it in the bank going into next season. I'm feeling better and stronger than I ever have before." 
Birk stuck an impressive run landing his first double and a left down the pipe 720, a trick that is unique to him. After qualifying in first, David Wise dropped into finals with a heater of a first run and a final run that was looking to be podium-worthy, but he washed out on his final hit landing him in fourth. 
"I'm so pumped to see Birk lay down a podium run here in Calgary at the last world cup of the season," said U.S. Freeski Halfpipe Pro Team Head Coach Mike Riddle. "He's been killing it all year and it's a great way to wrap up an amazing season. It was such a high caliber competition and everyone put on a hell of a show. Birk landed a new trick for him and while it wasn't enough for first here, it's a huge building block for next season."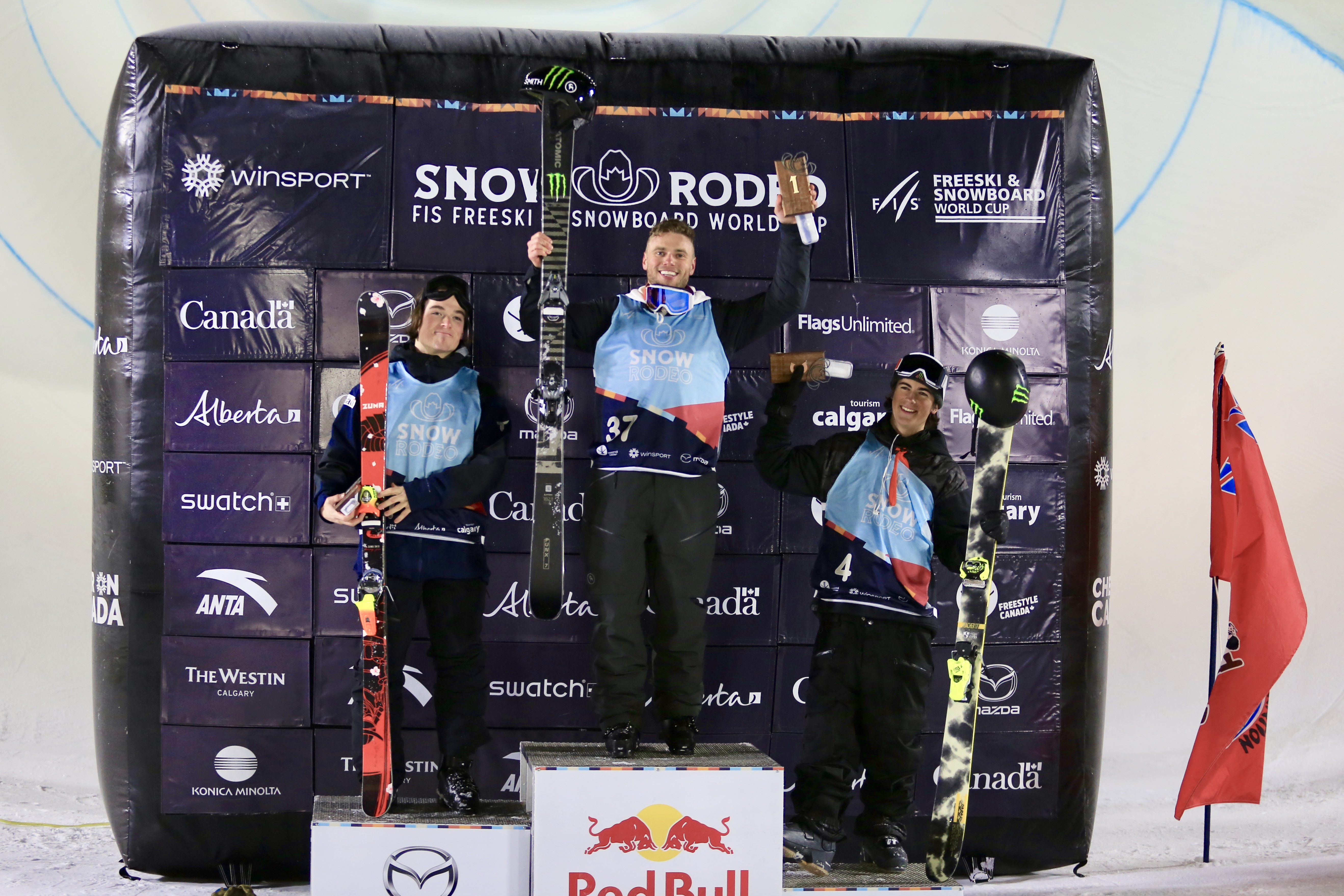 Gus Kenworthy made a solid come back taking first as a recent addition to the Great Britain Freeski Team and Canada's Brenden Mackay earned second. The rest of the U.S. Freeski men had a respestable showing with Cassidy Jarrell in sixth, Taylor Seaton in seventh, Hunter Hess in eighth and Lyman Currier rounding out the top ten.
Despite an injury during qualifications, Aaron Blunck held on to the top spot in the overall FIS Cup Standings taking home the crystal globe. It was a tight competition between Aaron and Canada's Noah Bowman all season with Bowman in second heading into Calgary, but a fifth-place finish during the Snow Rodeo was just enough to keep him out of the lead with Birk taking third.
"I've had some goals that I've wanted to achieve in my career and winning a crystal globe has always been one of them," Aaron said after awards. "I set the goal and worked as hard as I could to get this. I'm so stoked. I can't believe it."
Aaron also spoke to the season-long battle with Noah Bowman in the FIS Cup Standings. 
Noah's my favorite guy to watch in the halfpipe," said Aaron. "The moment he drops in I feel like it's all eyes on Noah. We have two completely different styles, but the friendship between us keeps growing all the time. The way we got to battle it out all season was incredible. He had a hell of a season." 
Meanwhile, on the women's side, Abigale Hansen carried the momentum from her best result of the year at  Dew Tour landing in fifth again followed by Devin Logan in sixth and Brita Sigourney in seventh. China's Eileen Ailing Gu celebrated her first World Cup win followed by Canada's Rachael Karker in second and Russia's Valeriya Demidova in third. 
Valeriya's third place was enough to give her the overall world cup win, followed by Rachael Karker in second and China's Kenxin Zhang taking third overall.

CUP STANDINGS
Men's freeski halfpipe
Women's freeski halfpipe