"It feels so good right now to be on the podium, I've been waiting for this for a long time."
4 Things You Didn't Know About Eric Loughran
1. He has has 11 career top-10 World Cup finishes
2. Eric had his first Olympic appearance in the 2018 Winter Olympic Games in PyeongChang
3. At the age of two, Eric's parents caught him trying to teach himself to ski by using his big sister's equipment.
4. Eric is an avid fly fisher and guides trips in the summer season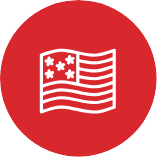 U.S. Championships
2nd, 2021, Utah Olympic Park • 1st, 2020, Bristol Mountain, N.Y.
Eric's Favorite Gear!
Check out Eric's top picks from the U.S. Ski & Snowboard Gear Collection!