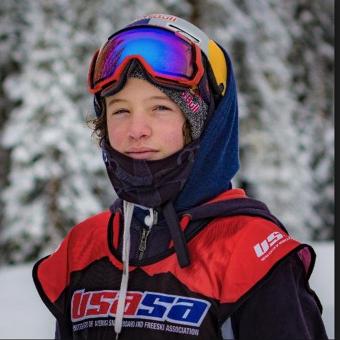 Cody LaPlante
Rookie Slopestyle - Freeskiing
USASA Series: North Tahoe Series
Cody LaPlante has style, class and and goes big! He stomped his first double-flat spin at the age of 11. Yes - 11. He was the worlds first 14-year-old to pull a Triple Misty. And, the young skier out of Lake Tahoe won the USASA national slopestyle title in 2012 and 2013 and the overall title in 2014.
Showing that he has all-around skills, LaPlante has also raced skicross events. LaPlante has grown up skiing the slopes of Alpine Meadows at Lake Tahoe, cutting his teeth with the Alpine Freestyle Team.  
Q: What is your favorite memory as a competitor?
A: Winning my first USASA Nationals Slopestyle at U9. I had no expectations. Winning was a surprise. And I just remember thinking that I would have a lot of fun and make a lot of friends if I kept competing. Working out so far.
Q: Who is your favorite band/artist?
A: Butthole Surfers
Q: Tell us something quirky about yourself that people would be amused to learn.
A: My nickname is "Captain" because my personality seems to remind people of Captain Kirk. I'm calm and focused under pressure, tend to escape tricky situations, and enjoy stirring up trouble when bored.
Q: Who is your favorite athlete?
A: Ricky Bobby
Q: When you're not skiing or snowboarding, what are you doing for fun?
A: Eating, skateboarding and apologizing for late homework.
Q:  What are your go-to travel items?
A: Skateboard. Bose noise-canceling headphones. Cooling-gel pillow. Emergency stash of Annie's White Cheddar Mac and Cheese.
Q:  Are you involved with any nonprofits, charities or social causes? 
A: High Fives Foundation helps injured athletes recover from life-altering injuries while educating young athletes on how to prevent getting hurt with the B.A.S.I.C.S - be aware/safe in critical situations.
Q: Who's the most famous person you've ever met?
A: Shane McConkey
Q:  If you could be a Disney character, who would you be and why?
A: Stitch (Lilo & Stitch). Being the galaxy's most wanted, illegally-made, genetically-engineered, extraterrestrial lifeform sounds fun.
Q: If you could be a Star Wars Character, who would you be and why?
A: Jar Jar Binks. Why? Mesa hatin' crunchin'. Dat's the last thing mesa want.
Team Info
Squaw Valley Freestyle and Freeride Team
Results
U.S. GRAND PRIX

16th, SS, Snowmass, Colo., 2018

17th, SS, Mammoth, Calif., 2018

27th, SS, Snowmass, Colo., 2018


FIS FREESKI WORLD CUP

World Cup debut at Stubai, AUS, 2017
FIS FREESKI NORAM CUP
1st, SS, Le Relais, CAN, 2018
2nd, BA, Aspen/Snowmass Freeskiing Open, Aspen Colo., 2018
X GAMES

16th, SS, Aspen, Colo., 2018
DEW TOUR
9th, SS, Breckenridge, Colo., 2018
U.S. REVOLUTION TOUR

18th, SS, Copper Mountain, Colo., 2015
OTHER
3rd, SS, U.S. Revolution Tour, Seven Springs, Penn., 2017
3rd, SS, USASA Nationals, Copper Mountain, Colo., 2016
1st, HP, USSA Freeskiing Junior Nationals, Sun Valley, Idaho, 2016
1st, BA, Rocky Mountain Freeski Championships, Vail, Colo., 2016
2nd, SS, Rocky Mountain Freeski Championships, Vail, Colo., 2016
2nd, HP, Rocky Mountain Freeski Championships, Vail, Colo., 2016