Jump-Focused Moguls Timberline Camp Wraps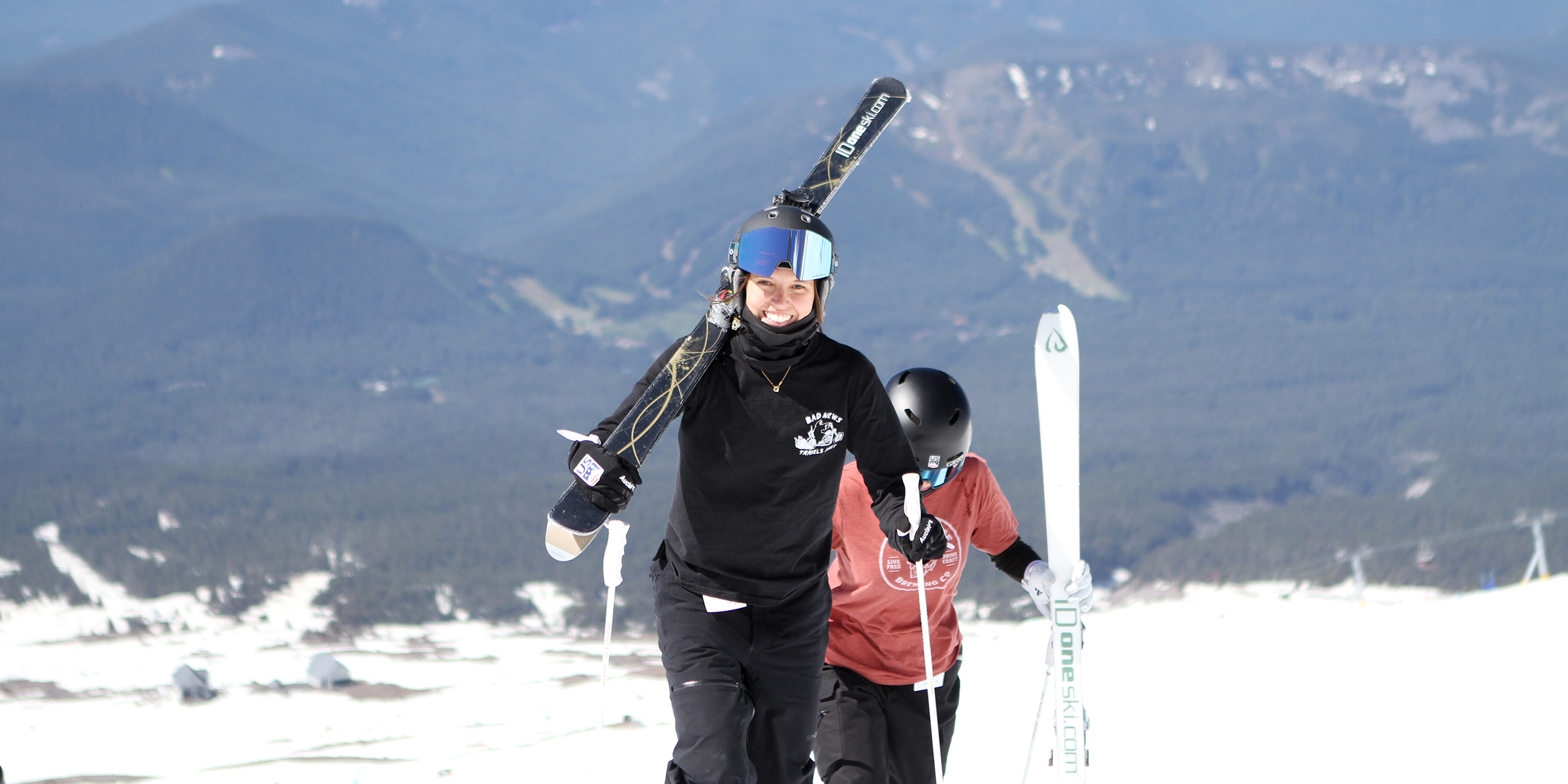 U.S. Ski & Snowboard Official Training Site Timberline Lodge & Ski Area played a perfect host to the U.S. Freestyle Mogul Ski Team's first on-snow jump-focused prep camp of the 2021-22 season. 
"Our main objectives for this camp were to focus on jumping, to take the work we put in at the [Utah Olympic Park] water ramps and bring it to snow," explained Head Moguls Coach Matt Gnoza. "We want to make sure what the athletes are doing on the ramps and on the tramps are translating to snow."
Gnoza noted that jumping went well overall, every athlete is progressing and putting in the reps for their higher degree of difficulty tricks. "As we get prepared for this Olympic qualification season, high execution numbers and ability is important. The difference between a seven point and an eight point jump is huge." Mogul runs often come down to the smallest of details. Are the athletes balanced? Is there good symmetry? How is the landing? "These are all questions we're trying to answer in anticipation of increasing high executions and minimizing deductions."
Athletes took full advantage of bringing tricks back to snow. Kai Owens worked on her cork 7 and cork grab, and was even starting to blend in some cork 10 - not seen very often on the women's side. 
"The first on-snow camp was awesome!" she said. "I always really enjoy our Timberline venue. I'm very thankful to our coaches for all the work they put into our jump site. Since it was our first camp back on snow it was nice to get a feel for on-snow jumping again. I'm looking forward to ramping again so I can fine tune some tricks and hopefully bring some more tricks to snow for the next on-snow camp!"
Also pushing the envelope was Olivia Giaccio. Giaccio worked a back full and a cork 7, and also dabbled with her cork 10. 
"I was pretty stoked with how awesome the jump venue was, thanks to my coaches and Timberline Lodge," said Giaccio. "The sweet venue made it easy for me to work on some of my bigger tricks and to improve the consistency of my landing quality."
Nick Page used the camp to run through his full jump repertoire noting his "main focus was continuing to work on my competition tricks and bring them to a very high level of execution with lots of confidence. I worked on a lot of cork 1080s, cork 1440s, and cork 7-grabs — which are all starting to feel very consistent, which is nice! I look forward to getting back onto the water ramps soon to perfect them even more." 
An abundance of snow and the "Olympic quality jump site" Timberline provided meant sharing the training venue with other nations as training opportunities are still limited around the world due to impacts from COVID-19. Canada took advantage and had some of their top athletes training up on the Palmer Glacier. Ikuma Horishima of Japan, one of the top mogul skiers in the world, reached out to the U.S. Team and trained with the group at the UOP and Timberline in what the team described as a "sportsmanship exchange program."
"He has been self-coached while in the U.S., so it's not like we're checking training plans, but his close proximity to the team has been really nice," said Gnoza. "For our athletes to get to know him better and him us better, it's great to have these cultural exchanges. He's been a lot of fun for all of us to watch and contributed to a very positive training environment."
"Having Ikuma train with us this last month was great!" said Page. "I have been close friends with him since I was 12 years old. Ikuma and I are both in the small handful of men (only other is Mikael Kingsbury) that can do a cork 1440, so being able to jump and train with him was extremely productive. I got to stack myself up against another very high-level jumper; and with that came great challenges. We each got to push each other and compete during training — which is what our sport is all about."
Casey Andringa executed his first on-snow flips in over two years, having been sidelined by injuries, surgeries and rehab since 2019. "It's exciting to see Casey back out there on snow with a high level of energy as he progresses towards his hopeful return to competition," said Gnoza. 
The first Timberline camp of the 2021 summer marked Bryon Wilson's first on-snow prep camp as World Cup Coach for the moguls team since joining the staff in May. "Bryon's been a great addition to the staff," said Gnoza. "He worked hard to get to know everyone's skiing and jumping during camp and has integrated himself to the staff and with the athletes. It's been really awesome to have him."
Moguls break for a recovery period before beginning their next summer training cycle July 6. 
"During this prep season, I'm aiming to get as consistent as possible with every aspect of my run, so focusing in on my jumps separately at this point in the prep was key," explained Giaccio. "My mindset is pretty centered around confidence and clear, simple intent with each trick I perform; I'm looking forward to continuing that focus moving into the next block of water ramps and when we go back to Hood in July!"
To support the U.S. Freestyle Mogul Ski Team, please click here for more information.