2022-23 U.S. Cross Country Team Announced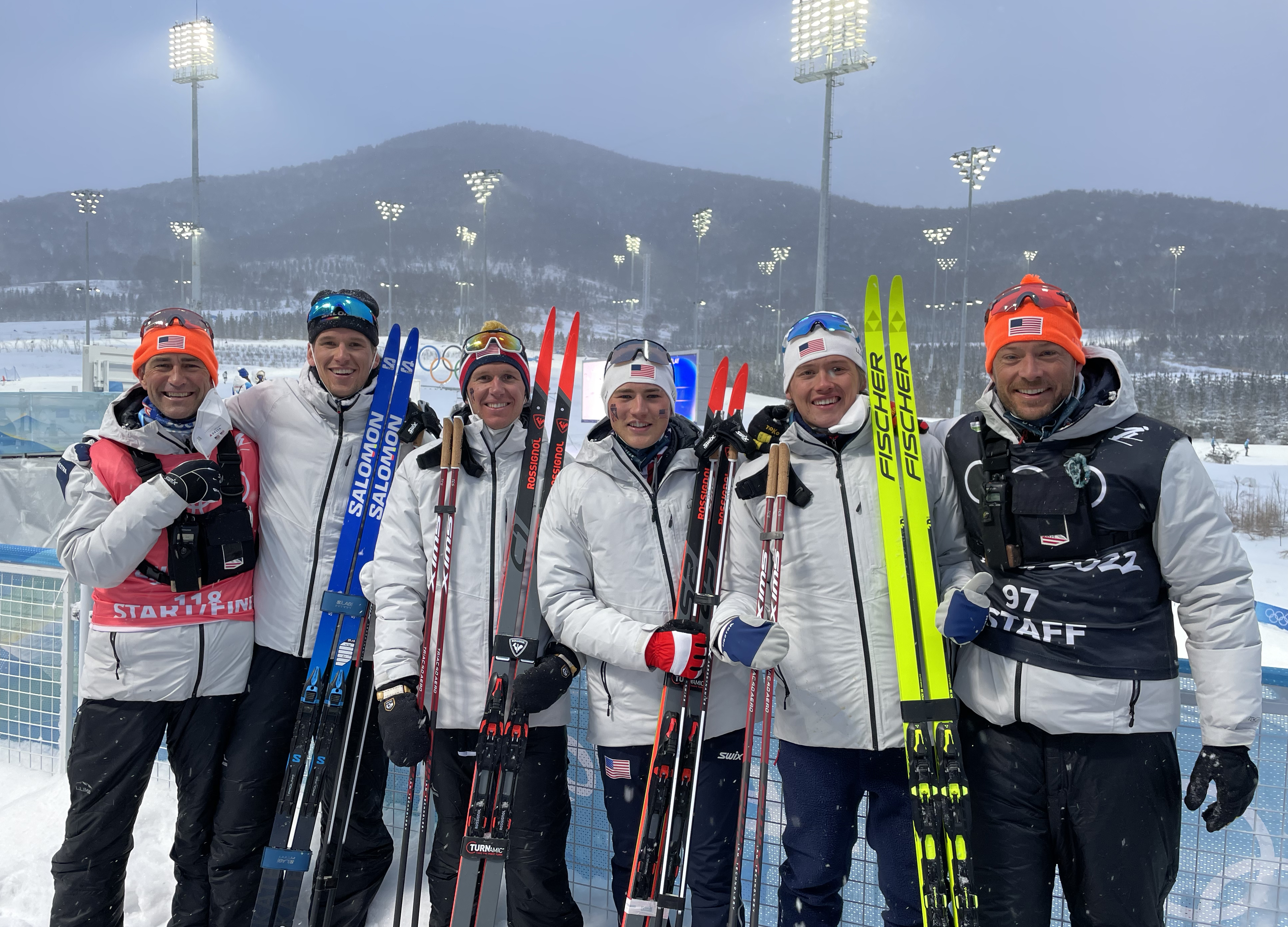 U.S. Ski & Snowboard is proud to name 22 athletes to the U.S. Cross Country Ski Team for the 2022-23 season. The 2022-23 team includes those active athletes who qualified based on the published selection criteria in the prior season.
"Over the course of the year, the coaching staff has been continually impressed by the dedication, professionalism, and preparedness of this amazing group of athletes, and we're so excited to see what they can do this season," said U.S. Cross Country Team Directory Chris Grover. 
Three-time Olympic medalist Jessie Diggins, and two-time Olympians Rosie Brennan and Scott Patterson return to lead the team into the 2023 World Championship season. Joining Diggins, Brennan, and Patterson on the A Team are 2022 Olympians JC Schoonmaker, Julia Kern, Novie McCabe, and Ben Ogden. 
The B Team includes 2022 Olympians Hailey Swirbul, Sophia Laukli, Gus Schumacher, Kevin Bolger, and Luke Jager. John Steel Hagenbuch and Hunter Wonders move from the D-Team to the B Team, and Zak Ketterson re-joins the national team program as a member of the B Team for the 2022-23 season. Finn O'Connell joins the B Team for the first time after finishing fourth in the overall 2021-22 SuperTour standings, which included nine individual top-10 results. 
The 2022-23 Development Team includes returning team athletes Sydney Palmer-Leger – the 2020-21 NCAA Champion – and Zanden McMullen. New Development Team athletes include Samantha Smith - who recently represented Team USA at the U-17 Women's Soccer World Cup in India – Will Koch, Michael Earnhart, and Walker Hall.
The 2022-23 FIS Cross Country World Cup season is scheduled to kick off with races in Ruka, Finland Nov. 25-27. The 2023 FIS Nordic World Ski Championships are scheduled for Feb. 21 through March 5 in Planica, Slovenia.
2022-23 U.S. Cross Country Team
(Hometown; Club; Birthdate)
A TEAM
Women
Rosie Brennan (Anchorage, Alaska; Alaska Pacific University Ski Nordic Center; 12/21/88)

Jessie Diggins (Afton, Minn.; Stratton Mountain School Elite Team; 8/26/91)

Julia Kern (Waltham, Mass.; Stratton Mountain School Elite Team; 9/12/97)

Novie McCabe (Winthrop, Wash.; Methow Valley Nordic Team/University of Utah; 12/15/01)
Men
Ben Ogden (Landgrove, Vt.; Stratton Mountain School Elite Team/University of Vermont; 2/13/00)

Scott Patterson (Anchorage, Alaska; Alaska Pacific University Nordic Ski Center; 1/28/92)

JC Schoonmaker (Tahoe City, Calif; Sugar Bowl Ski Team and Academy; 8/12/00)
B TEAM
Women
Sophia Laukli (Yarmouth, Maine; University of Utah; 6/8/00)

Hailey Swirbul (Aspen, Colo.; Alaska Pacific University Nordic Ski Center; 7/10/98)
Men
Kevin Bolger (Minocqua, Wisc.; Sun Valley Gold Team; 4/11/93)

John Steel Hagenbuch (Ketchum, Idaho; Dartmouth College; 10/1/2001)

Luke Jager (Anchorage, Alaska; Alaska Pacific University Nordic Ski Center/University of Utah; 1/17/00)

Zak Ketterson (Bloomington, Minn; Team Birkie 4/2/97)

Finn O'Connell (Bozeman, Mont.; Bridger Ski Foundation; 6/26/1998)

Gus Schumacher (Anchorage, Alaska; Alaska Winter Stars; 7/25/00)

Hunter Wonders (Anchorage, Alaska; Alaska Pacific University Nordic Ski Center; 8/7/98)
DEVELOPMENT TEAM
Women
Sydney Palmer-Leger (Park City, Utah; Stratton Mountain School/University of Utah; 2/4/2002)

Sammy Smith (Boise, Idaho; Sun Valley Ski Education Foundation; 9-22-2005)
Men
Michael Earnhart (Anchorage, Alaska; Alaska Pacific University Nordic Ski Center; 8-11-2002)

Walker Hall  (Winthrop, Wash.; Methow Valley Nordic Team/University of Utah; 6-11-2002)

Will Koch (Peru, Vermont; Stratton Mountain School T2/University of Colorado; 2-21-2002)

Zanden McMullen (Anchorage, Alaska; Alaska Pacific University Nordic Ski Center; 5/31/2001)
Cross Country Coaches and Staff
Cross Country Program Director: Chris Grover

Head Coach: Matt Whitcomb                    

World Cup Coach: Jason Cork                                     

D Team Coach: Kristen Bourne

Development Team Coach: Greta Anderson                                                                            

Cross Country Sport Development Manager: Bryan Fish                       

Cross Country Sport Coordinator: Adam St. Pierre              

Cross Country Communications Manager: Tom Horrocks
Service Staff
Head of Service: Oleg Ragilo           

World Cup Service: Bjørn Heimdal    

World Cup Service: Tim Baucom                         

World Cup Service: Eli Brown    

World Cup Service: Chris Hecker

World Cup Service: Karel Kruuser    
2022-23 FIS World Cup Schedule
2022-23 National Nordic Foundation SuperTour Schedule
Follow the U.S. Cross Country Team:
Instagram: @usskiteam
Facebook: @usskiandsnowboard
TikTok: @usskiandsnowboard
Twitter: @usskiteam