Kauf Second, Johnson Third; USA Best in World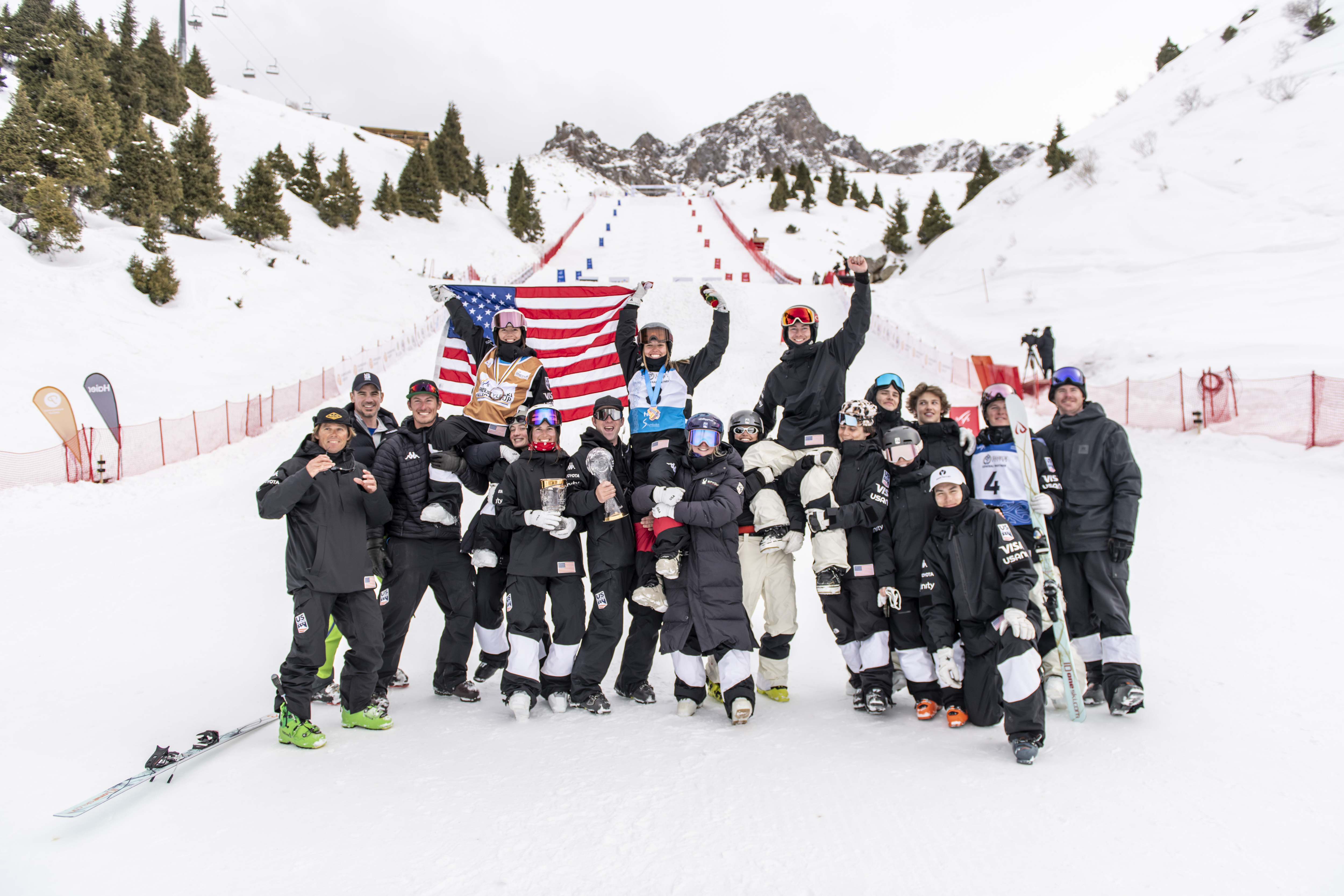 Elite international moguls competition wrapped Friday at Shymbulak, Kazakhstan at the FIS World Cup Finals. Jaelin Kauf led the Americans with a second-place, her sixth podium of the season, to finish in the moguls discipline ranked third overall. Tess Johnson made her first super finals appearance of 2023 to close out her season with a third place finish. France's Perrine Laffont won for the women. 
"It was really fun today, the course was my favorite of the days, today," said Kauf. "I decided to throw cork in super finals, which may be the first time I have done it in competition. They were going well in training and I really wanted to do one in World Cup this year. I felt good about it. I was pretty confident of hitting how I wanted to and taking it to my feet."
Kauf qualified in second for the super final round and was all smiles at the start gate, a signal that she was about to turn it on. She switched up her usual air package to execute top mute to bottom cork 7, with signature fast skiing in the middle section - almost maxing out her speed points - to earn a score of 76.30. Laffont just edged her out for first with a score of 77.96. 
In her super final run Johnson skied top cork to her bottom signature venom grab. She was aggressive and strong in the middle section, attacking the course to earn third place. 
"I am super proud of my runs," said Johnson. "It's been a little bit of a frustrating season results-wise, so I am really happy to have put down some clean T to Bs with high DD. I was having a lot of fun skiing today with all of the women."
Seven women represented the U.S. in finals with six finishing in the top ten: Kauf in second, Johnson in third, Hannah Soar in sixth, Olivia Giaccio in eighth, Alli Macuga ninth and Kasey Hogg in tenth. Lulu Shaffer finished 11th. 
Nick Page was the top U.S. finisher for the men, skiing into fifth place and finishing his season ranked fourth overall. Page wowed the field in his super finals round by throwing a cork 14 on the bottom air, the highest degree of difficulty trick possible for the men and the first one thrown in World Cup competition all season. At the finish fellow competitor Matt Graham (Australia) asked Page if the trick was in his plan for the day, to which Page responded it was if he made it to Supers. 
Landon Wendler had a career-best day with his first super finals appearance. He skied cork 7 to a fast and strong middle section and finished with cork 7 grab. He went huge on the bottom and got a little tripped up in the landing to finish sixth. "Landon's final run was insane, literally perfection," noted Johnson. Cole McDonald finished 16th.
Canada's Mikael Kingsbury won for the men, Kazakhstan's Pavel Komolkav took second and Graham came in third. 
Macuga was awarded FIS Rookie of the Year for her skiing this season, an awesome accomplishment for the D-Team athlete. "I am beyond happy with my results," she said. "As the season went on [Rookie of the Year] definitely became a goal. Huge thanks to family and friends and all my sponsors and teammates and coaches, and everyone who's been supporting me this season!"
With strong results throughout the season and a deep field of American skiers, the U.S. once again clinched the Nations Cup for Moguls. "I am very proud of our whole team," said Head Moguls Coach Bryon Wilson. "We had a lot of contributors this year, not only national team members, but other athletes that came up through clubs and qualified for World Cup starts. I am very proud of U.S. moguls skiing overall and thankful for our staff, couldn't do it without them."
The U.S. Freestyle Moguls Ski Team will wrap their international season tomorrow with Dual Moguls World Cup Finals. Another Nations Cup is on the line and you can bet the team is hungry to take it. 
RESULTS
Women's Moguls
Men's Moguls
Women's Moguls Discipline Standings
Men's Moguls Discipline Standings