Gulini Second in Season Opener at Chiesea in Valmalenco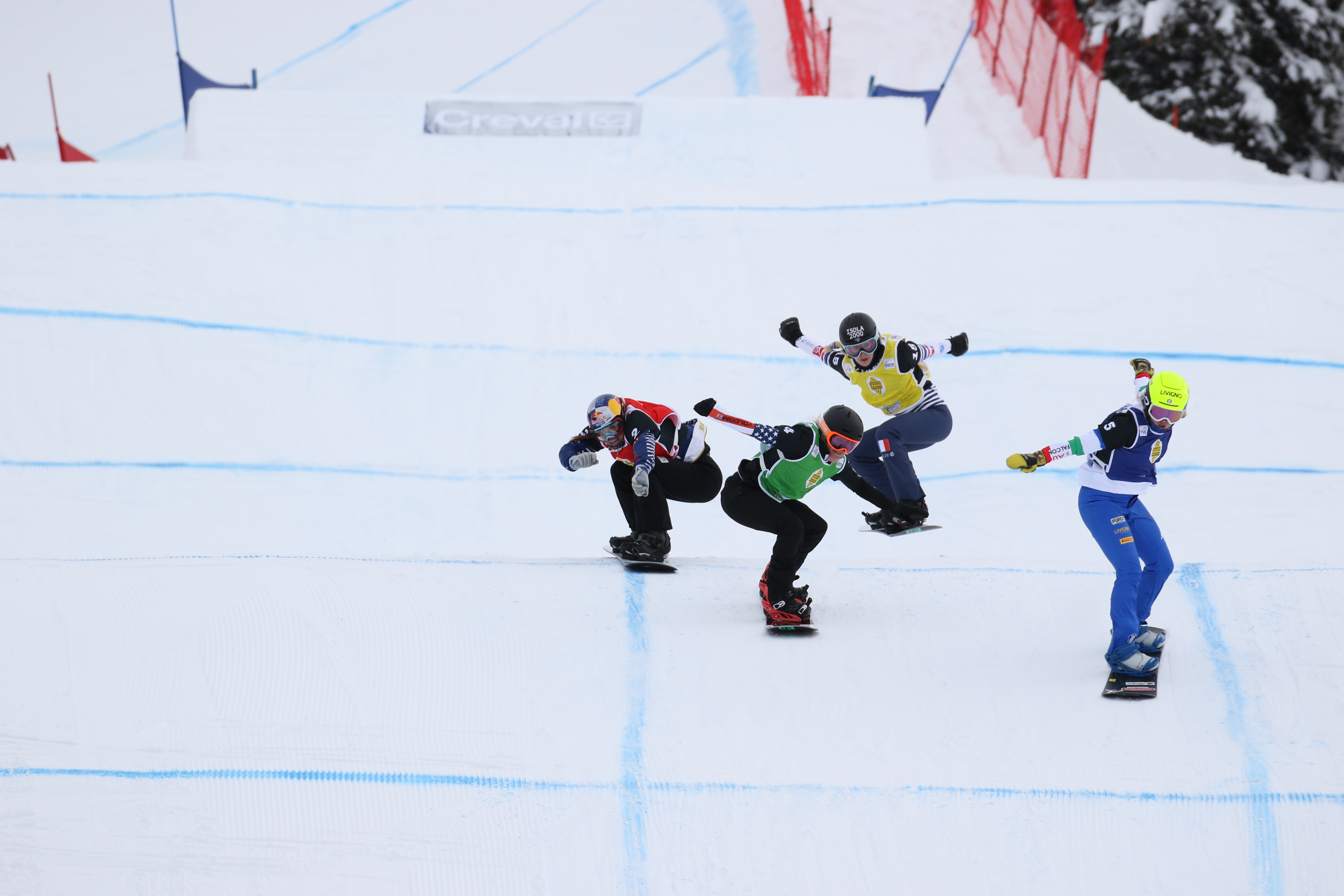 Three-time Olympian Faye Gulini earned her third World Cup podium on Saturday with a second-place finish at the Chiesea in Valmalenco snowboardcross season opener in Italy. In her 14th season competing on the World Cup, Gulini credits her performance to experience. 
"I knew it would be difficult to jump back into competition after such a long break, but I have been doing this for a long time," said Gulini at 28-years-old. "As you get older, you get smarter, and every season you are a few steps ahead of where you were before. I feel I know more about myself as an athlete and was able to find a really strong headspace for today's race. I knew it would be more challenging this season with fewer training opportunities available due to COVID, but I did my best to put that behind me and focus on what I know I can do."
The women's big final was stacked with 2018 Olympic Champion Michela Moioli winning the event and 2019 FIS World Champion Eva Samkova finishing third. U.S. Development Group athlete Stacy Gaskill earned her career-best World Cup result finishing 10th.
Gulini was not the only U.S. rider to make a run at the podium. U.S. Snowboardcross Pro Team members Hagen Kearney and Jake Vedder both broke the top-10 finishing fourth and eighth respectively. Glenn De Blois of the Netherlands topped the podium followed by Eliot Grondin of Canada in second and Lorenzo Sommariva of Italy in third.
Gulini spoke to the team motivation that has been the catalyst to their early success. 
"We know the future of the sport depends on all of us earning results and promoting snowboardcross," she said. "Even though it's an individual sport, we are all quite supportive of each other. Today the U.S. was definitely the most vocal team out there cheering relentlessly. Knowing we have the support of our team and staff gives us the extra confidence and boost that we all need. We want it as bad for each other as we do for ourselves."
While a difficult off-season could tear many teams apart, the U.S. Snowboardcross Team seems to be finding their groove among athletes, coaches, and staff. 
"All around we have been able to maintain a super high level of training despite everything that's going on," said U.S. Snowboardcross Team Head Coach Peter Foley. "All the athletes maintained their physical fitness, everyone has been very diligent regarding health and safety precautions, and our wax program has been truly amazing. All these elements combined with positive attitudes across the board contributed to our success today."
U.S. riders will take to the course at Chiesea in Valmalenco again on Sunday, Jan. 24, for the second and final race of the program. Tune in on NBC's broadcast and streaming platforms to catch all the action. 
REPLAY

RESULTS
Women's Snowboardcross Finals
Men's Snowboardcross Finals
 
HOW TO WATCH
All times in EST
Delayed Broadcast*
Sunday, Jan. 24
8:00 a.m. - FIS Snowboardcross World Cup Finals - LIVE - Chiesea in Valmalenco, Italy, Streaming Peacock
12:00 p.m. -  FIS Snowboardcross World Cup Finals - Chiesea in Valmalenco, Italy, Olympic Channel-TV*
10:00 p.m. - FIS Snowboardcross World Cup Finals - Chiesea in Valmalenco, Italy, NBCSN*
FOLLOW
Instagram - @ussnowboardteam
Facebook - @usskiandsnowboard

Interested in organization, athlete, and event related news?
Sign up for our Daily or Weekly Update
Learn more about how to support the U.S. Freeski & Snowboard Teams.