Americans Earn Bronze in FIS Freestyle World Championships Mixed Team Aerials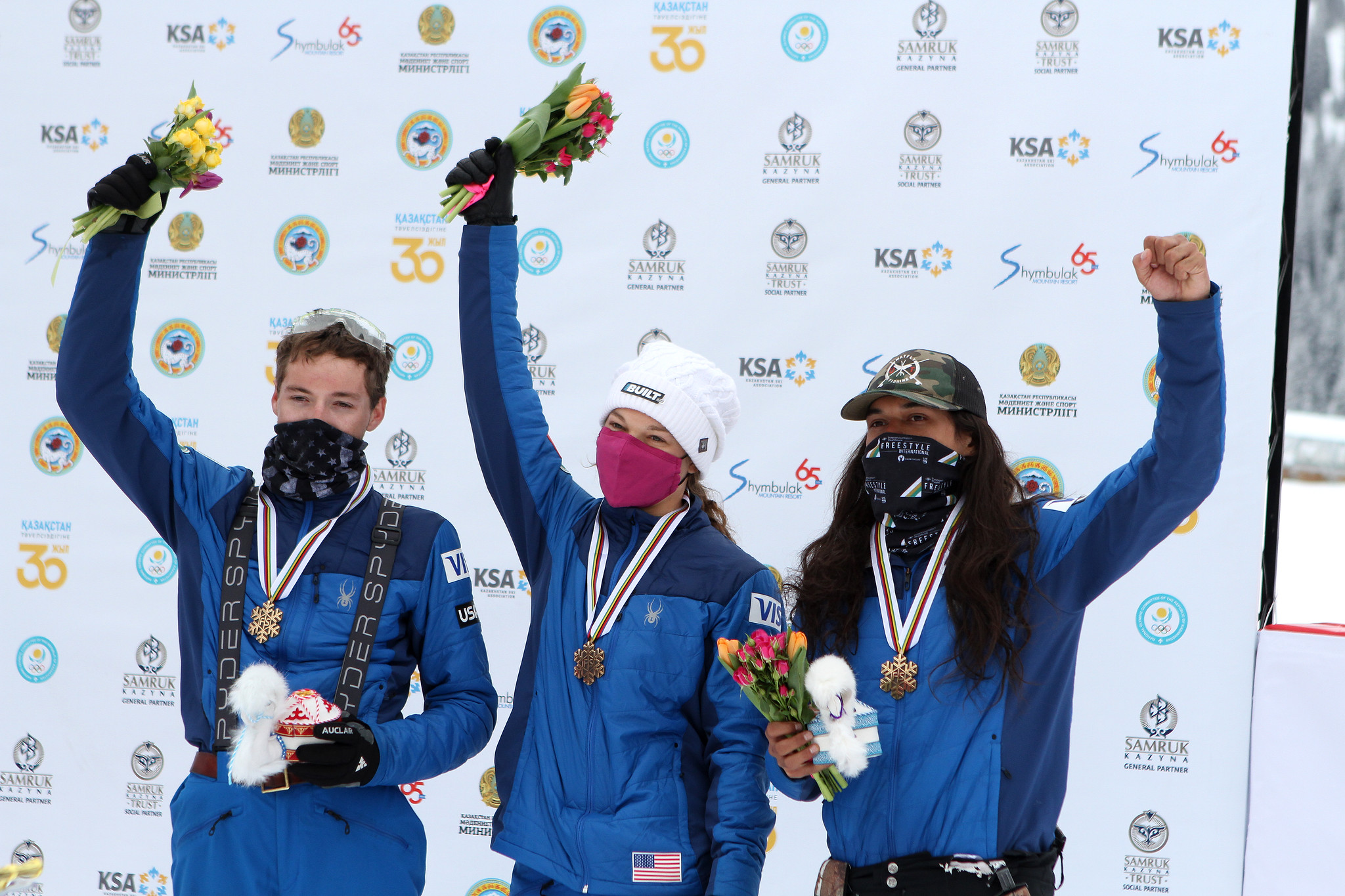 On Thursday, March 11, Chris Lillis, Eric Loughran, and Ashley Caldwell represented the United States in the final event of the FIS Freestyle Ski World Championships in Almaty, Kazakhstan – mixed team aerials. Together, the trio earned one last World Champs medal for their team, taking bronze behind gold medalist Russia and silver medalist Switzerland.
"Now we know what kind of adjustments we have to make for next year for the Olympics," said Head Coach Vlad Lebedev. "That was great practice and great training, and now we know where we stand, and we know what we have to do to be on the top next year."
Making its Olympic debut at Beijing 2022, mixed team aerials pits nation versus nation, where teams of three with no more than two athletes per gender compete as a whole in hopes of a podium finish. The four teams with the highest total score in the first final, advance to the super final to compete for the opportunity to earn a medal.
As finals kicked off, Caldwell had the first jump for the U.S., performing a back lay full full. A little too much air on her jump resulted in a tough landing, but Loughran nailed his back full double full full, followed by Lillis with a clean back double full full, which pushed the Americans cleanly into the super final, where scores are wiped clean and each athlete has the chance to start again. 
Caldwell came back in the super final, performing the triple that earned her a silver medal the day before, and put it to her feet, putting up big points for her team. Loughran came into his second jump with a back full double full full, but had a heavy landing after getting a little too much speed on rotation. Thankfully, the United States' top competitor, Russia, also had a mistake on their second jump. That meant the pressure was on for Lillis, as the U.S. led the standings going into his final jump. 
Lillis went for his quint again, a trick he landed in historic fashion the day before, in hopes of securing gold. When Lillis landed the back double full full double full on Wednesday to earn silver, it was the first time the trick had been thrown by an American in a competition since the Olympics in 2010. Unfortunately, Lillis wasn't quite able to put it to his feet. Even with mistakes, the team was still able to end the day on the podium – a positive sign headed into an Olympic year.
"I'm excited to be on the podium, especially with Eric and Chris," said Caldwell. "We didn't perform our best today and we still got there. So we know there's a lot of potential is still out there, and we know we can win this event."
"I threw that quint again in that final round and unfortunately wasn't able to put it quite to my feet the way I did yesterday, so a little bit upset with that," commented Lillis. "Definitely have a few things I'd like to tighten up going forward but altogether a good World Championships for our team." 
Looking ahead to the conclusion of events in Almaty over the weekend, the team hopes to bring their best one last time during World Finals. 
"I'm looking to stomp one down, put up a big score, and win one of these things," exclaimed Loughran. 
RESULTS
Aerials Team