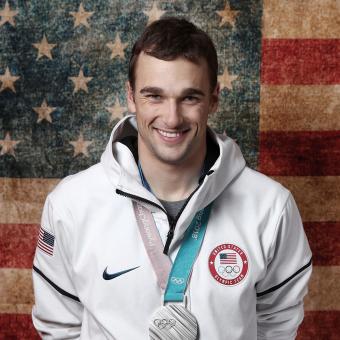 Nick Goepper
Pro Slopestyle - Freeskiing
A smart and talented Midwest native, Nick Goepper has the tools for success and it shows with his impressive roster of results, which includes two Olympic medals - bronze and silver - five X Games medals (three of them gold) and podium finishes at pretty much every other major event in freeskiing.
The 2014 season marked a standout year for Goepper, who landed on the podium at nearly every event he entered. Multiple World Cup podiums, a win at the Dew Tour and a second-straight X Games gold medal set the stage for his success in Sochi. At the 2014 Olympic Winter Games, Goepper made history for his sport and country by taking home the first-ever bronze medal in ski slopestyle and by sweeping the podium with fellow teammates Joss Christensen and Gus Kenworthy. Goepper topped off his banner season with his second-straight AFP slopestyle title.
Goepper's success continued in 2015 when he won his third consecutive gold medal at X Games Aspen. He also took podiums at the Dew Tour and the Frostgun Invitational, but then began to struggle with a series of shoulder injuries, starting with a dislocated left shoulder in Austria. He eventually had surgery on the shoulder and returned to snow in January 2016. 
Goepper began making waves on the slopestyle scene in 2012 with a silver at X Games Aspen, a win at Dew Tour Snowbasin, a third at Dew Tour Breckenridge and a slew of other podium results. Then in 2013 Goepper won gold at X Games Aspen, and finished third at the FIS World Championships. In addition to his podium-worthy skiing, Goepper graduated high school with a 3.7 GPA, earning himself an academic scholarship to Westminster University in Salt Lake City, Utah.
FIRST TRACKS
Goepper was five years old when he started skiing at Perfect North Slopes--his local ski hill in Southern Indiana. He says, "I took lessons in a 'Ski-Doodles' program. After my lessons, Mom would let me go up the rope tow and would catch me at the bottom. She needed to catch me because I couldn't stop or turn."
OFF THE SNOW
Goepper digs anything that incorporates moving and competing. You'll find him surfing, skateboarding, playing ping-pong and going out an occasional date.
Team Info
2014 Sochi
2018 Pyeongchang
Results
OLYMPICS
Teams: 2014; 2018
Silver, SS, PyeongChang, KOR, 2018
Bronze, SS, Sochi, RUS, 2014
GRAND PRIX
2nd, SS, Copper Mountain, Colo., Dec. 2013
5th, SS, Breckenridge, Colo., 2014
5th, SS, Copper Mountain, Colo., Jan. 2013
8th, SS, Mammoth Mountain, Calif., 2018
X GAMES
Gold, SS, Aspen, Colo., 2015
Gold, SS, Aspen, Colo., 2014
Gold, SS, Aspen, Colo., 2013
Silver, SS, Aspen, Colo., 2012
Silver, SS, Aspen, Colo., 2017
11th, SS, Aspen, Colo., 2016
FIS WORLD CHAMPIONSHIPS
Teams: 2013
3rd, SS, Voss, NOR, 2013
OTHER
Three-time AFP Slopestyle Champion