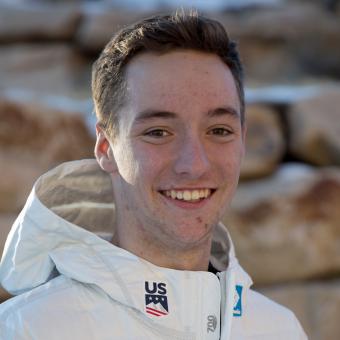 Chris Lillis
U.S. Champion and World Cup Winner
Chris Lillis is the second Lillis brother on the U.S. Ski Team with impressive results on both the NorAm and World Cup tours. He is the youngest man ever to win a FIS aerials World Cup, claiming the top spot as a 17-year-old in Belarus in 2016. 
Read more about Chris' journey to the podium in his #WhatMakesAChamp story. 
FIRST TRACKS
Chris started skiing at Bristol Mountain when he was three and joined the local freestyle program when he was six. He started out skiing moguls, but after doing a back flip on the water ramps at Lake Placid, he discovered his passion for aerials. When Chris qualified his first backlip at age 10, his older brother Jon had just make the EADP program and was on the path to make the U.S. Freestyle Ski Team. Chris followed suit a few years later, landing his spot in EADP at age 13. 
OFF THE SNOW
When he's not training, Chris loves to golf. "I started golf my second year in EADP to have a relaxing sport to do," he says.
Team Info
Bristol Mountain Freestyle Team